Note: Supplemental materials are not guaranteed with Rental or Used book purchases.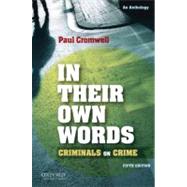 In Their Own Words : Criminals on Crime
ISBN13:
9780195383195
by
Cromwell, Paul
Questions About This Book?
What version or edition is this?
This is the 5th edition with a publication date of 3/25/2009.
What is included with this book?
The Used copy of this book is not guaranteed to include any supplemental materials. Typically, only the book itself is included.
Related Products
Summary
Understanding the "criminal mind" (tactics, motives, psychology) is essential to the effective control and prevention of crime. Yet few undergraduates ever encounter a "real" criminal during their studies. How can students be expected to develop proper measures for the prevention of crime without first understanding the person behind the crime? Bridging this gap, In Their Own Words: Criminals on Crime, Fifth Edition, provides students with access to the perspective of "the offender." The only book of its kind, this anthology presents ethnographic accounts of gang members, burglars, shoplifters, pimps, prostitutes, killers, robbers, addicts, rapists, drug smugglers, and white-collar offenders--all of whom discuss their motives, perceptions, decision-making strategies, and rationalizations for crime. In order to help students become more careful, critical practitioners of criminology, the researchers of this volume frame each reading with a helpful introduction that places the criminal's words into a relevant theoretical context. An insightful analysis and conclusion follow each article. Ideal for courses in criminology, behavior profiling, criminal behavior, and criminal psychology, In Their Own Words: Criminals on Crime, Fifth Edition, provides students with a nuanced perspective on how--and why--offenders make decisions that lead them to commit crimes. FEATURES OF THE FIFTH EDITION Thirteen new chapters (four of which are original contributions)--featuring current material that resonates with students New and expanded coverage of many timely topics including terrorism, identity theft, computer hacking, and drug smuggling A Test Bank containing multiple-choice, essay, and true/false questions for each chapter
Author Biography

Paul Cromwell is Professor of Criminal Justice at Wichita State University.

Table of Contents
About the Contributors
p. xix
Criminal Lifestyles and Decision Making
Introduction
p. 01
The Socially Bounded Decision Making of Persistent Property Offenders
p. 03
The Reasoning Offender: Motives and Decision-Making Strategies
p. 22
Opportunities and Decisions: International Dynamics in Robbery and Burglary Groups
p. 46
Property Crime
Introduction
p. 67
The Key to Auto Theft: Emerging Methods of Auto Theft from the Offenders' Perspective
p. 69
The Five-Finger Discount: An Analysis of Motivations for Shoplifting
p. 90
Becoming a Computer Hacker: Examining the Enculturation and Development of Computer Deviants
p. 109
Identity Theft: Assessing Offenders' Motivations and Strategies
p. 124
Violent Crime
Introduction
p. 139
The New Face of Terrorism: Socio-Cultural Foundations of Contemporary Terrorism
p. 141
Creating the Illusion of Impending Death: Armed Robbers in Action
p. 158
Gendering Violence: Masculinity and Power in Men's Accounts of Domestic Violence
p. 168
Retrospective Accounts of Violent Events by
p. 187
Occupational Crime
Introduction
p. 203
Crime on the Line: Telemarketing and the Changing Nature of Professional Crime
p. 205
Denying the Guilty Mind: Accounting for Involvement in a White-Collar Crime
p. 224
Neutralization and Deviance in the Workplace: Theft of Supplies and Medicines by Hospital Nurses
p. 235
Illegal Occupations
Introduction
p. 249
The "Myth of Organization" of International Drug Smugglers
p. 251
Fencing: Avenues for Redistribution of Stolen Property
p. 265
The Second Step in Double Jeopardy: Appropriating the Labor of Female Street Hustlers
p. 283
Gangs and Crime
Introduction
p. 299
Gang-Related Gun Violence: Socialization, Identity, and Self
p. 301
Gender and Victimization Risk Among Young Women in Gangs
p. 324
Homeboys, Dope Fiends, Legits, and New Jacks
p. 338
Drugs and Crime
Introduction
p. 351
"E" Is for Ecstasy: A Participant Observation Study of Ecstasy Use
p. 353
The Drugs-Crime Connection among Stable Addicts
p. 363
Property Crime and Women Drug Dealers in Australia
p. 375
Researching Crack Dealers: Dilemmas and Contradictions
p. 392
Quitting Crime
Introduction
p. 407
Aging Criminals: Changes in the Criminal Calculus
p. 409
Table of Contents provided by Ingram. All Rights Reserved.