Note: Supplemental materials are not guaranteed with Rental or Used book purchases.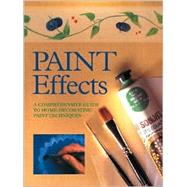 Paint Effects
ISBN13:
9780764124334
by
Cavelle, Simon
Barrons Educational Series Inc
Summary
More than 750 how-to color photos complement concise instructions to guide do-it-yourself home decorators. They learn how to create more than 250 different paint effects on many different surfaces. The author introduces his art with a chapter describing necessary tools and materials, and gives step-by-step directions for preparing walls, floors, ceilings, and furniture for decorative painting. All important techniques are demonstrated in the chapters that follow. They include color washing, sponging, decoupage, marbling, and gilding. Readers learn how to combine many different colors to create painted effects that imitate wood grains, marbling, antiquing, and many other decorative finishes. They will be further inspired by photos that show stylish results achieved by leading interior decorators.
Table of Contents
Introduction
p. 7
Tools
p. 8
Preparation
p. 15
Paints
p. 20
Color
p. 22
Finishing
p. 24
Techniques/Effects
p. 29
Color Washing
p. 30
Spattering
p. 34
Sponging
p. 38
Flogging
p. 42
Dragging
p. 43
Combing
p. 46
Graining
p. 51
Woodgrain
p. 56
Stippling
p. 58
Ragging
p. 65
Liming
p. 72
Dry Brushing
p. 75
Frottage
p. 77
Clouding
p. 79
Waxing
p. 81
Distressing
p. 83
Antiquing
p. 85
Gilding
p. 96
Verdigris
p. 103
Marbling
p. 106
Crackleglaze
p. 116
Stenciling
p. 118
Tracing
p. 126
Mosaic
p. 128
Terra-cotta
p. 130
Stamping
p. 132
Tortoiseshell
p. 135
Sugi
p. 138
Trompe l'oeil
p. 140
Old Stone
p. 144
Sandstone
p. 146
Porphory
p. 148
Pewter
p. 150
Granite
p. 152
Malachite
p. 154
Slate
p. 156
Painted Iron
p. 158
Marquetry
p. 160
Using Photocopies
p. 162
Decoupage
p. 164
Painting Tiles
p. 168
Enameling
p. 172
Floors
p. 177
Walls
p. 183
Furniture
p. 191
Accessories
p. 201
Gallery
p. 209
Glossary
p. 220
Index
p. 222
Table of Contents provided by Ingram. All Rights Reserved.