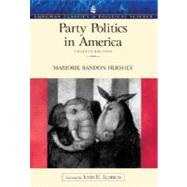 Questions About This Book?
What version or edition is this?
This is the 12th edition with a publication date of 1/1/2007.
What is included with this book?
The Used copy of this book is not guaranteed to include any supplemental materials. Typically, only the book itself is included.
Summary
Party Politics in America analyzes three primary components of partiesparty organization, party in the electorate, party in governmentand the interaction of these components, especially during election campaigns. Originally written by Frank Sorauf and now AUTHORed by Majorie Hershey, the book integrates academic research with contemporary and historical examples to bring to life the fascinating story of how parties have helped to shape our political system.
Table of Contents
Foreword
xvii
Preface
xxii

| | |
| --- | --- |
| | Part One Parties and Party Systems |

1
(44)

| | |
| --- | --- |
| | What Are Political Parties? |

5
(21)

| | |
| --- | --- |
| | A Three-Part Definition of Parties |

6
(4)
8
(1)
8
(1)

| | |
| --- | --- |
| | The Party in the Electorate |

9
(1)
10
(1)
10
(1)

| | |
| --- | --- |
| | Educating (or Propagandizing) Citizens |

10
(1)
10
(1)

| | |
| --- | --- |
| | The Effects of Party Activity |

11
(1)

| | |
| --- | --- |
| | How Do Parties Differ from Other Political Groups? |

12
(1)

| | |
| --- | --- |
| | Parties Are Paramount in Elections |

12
(1)

| | |
| --- | --- |
| | They Have a Full-time Commitment to Political Activity |

12
(1)

| | |
| --- | --- |
| | They Mobilize Large Numbers |

12
(1)
12
(1)

| | |
| --- | --- |
| | They Serve as Political Symbols |

13
(1)

| | |
| --- | --- |
| | How the American Parties Developed |

13
(4)

| | |
| --- | --- |
| | The Founding of American Parties |

13
(4)

| | |
| --- | --- |
| | The Emergence of a National Two-Party System |

17
(3)

| | |
| --- | --- |
| | The Golden Age of the Parties |

18
(1)

| | |
| --- | --- |
| | The Progressive Reforms and Beyond |

19
(1)

| | |
| --- | --- |
| | What Do the Parties Stand For? |

20
(2)

| | |
| --- | --- |
| | Parties Are Shaped by Their Environment |

22
(4)
22
(1)
23
(1)
24
(1)
24
(1)
24
(2)

| | |
| --- | --- |
| | The American Two-Party System |

26
(19)

| | |
| --- | --- |
| | The National Party System |

27
(1)

| | |
| --- | --- |
| | The 50 State Party Systems |

28
(3)

| | |
| --- | --- |
| | Measuring State Party Competition |

28
(1)

| | |
| --- | --- |
| | Limits on Competitiveness: Incumbency |

29
(1)

| | |
| --- | --- |
| | ... and Other Reasons for Declining Competitiveness |

30
(1)

| | |
| --- | --- |
| | What Causes a Two-Party System? |

31
(4)
31
(2)
33
(1)

| | |
| --- | --- |
| | Social Consensus Theories |

34
(1)

| | |
| --- | --- |
| | Party Self-Protection (The Best Defense Is a Good Offense) |

34
(1)

| | |
| --- | --- |
| | Exceptions to the Two-Party Pattern |

35
(7)
35
(1)

| | |
| --- | --- |
| | Pockets of One-Party Monopoly |

36
(1)
37
(1)

| | |
| --- | --- |
| | Differences in Scope of Ideological Commitment |

38
(2)
40
(1)
40
(1)

| | |
| --- | --- |
| | What Difference Do They Make? |

40
(1)

| | |
| --- | --- |
| | The Rise of Independent Candidates |

41
(1)

| | |
| --- | --- |
| | Will the Two-Party System Continue? |

42
(3)

| | |
| --- | --- |
| | Part Two The Political Party as an Organization |

45
(54)

| | |
| --- | --- |
| | The State and Local Party Organizations |

47
(18)

| | |
| --- | --- |
| | What Is a ``Strong'' Party? |

48
(1)

| | |
| --- | --- |
| | The Legal Environment of the Parties |

48
(1)

| | |
| --- | --- |
| | Levels of Party Organization |

49
(3)
50
(1)
51
(1)

| | |
| --- | --- |
| | The Legendary Party Machines |

52
(2)

| | |
| --- | --- |
| | How the Party Machines Developed |

52
(1)

| | |
| --- | --- |
| | How Machines Held on to Power |

53
(1)

| | |
| --- | --- |
| | Local Party Organizations Declined and Then Rebuilt |

54
(4)

| | |
| --- | --- |
| | Local Parties in the 1970s |

55
(1)

| | |
| --- | --- |
| | Local Parties Today: Richer and More Active |

56
(2)

| | |
| --- | --- |
| | The State Parties: Newfound Prosperity |

58
(5)
58
(1)

| | |
| --- | --- |
| | Increasing Strength in Recent Years |

59
(1)
60
(1)
61
(1)
61
(1)
61
(1)

| | |
| --- | --- |
| | The Special Case of the South |

62
(1)
63
(1)

| | |
| --- | --- |
| | Summing Up: How the State and Local Party Organizations Have Transformed |

63
(2)

| | |
| --- | --- |
| | The Parties' National Organizations |

65
(19)
66
(2)
66
(1)
67
(1)

| | |
| --- | --- |
| | Presidents and Their National Parties |

68
(1)

| | |
| --- | --- |
| | Other National Party Groups |

68
(3)

| | |
| --- | --- |
| | Congressional Campaign (``Hill'') Committees |

68
(1)
69
(1)

| | |
| --- | --- |
| | Democratic and Republican Governors' Associations |

69
(2)
71
(6)
71
(1)

| | |
| --- | --- |
| | The Democrats' Procedural-Reform Path |

72
(1)

| | |
| --- | --- |
| | Both Parties Take the Service Path |

73
(2)

| | |
| --- | --- |
| | Rising to the Challenge of New Campaign Finance Rules |

75
(2)

| | |
| --- | --- |
| | What Is the Impact of These Stronger National Parties? |

77
(6)

| | |
| --- | --- |
| | Effects on Candidates' Campaigns |

77
(2)

| | |
| --- | --- |
| | Effects on State and Local Parties |

79
(2)

| | |
| --- | --- |
| | Effects on the Presidency |

81
(1)
81
(1)

| | |
| --- | --- |
| | Relationships within the National Party |

81
(2)

| | |
| --- | --- |
| | The Limits of Party Organization |

83
(1)
84
(15)

| | |
| --- | --- |
| | What Draws People into Party Activity? |

84
(7)
85
(1)
85
(1)
86
(1)
87
(1)

| | |
| --- | --- |
| | Solidary (Social) Incentives |

87
(1)

| | |
| --- | --- |
| | Purposive (Issue-Based) Incentives |

88
(2)
90
(1)

| | |
| --- | --- |
| | Professional and Amateurs |

90
(1)

| | |
| --- | --- |
| | How Do Parties Recruit Activists? |

91
(3)

| | |
| --- | --- |
| | Finding Volunteers: Is Anybody Home? |

92
(1)

| | |
| --- | --- |
| | Means, Motive, and Opportunity |

93
(1)

| | |
| --- | --- |
| | What Kinds of People Become Party Activists? |

94
(2)

| | |
| --- | --- |
| | People from ``Political Families'' |

94
(1)

| | |
| --- | --- |
| | Better Educated and Wealthier Than Average |

95
(1)
95
(1)
96
(1)

| | |
| --- | --- |
| | Party Activists and Democracy |

96
(3)

| | |
| --- | --- |
| | The Problem of Representation |

97
(1)

| | |
| --- | --- |
| | Amateurs and Pressure for Internal Party Democracy |

97
(1)

| | |
| --- | --- |
| | Activists and Party Strength |

98
(1)

| | |
| --- | --- |
| | Part Three The Political Party in the Electorate |

99
(56)
101
(17)

| | |
| --- | --- |
| | How People Develop Party Identifications |

102
(2)
102
(1)
103
(1)

| | |
| --- | --- |
| | Patterns of Partisanship Over Time |

104
(3)

| | |
| --- | --- |
| | Has There Been a Decline in Partisanship? |

106
(1)

| | |
| --- | --- |
| | Party Identification and Political Views |

107
(1)

| | |
| --- | --- |
| | Party Identification and Voting |

108
(3)
108
(2)

| | |
| --- | --- |
| | Party Versus Candidates and Issues |

110
(1)

| | |
| --- | --- |
| | Partisanship as a Two-Way Street |

111
(1)

| | |
| --- | --- |
| | Party Identification and Political Activity |

111
(1)

| | |
| --- | --- |
| | Party Identification and Attitudes Toward the Parties |

112
(1)

| | |
| --- | --- |
| | The Myth of the Independent |

113
(2)
114
(1)
114
(1)

| | |
| --- | --- |
| | Are Independents a Likely Source of Support for Third-Party Candidates? |

115
(1)

| | |
| --- | --- |
| | Change in the Impact of Party ID |

115
(3)

| | |
| --- | --- |
| | A More Candidate-Centered Politics |

115
(1)

| | |
| --- | --- |
| | The Continuing Significance of Party |

116
(2)

| | |
| --- | --- |
| | Party Coalitions and Party Change |

118
(19)

| | |
| --- | --- |
| | The American Party Systems |

119
(4)
119
(2)
121
(1)
121
(1)
122
(1)
122
(1)

| | |
| --- | --- |
| | The Social Bases of Party Coalitions |

123
(5)

| | |
| --- | --- |
| | Socioeconomic Status Divisions |

123
(2)

| | |
| --- | --- |
| | Sectional (Regional) Divisions |

125
(1)
126
(1)
127
(1)
127
(1)
127
(1)

| | |
| --- | --- |
| | Issues Are Central to the Parties' Coalitions |

128
(2)

| | |
| --- | --- |
| | The Development of the Sixth Party System |

130
(7)

| | |
| --- | --- |
| | Major Changes in the Parties' Supporting Coalitions |

131
(2)

| | |
| --- | --- |
| | From Democratic Majority to Party Parity |

133
(1)

| | |
| --- | --- |
| | How Can We Characterize These Changes: Realignment, Dealignment, or What? |

134
(1)

| | |
| --- | --- |
| | Problems with the Idea of Realignment |

135
(2)

| | |
| --- | --- |
| | Who Votes---and Why It Matters |

137
(18)

| | |
| --- | --- |
| | The Low Turnout in American Elections |

138
(1)

| | |
| --- | --- |
| | The Expanding Right to Vote |

139
(1)
140
(1)
140
(1)
140
(1)
141
(1)

| | |
| --- | --- |
| | The Special Case of Voting Rights for African Americans |

141
(3)

| | |
| --- | --- |
| | The Long Struggle for Voting Rights |

141
(1)

| | |
| --- | --- |
| | The Growth of Black Registration in the South |

142
(1)

| | |
| --- | --- |
| | From Voting Rights to Representation |

143
(1)

| | |
| --- | --- |
| | Getting Blacks' Votes Counted |

144
(1)

| | |
| --- | --- |
| | Political Influences on Turnout |

144
(2)

| | |
| --- | --- |
| | The Excitement of the Election |

145
(1)
145
(1)

| | |
| --- | --- |
| | The Representativeness of the Party System |

146
(1)

| | |
| --- | --- |
| | Organized Efforts to Mobilize Voters |

146
(1)

| | |
| --- | --- |
| | Turnout: Individual Differences |

146
(4)
147
(1)
148
(1)
149
(1)
149
(1)
149
(1)
150
(1)

| | |
| --- | --- |
| | Why Isn't Voter Turnout Even Higher? |

150
(2)

| | |
| --- | --- |
| | The Puzzle of Low Turnouts |

151
(1)

| | |
| --- | --- |
| | What Could Stimulate More Participation? |

151
(1)

| | |
| --- | --- |
| | Why Do These Changes in Turnout Matter? |

152
(1)
152
(1)

| | |
| --- | --- |
| | Effects on Particular Elections |

153
(1)

| | |
| --- | --- |
| | The Challenge to the Parties |

153
(2)

| | |
| --- | --- |
| | Part Four Parties, Nominations, and Elections |

155
(90)

| | |
| --- | --- |
| | How Parties Choose Candidates |

157
(17)

| | |
| --- | --- |
| | How the Nomination Process Evolved |

157
(2)
158
(1)

| | |
| --- | --- |
| | Nominations by Convention |

158
(1)

| | |
| --- | --- |
| | Nominations by Direct Primaries |

158
(1)

| | |
| --- | --- |
| | The Current Mix of Primaries and Conventions |

159
(1)
159
(2)
160
(1)
160
(1)
160
(1)

| | |
| --- | --- |
| | Why Does the Type of Primary Matter? |

161
(1)
162
(1)

| | |
| --- | --- |
| | How Do Candidates Get on the Ballot? |

162
(1)

| | |
| --- | --- |
| | Runoffs: When Too Many Candidates Get on the Ballot |

162
(1)

| | |
| --- | --- |
| | What Parties Don't Like About Primaries |

163
(4)

| | |
| --- | --- |
| | Difficulties in Recruiting Candidates |

163
(1)

| | |
| --- | --- |
| | The Risk of Unattractive Nominees |

164
(1)
164
(2)

| | |
| --- | --- |
| | Problems in Holding Candidates Accountable |

166
(1)

| | |
| --- | --- |
| | The Party Organization Fights Back |

167
(1)

| | |
| --- | --- |
| | Persuading Candidates to Run (or Not to Run) |

167
(1)
167
(1)

| | |
| --- | --- |
| | Providing Tangible Support |

168
(1)

| | |
| --- | --- |
| | Candidates and Voters in the Primaries |

168
(3)

| | |
| --- | --- |
| | Many Candidates Run Without Competition |

169
(1)

| | |
| --- | --- |
| | ... And Voters Are in Short Supply |

169
(2)

| | |
| --- | --- |
| | The Impact of the Direct Primary |

171
(3)

| | |
| --- | --- |
| | Has It Made Elections More Democratic? |

171
(1)

| | |
| --- | --- |
| | How Badly Has It Harmed the Parties? |

172
(1)

| | |
| --- | --- |
| | Is the Primary Worth the Cost? |

172
(2)

| | |
| --- | --- |
| | Choosing the Presidential Nominees |

174
(21)

| | |
| --- | --- |
| | The Move to Presidential Primaries |

174
(4)

| | |
| --- | --- |
| | Turbulence in the Democratic Party |

175
(1)

| | |
| --- | --- |
| | Presidential Primaries Today |

176
(2)

| | |
| --- | --- |
| | Some States Use Party Caucuses |

178
(1)

| | |
| --- | --- |
| | The Race to Win Delegate Votes |

178
(5)

| | |
| --- | --- |
| | The ``Invisible Primary'' |

178
(1)

| | |
| --- | --- |
| | Candidates' Strategic Choices |

179
(2)
181
(1)

| | |
| --- | --- |
| | What Is the Party's Role? |

181
(2)

| | |
| --- | --- |
| | Voters' Choices in Presidential Nominations |

183
(2)
183
(1)

| | |
| --- | --- |
| | Are Primary Voters Typical? |

183
(1)

| | |
| --- | --- |
| | Do Voters Make Informed Choices? |

184
(1)

| | |
| --- | --- |
| | Do Primaries Produce Good Candidates? |

184
(1)

| | |
| --- | --- |
| | On to the National Conventions |

185
(3)
185
(1)
185
(1)
186
(1)

| | |
| --- | --- |
| | Formalizing the Presidential Nomination |

187
(1)

| | |
| --- | --- |
| | Approving the Vice-Presidential Nominee |

187
(1)

| | |
| --- | --- |
| | Launching the Presidential Campaign |

187
(1)
188
(4)

| | |
| --- | --- |
| | Apportioning Delegates Among the States |

188
(1)

| | |
| --- | --- |
| | How Representative Are the Delegates? |

188
(1)
188
(1)
188
(1)
189
(2)

| | |
| --- | --- |
| | Amateurs or Professionals? |

191
(1)

| | |
| --- | --- |
| | Who Controls the Delegates? |

191
(1)

| | |
| --- | --- |
| | How Media Cover Conventions |

192
(1)

| | |
| --- | --- |
| | Do Conventions Still Have a Purpose? |

193
(1)

| | |
| --- | --- |
| | Should We Reform the Reforms? |

193
(2)
193
(2)
195
(21)

| | |
| --- | --- |
| | Elections: The Rules Affect the Results |

196
(5)
196
(1)
196
(1)

| | |
| --- | --- |
| | The Order of Candidates' Names |

196
(1)
197
(1)
197
(2)

| | |
| --- | --- |
| | Legislative Redistricting |

199
(2)
201
(1)

| | |
| --- | --- |
| | How Campaigning Has Changed |

202
(7)
202
(1)
203
(1)
203
(1)
203
(1)

| | |
| --- | --- |
| | Methods of Persuasion: The Air War |

204
(1)
204
(1)
205
(1)

| | |
| --- | --- |
| | The Ground War: ``Under the Radar'' |

205
(1)
205
(1)
206
(1)

| | |
| --- | --- |
| | Canvassing and Phone Banks |

206
(1)
207
(1)

| | |
| --- | --- |
| | The 2002 and 2004 Campaigns |

207
(2)

| | |
| --- | --- |
| | Do Campaigns Make a Difference? |

209
(3)

| | |
| --- | --- |
| | The Argument That Campaigns Matter |

210
(1)

| | |
| --- | --- |
| | The Argument That They Don't |

211
(1)
211
(1)

| | |
| --- | --- |
| | Candidate-Centered or Party-Centered Campaigns? |

212
(4)

| | |
| --- | --- |
| | Party Influence in Competitive Campaigns |

213
(1)

| | |
| --- | --- |
| | The Continuing Struggle Between Candidates and Party Organizations |

213
(3)
216
(29)

| | |
| --- | --- |
| | How Much Money Is Spent on Campaigns? |

217
(6)
217
(3)
220
(3)

| | |
| --- | --- |
| | State and Local Campaigns |

223
(1)

| | |
| --- | --- |
| | What Is the Impact of Campaign Spending? |

223
(2)

| | |
| --- | --- |
| | Where Does the Money Come From? |

225
(5)
225
(1)

| | |
| --- | --- |
| | Political Action Committees |

226
(2)
228
(1)

| | |
| --- | --- |
| | The Candidates Themselves |

229
(1)
229
(1)

| | |
| --- | --- |
| | Money in State and Local Campaigns |

230
(1)

| | |
| --- | --- |
| | Reform of the Campaign Finance Rules |

230
(3)
231
(1)
231
(1)
232
(1)

| | |
| --- | --- |
| | Public Funding of Presidential Campaigns |

232
(1)

| | |
| --- | --- |
| | The Loopholes That Ate the Reforms |

233
(5)
233
(1)
233
(1)
234
(3)
237
(1)

| | |
| --- | --- |
| | What Did the 1970s Reforms Accomplish? |

238
(5)

| | |
| --- | --- |
| | Intended and Unintended Effects |

239
(1)
239
(1)

| | |
| --- | --- |
| | Another Try: The Bipartisan Campaign Reform Act (BCRA) |

240
(2)

| | |
| --- | --- |
| | State Regulation and Financing |

242
(1)

| | |
| --- | --- |
| | Money in American Politics |

243
(2)

| | |
| --- | --- |
| | Part Five The Party in Government |

245
(72)

| | |
| --- | --- |
| | Parties in Congress and State Legislatures |

248
(22)

| | |
| --- | --- |
| | How the Parties Are Organized in Congress |

249
(6)

| | |
| --- | --- |
| | Changes in the Power of House Party Leaders |

250
(1)

| | |
| --- | --- |
| | The Revolt Against ``Czar'' Cannon |

250
(1)

| | |
| --- | --- |
| | Growing Party Coordination |

250
(1)
251
(1)
252
(1)
253
(1)

| | |
| --- | --- |
| | Parties in the ``Individualist'' Senate |

253
(1)

| | |
| --- | --- |
| | Parties in the State Legislatures |

254
(1)

| | |
| --- | --- |
| | Methods of Party Influence |

255
(2)
255
(2)

| | |
| --- | --- |
| | Party Influence on Legislative Voting |

257
(10)

| | |
| --- | --- |
| | How Unified Is Each Legislative Party? |

257
(1)
257
(3)
260
(2)

| | |
| --- | --- |
| | Greater Polarization of the Congressional Parties |

262
(1)

| | |
| --- | --- |
| | When Are the Parties Most Unified? |

262
(1)

| | |
| --- | --- |
| | Issues That Touch the Interests of the Legislative Parties |

263
(1)

| | |
| --- | --- |
| | The Executive's Proposals |

263
(2)

| | |
| --- | --- |
| | Policies Central to the Party System |

265
(1)

| | |
| --- | --- |
| | Does Party Competition Promote Party Unity? |

266
(1)

| | |
| --- | --- |
| | Comparing Party Power in Congress and State Legislatures |

267
(1)

| | |
| --- | --- |
| | Party Polarization and Cohesion |

267
(1)

| | |
| --- | --- |
| | Greater Interparty Competition |

267
(1)

| | |
| --- | --- |
| | No Competing Centers of Power |

267
(1)
267
(1)

| | |
| --- | --- |
| | Lesser Legislative Professionalism |

268
(1)

| | |
| --- | --- |
| | Styles of Individual Leaders |

268
(1)

| | |
| --- | --- |
| | The Power of Legislative Parties |

268
(2)

| | |
| --- | --- |
| | The Party in the Executive and the Courts |

270
(16)

| | |
| --- | --- |
| | President and Governor as Party Leaders |

271
(3)

| | |
| --- | --- |
| | The President as Campaigner-in-Chief |

271
(1)

| | |
| --- | --- |
| | The President as the ``Top of the Ticket'' |

272
(1)
272
(1)

| | |
| --- | --- |
| | Coattails Even Without the Coat |

273
(1)
274
(1)

| | |
| --- | --- |
| | Party Leadership and Legislative Relations |

274
(2)

| | |
| --- | --- |
| | Legislative Support for Executives |

274
(1)

| | |
| --- | --- |
| | Divided Control of Government |

275
(1)

| | |
| --- | --- |
| | Party Influence in Executive Agencies |

276
(3)

| | |
| --- | --- |
| | Bureaucrats Have Constituents Too |

276
(1)

| | |
| --- | --- |
| | Holding Bureaucrats Accountable |

277
(1)

| | |
| --- | --- |
| | Changing Political Outlooks in the Federal Bureaucracy |

278
(1)

| | |
| --- | --- |
| | Traces of Party in the Courts |

279
(6)

| | |
| --- | --- |
| | Judicial Voting Along Party Lines |

279
(1)

| | |
| --- | --- |
| | What Causes Partisan Behavior on the Courts? |

280
(1)

| | |
| --- | --- |
| | Party and Judicial Appointments |

281
(1)
281
(2)
283
(2)

| | |
| --- | --- |
| | The Party Within the Executive and the Judge |

285
(1)

| | |
| --- | --- |
| | The Semi-Responsible Parties |

286
(17)

| | |
| --- | --- |
| | The Case for Responsible Party Government |

287
(1)

| | |
| --- | --- |
| | How Would Party Government (Responsible Parties) Work? |

287
(1)

| | |
| --- | --- |
| | The Case Against Party Government |

288
(3)

| | |
| --- | --- |
| | It Would Increase Conflict |

288
(1)

| | |
| --- | --- |
| | It Wouldn't Work in American Politics |

289
(1)

| | |
| --- | --- |
| | The Gingrich Experiment: A Temporarily Responsible Party |

290
(1)

| | |
| --- | --- |
| | Party Cohesion and Ideology |

291
(5)

| | |
| --- | --- |
| | Are the American Parties Ideological? |

292
(1)

| | |
| --- | --- |
| | Do They at Least Offer Clear Choices? |

292
(1)

| | |
| --- | --- |
| | But Internal Divisions Remain |

293
(3)

| | |
| --- | --- |
| | Ideology and the American Voter |

296
(4)

| | |
| --- | --- |
| | How Ideological Is the American Public? |

296
(2)

| | |
| --- | --- |
| | Differences Among Voters, Activists, and Candidates |

298
(2)

| | |
| --- | --- |
| | When Is Party Government Most Likely? |

300
(1)

| | |
| --- | --- |
| | When There Is Strong Presidential Leadership |

300
(1)
300
(1)

| | |
| --- | --- |
| | When the Parties' Supporting Coalitions Realign |

300
(1)

| | |
| --- | --- |
| | Party Government and Popular Control |

301
(2)

| | |
| --- | --- |
| | The Place of Parties in American Politics |

303
(14)

| | |
| --- | --- |
| | Parties and Their Environment |

303
(2)

| | |
| --- | --- |
| | The Nature of the Electorate |

304
(1)

| | |
| --- | --- |
| | Political Institutions and Rules |

305
(1)
305
(1)

| | |
| --- | --- |
| | Party Decline in the 1960s and 1970s |

305
(3)

| | |
| --- | --- |
| | The Parties in the Electorate |

306
(1)
306
(1)
307
(1)

| | |
| --- | --- |
| | Shifting Power Centers Within the Parties |

308
(1)
308
(3)

| | |
| --- | --- |
| | Change in the Parties' Electoral Coalitions |

309
(1)

| | |
| --- | --- |
| | The Rise of More Cohesive Parties in Government |

310
(1)

| | |
| --- | --- |
| | The New ``Service Parties'' |

311
(1)

| | |
| --- | --- |
| | The Future of Party Politics in America |

311
(4)

| | |
| --- | --- |
| | A Changing Intermediary Role |

311
(1)

| | |
| --- | --- |
| | The Need for Strong Parties |

312
(2)

| | |
| --- | --- |
| | How to Make the Parties Stronger |

314
(1)

| | |
| --- | --- |
| | Conclusion: The Parties' Prospects |

315
(2)
Party Politics on the Internet
317
(8)
Appendix
325
(3)
Endnotes
328
(25)
Index
353