Note: Supplemental materials are not guaranteed with Rental or Used book purchases.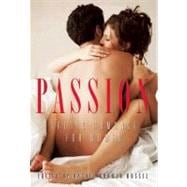 Questions About This Book?
What version or edition is this?
This is the edition with a publication date of 11/1/2010.
What is included with this book?
The New copy of this book will include any supplemental materials advertised. Please check the title of the book to determine if it should include any CDs, lab manuals, study guides, etc.
Summary
Collecting the best erotic romances published in 2010, award-winning erotic editor Rachel Kramer Bussel's steamy collection is sure to quicken heartbeats and appeal to fans of both erotica and romance readers who like it a little more explicit. From tales of reunions between long lost lovers to love at first sight and romance rekindled, the stories in Passion will appeal to the most romantic of souls while still being naughty enough to entice and excite.
Table of Contents
Introduction: Getting Passionate

Big Bed Sex • Donna George Storey
My Dark Knight • Jacqueline Applebee
Dear in the Headlights • Angela Caperton
The Cherry Orchard • Wickham Boyle
Autumn Suite • Suzanne V. Slate
Contentions • Isabelle Gray
The Silver Belt • Lana Fox
Five Senses Rachel •  Kramer Bussel
The Arc of Triumph • Monica Day
Crave You Close • A.M. Hartnett
Any Easy Guy to Fall On • Annabeth Leong
Lingua Franca • Justine Elyot
Third Time's the Charm • Charlene Teglia
Riding Wild Things • Lizzy Chambers
No Risk, No Reward • Saskia Walker
If • Emerald
Getting It Right • Teresa Noelle Roberts
The Morning Ride • Delilah Devlin
The Efficiency Expert • Portia Da Costa
Rekindle • Kathleen Bradean

Excerpts
Introduction: Getting Passionate

Passion. It can mean greed, desire, affection, love or simply, emotion. You will find all of those and more in the stories contained herein. As you read these twenty stories, you too will be swept away by passion as you travel to Paris and Greece (and Beverly Hills). You'll get stuck in an elevator, take a bubble bath and a bus ride (not to mention some subway foreplay and flirting) and explore nature in some very intimate ways. You'll find couples, and couplings by men and women looking (whether they know it or not) to spice things up in the bedroom.

Here, couples at all stages of their relationships (including the very beginning) kindle their passion in various ways, from exes who reunite to young marrieds on a naughty nature walk to those who mix business with pleasure. When Krista in "Crave You Close," by A. M. Hartnett, tells Nicky, "I'm so used to having to hold my breath," she is saying so much about their usual erotic m.o. At night, outdoors, she is free to make as much noise as she wants to.

These couples explore getting kinky, precisely because they feel intimately connected to each other. They go places, literally and figuratively, they wouldn't dare without the other. They revisit old flames and nurture new ones; indeed, sometimes the men these women crave, such as Maya does in "The Silver Belt," are not their husbands at all, but someone else, someone special, someone who is seeing them in an entirely new light. Those stories mingle with other tales of longtime lovers ignited to fiery scenes within these pages.

Passion can mean so many things, from the sexual submission of a caning to exploring new bodily territory–sexual experimentation, trying something you've fantasized about. It can mean makeup sex or role-play, a change of scenery or simply a change of thinking. It can mean looking at a lover, a husband, a boyfriend or a new boy toy with fresh eyes, sizing him up, baring yourself, daring him to come and get you.

Just as in real life, there are lovers' quarrels within these pages, slights real and imagined, as couples find tender, erotic ways to heal their hurts and become even closer. There is an element of real, raw emotion in the way love and desire can as easily tear us down as build us up, that makes us appreciate each expression of romance all the more, because we know how truly special it is. I'm grateful these authors skip from playful romps to relationship-saving sex to tender memories to scorching sex scenes, together creating a book that will likely make you blush and make your heart swell.

As the narrator in one of my favorite pieces, "My Dark Knight" by Jacqueline Applebee, says, "I'm a not-so-hopeless romantic. I believe that chivalry still exists, I hope to find quiet nobility in the most random of places, and I believe that people who love each other can live happily ever after." She finds a dark, very sexy knight who she rescues, seduces, and then...But you'll have to read the story to find out.

Rachel Kramer Bussel
New York City