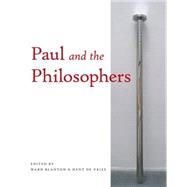 Summary
The apostle Paul has reemerged as a force on the contemporary philosophical scene. Some of the most powerful recent affirmations of nonrepresentational, materialist, and event-oriented philosophies repeat topics and tropes of the ancient apostle. Other thinkers find in Paul and his numerous cultural "afterlives" the ideal figure to contest both identity politics and the postmodern political fetish of endless openness and the deferral of presence. Paul is appropriated both for and against Kantian cosmopolitanism, psychoanalytic models of subjectivity and power, Schmittian political theologies, Derridean messianism, political universalism, and an ongoing refashioning of identity politics within postsecular contexts. This book provides the most comprehensive constellation to date of current thinking about Paul and his cultural or philosophical "afterlives" in ancient, modern, and contemporary contexts. It is a groundbreaking international and multidisciplinary exploration of the vexed political history of Paulinisms in philosophy and of philosophies in Paulinism. From his very first utterances, Paul's pronouncements as the self-proclaimed apostle of Jesus were curiously intertwined with philosophical discourse, with Paul presenting himself as both philosopher and anti-philosopher. Early Christian receptions of Paul then carefully managed his legacy in relation to the philosophical schools, presenting him alternately as an exemplary Platonist, a purveyor of Stoic spiritual exercises, and someone whose authority outstrips philosophy altogether. In the modern period, various types of Paulinism were imagined serially as possible escapes of philosophical thought from the domination of inherited metaphysics or ontotheology. The contributors to this volume bring unprecedented multidisciplinary expertise to both the historical reception and the contemporary relevance of a thinker who may come to be seen as the defining figure of our political and intellectual moment.
Author Biography

Ward Blanton is Senior Lecturer in the School of Critical Studies at the University of Glasgow. He is the author of Displacing Christian Origins: Philosophy, Secularity, and the New Testament.

Hent de Vries holds the Russ Family Chair in the Humanities and is Professor of Philosophy at The Johns Hopkins University, where he is also Director of the Humanities Center. He is Directeur de Programme at the College International de Philosophie, Paris.