Note: Supplemental materials are not guaranteed with Rental or Used book purchases.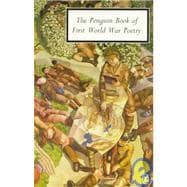 The Penguin Book of First World War Poetry Revised Edition
ISBN13:
9780141180090
by
Unknown
Summary
The recent PBS 8-part miniseries THE GREAT WAR sparked renewed interest in the First World War. More than photographs or eyewitness reports, the poetry written during the embedded the horror of the war in our consciousness. Now, supplemented with five new poems, the works of 38 British, European, and American writers collected here include some of the most outstanding and poignant poems of this century.
Table of Contents
Acknowledgements
8
(4)
Note To The Second Edition
12
(1)
Note on the 1996 Edition
13
(2)
Introduction
15
(63)

| | |
| --- | --- |
| | Thomas Hardy (1840--1928) |

78
(3)
78
(1)
79
(2)

| | |
| --- | --- |
| | Rupert Brooke (1887--1915) |

81
(2)
81
(1)
81
(2)

| | |
| --- | --- |
| | Julian Grenfell (1888--1915) |

83
(2)
83
(2)
85
(1)
85
(1)
86
(1)
86
(1)

| | |
| --- | --- |
| | Charles Hamilton Sorley (1895--1915) |

87
(4)

| | |
| --- | --- |
| | `All the hills and vales along' |

87
(1)
88
(1)

| | |
| --- | --- |
| | `When you see millions of the mouthless dead' |

89
(2)

| | |
| --- | --- |
| | Edward Thomas (1878--1917) |

91
(11)
91
(1)
91
(2)
93
(1)

| | |
| --- | --- |
| | In Memoriam (Easter, 1915) |

93
(1)
93
(1)

| | |
| --- | --- |
| | This is No Case of Petty Right or Wrong |

94
(1)
95
(1)
96
(2)
98
(1)
98
(1)
99
(1)
100
(2)

| | |
| --- | --- |
| | Edmund Blunden (1896--1974) |

102
(13)
102
(1)
102
(1)
103
(1)
104
(2)

| | |
| --- | --- |
| | Vlamertinghe: Passing the Chateau, July, 1917 |

106
(1)
106
(4)

| | |
| --- | --- |
| | Gouzeaucourt: The Deceitful Calm |

110
(1)
111
(1)

| | |
| --- | --- |
| | The Ancre at Hamel: Afterwards |

111
(1)
112
(1)
113
(1)
114
(1)
115
(5)
115
(1)
116
(1)
116
(1)
117
(1)
117
(1)
118
(1)
119
(1)

| | |
| --- | --- |
| | Robert Graves (1895--1985) |

120
(3)
120
(1)
121
(2)

| | |
| --- | --- |
| | Siegfried Sassoon (1886--1967) |

123
(12)
123
(1)

| | |
| --- | --- |
| | `The rank stench of those bodies haunts me still' |

124
(3)
127
(1)
128
(1)
129
(2)
131
(1)
131
(1)
131
(1)
132
(1)

| | |
| --- | --- |
| | Repression of War Experience |

133
(2)

| | |
| --- | --- |
| | Rudyard Kipling (1865--1936) |

135
(3)

| | |
| --- | --- |
| | Epitaphs of the War (1914--18) |

135
(1)
135
(1)
135
(1)

| | |
| --- | --- |
| | Pelicans in the Wilderness (A Grave near Halfa) |

135
(1)
135
(1)
136
(1)
136
(1)
136
(2)

| | |
| --- | --- |
| | Edgell Rickword (1898-- ) |

138
(2)

| | |
| --- | --- |
| | The Soldier Addresses his Body |

138
(1)
139
(1)

| | |
| --- | --- |
| | E. E. Cummings (1894--1962) |

140
(1)
140
(1)

| | |
| --- | --- |
| | Richard Aldington (1892--1962) |

141
(4)
141
(1)
142
(1)
143
(1)
144
(1)

| | |
| --- | --- |
| | Ford Madox Ford (1873--1939) |

145
(2)
145
(1)
146
(1)
147
(2)
147
(2)

| | |
| --- | --- |
| | Alice Meynell (1847--1922) |

149
(2)
149
(2)

| | |
| --- | --- |
| | May Wedderburn Cannan (1893--1973) |

151
(2)
151
(2)

| | |
| --- | --- |
| | Charlotte Mew (1869--1928) |

153
(2)
153
(2)

| | |
| --- | --- |
| | Margaret Postgate Cole (1893--1980) |

155
(2)
155
(1)
155
(2)
157
(2)
157
(2)
159
(1)
159
(1)

| | |
| --- | --- |
| | Herbert Read (1893--1968) |

160
(17)
160
(1)
160
(2)

| | |
| --- | --- |
| | Meditation of a Dying German Officer |

162
(5)

| | |
| --- | --- |
| | Dialogue between the Body and the Soul of the Murdered Girl |

167
(4)

| | |
| --- | --- |
| | Meditation of the Waking English Officer |

171
(5)

| | |
| --- | --- |
| | A Short Poem for Armstice Day |

176
(1)
177
(8)

| | |
| --- | --- |
| | From In Parenthesis, Part 7 |

177
(8)

| | |
| --- | --- |
| | Harold Munro (1879--1932) |

185
(2)
185
(2)
185
(2)

| | |
| --- | --- |
| | John Peale Bishop (1892--1944) |

187
(2)
187
(2)

| | |
| --- | --- |
| | Frederic Manning (1887--1935) |

189
(1)
189
(1)

| | |
| --- | --- |
| | Wilfred Owen (1893--1918) |

190
(23)
190
(1)
191
(1)
192
(1)
193
(1)
194
(1)
195
(2)
197
(1)
198
(1)
199
(2)
201
(2)

| | |
| --- | --- |
| | From `Wild with All Regrets' |

203
(1)
204
(1)
205
(1)
206
(1)
206
(2)
208
(1)
209
(1)
210
(3)

| | |
| --- | --- |
| | D. H. Lawrence (1885--1930) |

213
(1)

| | |
| --- | --- |
| | Song of Man Who Has Come Through |

213
(1)

| | |
| --- | --- |
| | Isaac Rosenberg (1890--1918) |

214
(20)

| | |
| --- | --- |
| | On Receiving News of the War |

214
(1)
215
(2)

| | |
| --- | --- |
| | Marching (As Seen from the Left File) |

217
(1)
217
(1)

| | |
| --- | --- |
| | Break of Day in the Trenches |

218
(1)

| | |
| --- | --- |
| | `A worm fed on the heart of Corinth' |

219
(1)
219
(1)

| | |
| --- | --- |
| | Returning, We Hear the Larks |

220
(1)
221
(2)
223
(2)
225
(1)
226
(1)
227
(4)

| | |
| --- | --- |
| | Soldier: Twentieth Century |

231
(1)
231
(1)

| | |
| --- | --- |
| | The Burning of the Temple |

232
(1)

| | |
| --- | --- |
| | The Destruction of Jerusalem by the Babylonian Hordes |

233
(1)

| | |
| --- | --- |
| | Archibald Macleish (1892--1982) |

234
(1)
234
(1)

| | |
| --- | --- |
| | Carl Sandburg (1878--1967) |

235
(1)
235
(1)

| | |
| --- | --- |
| | Edna ST Vincent Millay (1892--1950) |

236
(1)
236
(1)
237
(3)
237
(1)

| | |
| --- | --- |
| | `Why do you visit me, white moths, so often?' |

238
(2)
240
(4)
240
(1)
240
(1)
241
(1)
242
(1)
242
(1)
243
(1)

| | |
| --- | --- |
| | Alfred Lichtenstein (1889--1941) |

244
(1)
244
(1)

| | |
| --- | --- |
| | Ernst Stadler (1883--1914) |

245
(2)
245
(2)

| | |
| --- | --- |
| | Wilhelm Klemm (1881--1968) |

247
(3)
247
(1)
248
(2)

| | |
| --- | --- |
| | August Stramm (1864--1915) |

250
(1)
250
(1)
250
(1)

| | |
| --- | --- |
| | Albert Ehrenstein (1886--1950) |

251
(1)
251
(1)

| | |
| --- | --- |
| | Anton Schnack (1892--1973) |

252
(2)
252
(2)
254
(2)

| | |
| --- | --- |
| | From Requiem for the Dead of Europe |

254
(1)
255
(1)

| | |
| --- | --- |
| | Guillaume Apollinaire (1880--1918) |

256
(3)
256
(1)

| | |
| --- | --- |
| | The Sighs of the Gunner from Dakar |

257
(2)

| | |
| --- | --- |
| | Charles Vildrac (1882--1971) |

259
(2)
259
(2)

| | |
| --- | --- |
| | Bejain Peret (1899--1959) |

261
(1)

| | |
| --- | --- |
| | Little Song of the Maimed |

261
(1)
262
(1)
262
(1)

| | |
| --- | --- |
| | Giuseppe Ungaretti (1888--1970) |

263
(7)
263
(1)
263
(1)
264
(1)
265
(1)
265
(2)
267
(1)
268
(1)
269
(1)

| | |
| --- | --- |
| | Eugenio Montale (1896--1981) |

270
(3)
270
(3)

| | |
| --- | --- |
| | Aleksandr Blok (1880--1921) |

273
(1)
273
(1)

| | |
| --- | --- |
| | Anna Akhmatova (1889--1967) |

274
(2)
274
(2)

| | |
| --- | --- |
| | Osip Mandelstam (1891--1938) |

276
(1)
276
(1)

| | |
| --- | --- |
| | URI ZVI Greenberg (1895--1981) |

277
(2)
277
(2)

| | |
| --- | --- |
| | Marina Tsvetayeva (1892--1941) |

279
(1)
279
(1)
280
(1)
281
(2)

| | |
| --- | --- |
| | Hearing That His Friend Was Coming Back from the War |

281
(2)
Bibliography
283
(6)
Index of Poets and Translators
289
(4)
Index of First Lines
293
(6)
Index of Titles
299