Note: Supplemental materials are not guaranteed with Rental or Used book purchases.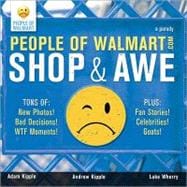 Questions About This Book?
What version or edition is this?
This is the edition with a publication date of 9/7/2010.
What is included with this book?
The New copy of this book will include any supplemental materials advertised. Please check the title of the book to determine if it should include any CDs, lab manuals, study guides, etc.
Summary
As Americans, we hold these truths to be self-evident: That we will shop. And that when we do, especially at our favorite supercenter, we will wear and do the most bizarre things possible.From the wildly popular website Peopleofwalmart.com, this collection of Americans in their natural shopping habitat (70% of which are brand new and never before included on the website) presents people of all shapes and sizes, wearing and doing everything imaginable, all in full view of the fellow shopping public. Plus, for the first time brand new fan-submitted stories offer the most random experiences you can imagine! So welcome to a world where no shoes and no shirt are no obstacles, where parking lots are filled with dead deer, Bengal tigers, and old men in thongs riding bikes. Once you meet the People of Walmart, you are sure to fall in love.
Excerpts
<p><b>INTRODUCTION </b><br>Let's face it: We all have seen the people who obviously don't have mirrors, or at least family and friends to lock them in a basement. And for some reason, they all seem to congregate at Walmart. </p><p>It's not everywhere that you can shop for milk at 10 a.m. next to a 400-pound mother of six wearing a pink tube top, leopard tights, and hooker heels. Where else can one go to pick up underwear at 3 o'clock in the afternoon and spot the greatest mullet of all time? And that same guy has not only a supreme mullet, but is wearing a mustard-stained wife beater (which only accents his extreme amount of body hair) and camo pants. And yet, amazingly, it's also the same place you might bump into your favorite actor, actress, musician, or thoroughly underserved famous-for-no-reason reality star. You never know whom you will encounter, but you know you'll never forget it. </p><p>PeopleofWalmart.com was founded in August 2009 by three friends after an inspirational trip to Walmart. It was another beautiful, sunny day in Myrtle Beach, and our town was buzzing about the new Walmart located just 10 miles north of, well, another Walmart. Okay, the town wasn't buzzing, but there was definitely a new Walmart right by an old one, and we needed groceries, so off to the new store we went to check it out. </p><p>As the three of us perused the aisles, filling our carts with moon pies, oatmeal pies, and some delicious Walmart-brand blueberry muffin cereal (seriously, it's awesome), we came across an older man. He was wearing what I have to assume are the world-record-setting shortest jean shorts and a tattered tank top that was only visible from the back or side due to his salt-and-pepper ZZ Top beard. After a few subtle looks and a quick laugh among ourselves, it was off to the frozen food section for Hot Pockets and frozen taquitos. </p><p>It was there, in that frozen food section of the brand-new Walmart, that we found our muse. She was what you could conservatively refer to as a "robust" woman. Now I'm not a scale, but if I was forced to offer a guess I'd feel safe saying 350-plus pounds (and that's using <i>Price Is Right </i>rules of course). And that's okay; there's nothing wrong with being overweight. This is America; it's what we do. However, what's not good is accompanying that full-figured body with full-on hooker gear. Our awe at her getup started at the bottom, with her gold high-heeled shoes accompanied by that stripper wrap that goes up the leg. After that came pink fishnet stockings that looked like they were cutting through mashed potatoes. Thankfully, her 4-inch skirt was positioned in the right place so as not to give us nightmares. Unfortunately, her tube-top didn't cover quite as much as the mannequin in the store probably showed. And of course, just in case this fine lady didn't catch our attention on her own, she accessorized her outfit with a four-year-old kid running around like a banshee on one of those sweet kid leashes disguised as a monkey backpack.</p><p>On our way back home, we reflected on a profound observation of "no matter what state, what town, or what time of day it is, you will always see someone or something crazy at Walmart." The lightbulb went off. We got home, unloaded our groceries, bought the domain name, and had the site designed by the next day. </p><p>The rest is...well the rest is that a year later, we've seen thousands of the most bizarre and hilarious photos and received everything ranging from marriage proposals to death threats and even a picture of a naked woman straddling a 6-foot stuffed monkey. And to think, now you are sitting on the toilet reading this book, based on a crazy idea by three friends. Enjoy! <br>-Adam Kipple, Andrew Kipple, Luke Wherry </p>