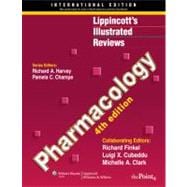 Summary
Lippincott's Illustrated Reviews: Pharmacology, Fourth Edition enables rapid review and assimilation of large amounts of complex information about the essentials of medical pharmacology. Clear, sequential pictures of mechanisms of action actually show students how drugs work, instead of just telling them. As in previous editions, the book features an outline format, over 500 full-color illustrations, cross-references to other volumes in the series, and over 125 review questions. Content has been thoroughly updated, and a new chapter covers toxicology. New to this edition will be a companion Website containing all of the illustrations, fully searchable text, and an interactive question bank.
Table of Contents
Introduction To Pharmacology
Pharmacokinetics
Drug-Receptor Interactions and Pharmacodynamics
Drugs Affecting The Autonomic Nervous System
The Autonomic Nervous System
Cholinergic Agonists
Cholinergic Antagonists
Adrenergic Agonists
Adrenergic Antagonists
Drugs Affecting The Central Nervous System
Treatment of Neurodegenerative Diseases
Anxiolytic and Hypnotic Drugs
Central Nervous System Stimulants
Anesthetics
Antidepressant Drugs
Neuroleptic Drugs
Opioid Analgesics and Antagonists
Drugs Used to Treat Epilepsy
Drugs Affecting The Cardiovascular System
The Treatment of Heart Failure
Antiarrhythmic Drugs
Antianginal Drugs
Antihypertensive Drugs
Drugs Affecting The Blood
Antihyperlipidemic Drugs
Diuretic Drugs
Drugs Affecting The Endocrine System
Hormones of the Pituitary and Thyroid
Insulin and Oral Hypoglycemic Drugs
Estrogens and Androgens
Adrenocorticosteroids
Drugs Affecting Other Systems
Drugs Affecting the Respiratory System
Gastrointestinal and Antiemetic Drugs
Erectile Dysfunction, Osteoporosis, and Obesity
Chemotherapeutic Drugs
Principles of Antimicrobial Therapy
Inhibitors of Cell Wall Synthesis
Protein Synthesis Inhibitors
Folate Antagonists, Quinolones, and Urinary Tract Antiseptics
Antimycobacterial Drugs
Antifungal Drugs
Antiprotozoal Drugs
Anthelmintic Drugs
Antiviral Drugs
Anticancer Drugs
Immunosuppressants
Anti-Inflammatory Drugs And Autocoids
Anti-inflammatory Drugs
Autacoids & Autacoid Antagonists
Other Topics
Toxicology
Index
Table of Contents provided by Publisher. All Rights Reserved.