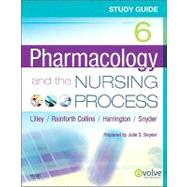 Study Guide for Pharmacology and the Nursing Process
by
Lilley, Linda Lane
Elsevier Science Health Science div
List Price: $33.95

More New and Used
from Private Sellers
Related Products
Summary
Master the content from the Lilley textbook with the Study Guide for Pharmacology and the Nursing Process, 6 th Edition! Designed to accompany Lilley's Pharmacology and the Nursing Process, 6th Edition, this workbook will assist you in understanding and applying material from each chapter in the text. The review questions prepare you for success in pharmacology and on the NCLEXÒ Examination. Worksheets for each chapter include multiple-choice questions, critical thinking and application questions, case studies, and other educationally sound learning activities. Worksheets for each chapter include NCLEX® Examination-style review questions, critical thinking and application questions, case studies, and other educationally sound learning activities.A Student Study Tips section provides study techniques, time management skills, and test-taking strategies.An Overview of Dosage Calculations section offers practice problems, sample drug labels, and a quiz.In-depth case studies help you apply information to real-world situations. NCLEX® Examination Preparation sections in each chapter contain numerous NCLEX Examination-style practice questions, many of them application-based, including at least one alternate-format question per chapter.An increased focus on prioritization provides practice in identifying the most important, need-to-know nursing actions.Drug dosage calculation questions, one of which appears in every chapter, facilitate mastery of the mathematics of drug dosing.
Table of Contents
Student Study Tips
The Nursing Process and Drug Therapy
Pharmacologic Principles
Life Span Considerations
Cultural, Legal, and Ethical Considerations
Gene Therapy and Pharmacogenomics
Medication Errors: Preventing and Responding
Patient Education and Drug Therapy
Over-the-Counter Drugs and Herbal and Dietary Supplements
Substance Abuse
Photo Atlas of Drug Administration
Analgesic Drugs
General and Local Anesthetics
Central Nervous System Depressants and Muscle Relaxants
Central Nervous System Stimulant Drugs
Antiepileptic Drugs
Antiparkinsonian Drugs
Psychotherapeutic Drugs
Adrenergic Drugs
Adrenergic-Blocking Drugs
Cholinergic Drugs
Cholinergic-Blocking Drugs
Heart Failure Drugs
Antidysrhythmic Drugs
Antianginal Drugs
Antihypertensive Drugs
Diuretic Drugs
Fluids and Electrolytes
Coagulation Modifier Drugs
Antilipemic Drugs
Pituitary Drugs
Thyroid and Antithyroid Drugs
Antidiabetic Drugs
Adrenal Drugs
Women's Health Drugs
Men's Health Drugs
Antihistamines, Decongestants, Antitussives, and Expectorants
Bronchodilators and Other Respiratory Drugs
Antibiotics Part 1
Antibiotics Part 2
Antiviral Drugs
Antitubercular Drugs
Antifungal Drugs
Antimalarial, Antiprotozoal, and Antihelmintic Drugs
Antiinflammatory and Antigout Drugs
Immunosuppressant Drugs
Immunizing Drugs and Biochemical Terrorism
Antineoplastic Drugs Part 1: Cancer Overview and Cell Cycle-Specific Drugs
Antineoplastic Drugs Part 2: Cell Cycle-Nonspecific and Miscellaneous Drugs
Biologic Response-Modifying Drugs and Antirheumatoid Drugs
Acid-Controlling Drugs
Bowel Disorder Drugs
Antiemetic and Antinausea Drugs
Vitamins and Minerals
Nutritional Supplements
Anemia Drugs
Dermatologic Drugs
Ophthalmic Drugs
Otic Drugs
Overview of Dosage Calculations
Answers
Table of Contents provided by Publisher. All Rights Reserved.