Note: Supplemental materials are not guaranteed with Rental or Used book purchases.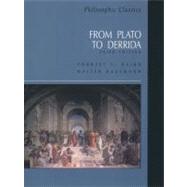 Related Products
Summary
For one-semester courses in Introduction to Philosophy, History of Philosophy survey, or History of Intellectual Thought. This anthology of readings in the survey of Western philosophyfrom the Ancient Greeks to the 20th Centuryis designed to be accessible to today's students. Striking a balance between major and minor figures, it features the best available translations of textscomplete works or complete selections of workswhich are both central to each philosopher's thought and are widely accepted as part of the canon. The selections are readable and accessible, while still being faithful to the original. Introductions to each historical period and to each philosopher, and an abundance of drawings, diagrams, photographs, and a timeline keep students focused throughout. This Combined Volume contains the most important works from Baird's Philosophic Classics, Volumes I- V.
Table of Contents
Introduction: A Map of Twentieth-Century Philosophy
Phenomenology (from Encyclopaedia Brittanica)
The Crisis of European Science and Transcendental Phenomenology (Part III, A, 33 and 34)
The Quest for Certainty (Chapter 10)
The Souls of Black Folks (Chapter 1)
The Problems of Philosophy (Chapters 1, 5, and 15)
Logical Atomism
The Refutation of Idealism
An Introduction to Metaphysics (Chapter 1)
Building Dwelling Thinking
Tractatus Logico-Philosophicus (in part)
Philosophical Investigations (1-47, 65-71, 241, 257-258, 305, and 309)
Language, Truth and Logic, (Preface and Chapter 1)
Truth and Method (Selections from Part II)
Being and Nothingness (Chapter 2)
Existentialism Is a Humanism
The Second Sex (Introduction)
Two Dogmas of Empiricism
Phenomenology of Perception (Preface)
How to Do Things with Words (Lectures 1 and 2)
The Method of Truth in Metaphysics
A Theory of Justice (Chapter 1, Sections 1-4)
What Is an Author?
Truth and Power
Signature, Event, Context
Philosophy and the Mirror of Nature (Selections from Chapter 4)
The Conversation Continues: Emerging Classics Since 1980
The Sex Which Is Not One (Selections)
After Virtue (Chapter 15)
The Philosophical Discourse of Modernity (Lecture XI, Parts II and III)
Overcoming Epistemology
Table of Contents provided by Publisher. All Rights Reserved.