Note: Supplemental materials are not guaranteed with Rental or Used book purchases.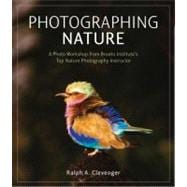 Photographing Nature : A Photo Workshop from Brooks Institute's Top Nature Photography Instructor
ISBN13:
9780321637543
by
Clevenger, Ralph A.
Questions About This Book?
What version or edition is this?
This is the 1st edition with a publication date of 10/26/2009.
What is included with this book?
The eBook copy of this book is not guaranteed to include any supplemental materials. Typically only the book itself is included.
Summary
The natural world is probably one of the most common, yet most challenging, subjects in photography.Photographing Naturetakes students who can't afford--or aren't able to attend--Brooks Institute through the same course of instruction that Clevenger has been teaching at the school for over 20 years. In this gorgeous, four-color course-in-a-book, each chapter opens with a spectacular photo spread from nature that Clevenger uses to illustrate themes and techniques essential to mastering nature photography. Readers will feel like one of the class as he talks about how each photo was captured, the tools and techniques used both in the field and back at the computer, and typical problems related to capturing such a photo, along with solutions. Each chapter also includes sample Q&A sessions taken from Brooks classes as well as assignments. Readers will also be encouraged to share their homework on thePhotographing NatureFlickr site, where they can compare their work with fellow "classmates." Perhaps the only photographer to spawn an urban legend through his jaw-dropping photography (http://www.snopes.com/photos/natural/iceberg.asp), Clevenger's book aims to give photographers motivation to spend more time making their images, knowledge about the equipment and techniques used to capture dramatic nature images, and insight into new and creative ways to look at our natural world. InPhotographing Naturereaders get an elite, Brooks-based education for the budget price of just one book.
Author Biography
Ralph A. Clevenger teaches courses in nature photography, stock photography, video production, and undersea photography at Brooks Institute. Clevenger has traveled throughout the world on assignment. His clients include the Monterey Bay Aquarium, The Nature Conservancy, Denali National Park Wilderness Center, the National Park Service, and the National Marine Sanctuary. His publication credits include Audubon, Aqua, Islands, Oceans, Outside, National Geographic magazine, National Geographic Traveler, Popular Photography, National Geographic Books, Smithsonian Books, Sierra Club Books, and many other national and international publications. Ralph's stock images are represented worldwide by Corbis Images.

Share your work with the author and other readers at www.flickr.com/groups/photographingnature


Table of Contents
Foreword x
Introduction xii

1. Play nice 2
Ethics
Knowledge and creativity
Equipment
Becoming part of the solution
Questions and Answers

2. You need more stuff? 24
Stuff
Practice
Equipment
Lighting
Questions and Answers

3. It's all about the light 50
Qualities of light
Equipment
Lighting
Questions and Answers
Assignments to try

4. Not everything's black-and-white 74
The color of nature
Equipment
Lighting
Questions and Answers
Assignments to try

5. Flash! And you're in control 92
Light at 1/20,000 of a second
Equipment
Lighting
Questions and Answers
Assignments to try

6. Wet-belly photography 110
Finding flowers and chasing bugs
Equipment
Lighting
Questions and Answers
Assignments to try

7. Garden variety shots 128
Nature so close
Equipment
Lighting
Questions and Answers
Assignments to try

8. The wonder of wildlife 146
Lions and tigers and bears, oh my!
Equipment
Lighting
Questions and Answers
Assignments to try

9. An ounce of prevention 166
Zoos
Equipment
Lighting
Questions and Answers
Assignments to try

10. Land, sea, and sky 186
The wide view
Telling the story
Equipment
Lighting
Questions and Answers
Assignments to try

11. Looking through the frame 206
The frame
Composing the image
Equipment
Lighting
Questions and Answers
Assignments to try

12. What are you looking at? 228
Preconceptions
Equipment
Lighting
Questions and Answers
Assignments to try

13. On the road 248
Road trip
A 'typical day' of shooting
Equipment
Lighting
Questions and Answers
Assignments to try

14. Back in the lab 272
Becoming the lab
Manipulation
Equipment
Lighting
Questions and Answers
Assignments to try

Appendix: Resources
Index