Note: Supplemental materials are not guaranteed with Rental or Used book purchases.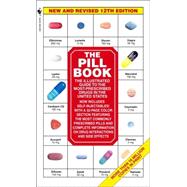 Related Products
Summary
For more than two decades, millions of consumers have trustedThe Pill Bookto provide official, FDA-approved drug information plus guidelines from leading pharmacists. Each drug is profiled in a concise, readable, and easy-to-understand entry, makingThe Pill Bookthe perfect reference when you have questions about the medications your doctor prescribes. The most up-to-date information about the more than 1,800 most commonly prescribed drugs in the United States: Generic and brand-name listings that can help you save money What the drug is for, and how it works Usual dosages, and what to do if a dose is skipped Side effects and possible adverse reactions, highlighted for quick reference Interactions with other drugs and food Overdose and addiction potential Alcohol-free and sugar-free medications The most popular self-injected medications and their safe handling Information for seniors, pregnant and breast-feeding women, children, and others with special needs Cautions and warnings, and when to call your doctor 32 pages of actual-size color photographs of prescription pills
Author Biography
HAROLD SILVERMAN, Pharm. D., has been practicing health-care public affairs and communications for over fifteen years. He is the co-author of Bantam's The Vitamin Book, and author of the chapter on generic drugs in THE MERCK MANUAL: HOME EDITION.
Excerpts
Generic Name
Abacavir (uh-BAK-uh-veer)
Brand Name
Ziagen
Combination Product
Generic Ingredients: Abacavir + Lamivudine
Epzicom
Type of Drug
Antiviral.
Prescribed For
Human immunodeficiency virus (HIV) infection.
General Information
Abacavir is a man-made nucleoside drug that inhibits the reproduction of the HIV virus. Once inside the HIV-infected cell, abacavir is transformed by enzymes into carbovir triphosphate. Carbovir triphosphate interferes with the activity of HIV reverse transcriptase, an enzyme essential to the virus' ability to reproduce. Abacavir is always given with another anti-HIV antiviral–such as didanosine, lamivudine, stavudine or zalcitabine–to achieve optimum effectiveness.
Some of the drug is broken down in the liver, some passes out of the body unchanged in the urine, and some passes out of the body in the stool.
Cautions and Warnings
Stop taking this drug at the first sign of drug allergy or sensitivity (see "Special Information"). People have died from abacavir sensitivity.
People with liver disease should be cautious about using this drug because of the possibility that it can aggravate the condition. Some people have died from liver damage associated with abacavir.
The use of nucleoside drugs such as abacavir can very rarely cause lactic acidosis, a fatal metabolic disturbance.
Resistance to abacavir has developed in laboratory versions of HIV also resistant to lamivudine, didanosine, and zalcitabine. HIV that is resistant to protease inhibitors is not likely to be resistant to abacavir.
Redistribution or accumulation of body fat may occur in people taking antiviral medications including: central obesity; facial, arm, leg, and/or buttock wasting; breast enlargement; and fat accumulation at the base of the neck (buffalo hump).
Abacavir cannot be used in infants under age 3 months.
Drug Interactions
• Alcohol interferes with the elimination of abacavir through the liver and can lead to a 40% increase in the amount of drug in the blood.
• Abacavir can increase blood levels of acetaminophen, amitriptyline, bumetanide, chloral hydrate, chlorpheniramine, chlorpromazine, chlorzoxazone, dapsone, doxepin, fluconazole, imipramine, ketoconazole, labetalol, lamotrigine, miconazole, morphine, naloxone, non-steroidal anti-inflammatory drugs (NSAIDs), oxazepam, promethazine, propofol, propranolol, and valproic acid.
• Cigarette smoking and clofibrate may reduce the amount of abacavir in the blood.
• Combining abacavir with isoniazid may decrease abacavir levels and increase isoniazid levels in the blood.
• Abacavir levels in the blood may be decreased if you are also taking phenobarbital, phenytoin, or T3 thyroid hormone replacement.
• Abacavir may increase the speed with which methadone is cleared from the body. Changes in methadone dose are usually not required.
For further drug interactions for Epzicom, see Lamivudine, page 611.
Food Interactions
None known.
Usual Dose
Adult (age 17 and over): 300 mg 2 times a day.
Child (age 3 months—16 years): 3.6 mg per lb. of body weight twice a day, up to a maximum of 300 mg in each dose.
Overdosage
Little is known about the effects of abacavir overdose. Overdose victims should be taken to a hospital emergency room for treatment. ALWAYS bring the prescription bottle or container.
Special Information
Stop taking this drug and call your doctor at the first sign of allergy or sensitivity. Symptoms include fever, rash, fatigue, nausea, vomiting, diarrhea, abdominal pain, sore throat, difficulty breathing, and coughing. Some patients who experienced a hypersensitivity reaction were initially thought to have a respiratory infection. If you continue to take abacavir and are allergic to it, more severe reactions including a life-threatening drop in blood pressure could develop in hours.
Abacavir is not a cure for HIV. People taking the drug may still develop opportunistic infections and other conditions associated with HIV infection. People taking abacavir can still be infectious and transmit HIV to others.
The long-term effects of abacavir are not known. Report anything unusual to your doctor.
It is very important for you to take abacavir exactly as prescribed. If you forget to take a dose and remember within 2 to 3 hours, take the medication. If you forget until it is almost time for your next dose, skip the forgotten dose and continue with your regular schedule. Remember, every dose of any HIV medication you forget or skip can make it more difficult for the drugs to do their job and can also lead to the development of HIV resistant to abacavir.
Special Populations
Pregnancy/Breast-feeding: Abacavir passes into the fetal circulation. In animal studies, the drug caused low birth weight and increased the risk of stillbirth. The effect of abacavir in pregnant women is not known. When this drug is considered crucial by your doctor, its potential benefits must be carefully weighed against its risks.
It is not known if abacavir passes into breast milk. Women with HIV are advised to bottle-feed their babies to avoid transmitting the virus.
Seniors: Studies of abacavir did not include many seniors. Seniors should use this drug with caution because of the risk that normal reductions in organ function or drug interactions may affect how abacavir works in the body or increase the likelihood of side effects.
Generic Name
Acamprosate (ah-CAM-pro-sate)
Brand Name
Campral
Type of Drug
Synthetic neurochemical similar to the amino acid homotaurine.
Prescribed For
Alcoholism.
General Information
Acamprosate is used to help alcoholic patients stay alcohol-free after they have stopped drinking. Unlike other drugs used to help people stay away from alcohol, it does not cause people to have a physical reaction to alcohol.
Acamprosate restores the balance between two chemical systems in the brain, glutamate and GABA, that are known to become unbalanced in alcoholics, but its exact action is not known. It may reduce alcohol craving.
Acamprosate should be part of a program that includes counseling and support, and it should be started as soon as possible after alcohol withdrawal and continued even if the patient starts drinking again. This medication has not been proven to help patients if they are still drinking when they start treatment. Acamprosate has not been studied in patients who abuse other substances together with alcohol. Tolerance or addiction has not developed with acamprosate. It passes out of the body through the kidneys.
Cautions and Warnings
Do not take acamprosate if you are allergic or sensitive to any of its ingredients or if you have severe kidney disease.
People with moderate kidney disease require a lower dosage of acamprosate.
Acamprosate does not eliminate or ease alcohol withdrawal symptoms.
People taking acamprosate may become depressed or have suicidal thoughts.
Acamprosate can affect your judgment, thinking, or coordination. Do not drive or operate dangerous machinery if you are taking this medicine.
Drug Interactions
• Mixing acamprosate with naltrexone can increase the levels of both drugs in the blood, but no dose adjustments are needed.
Food Interactions
Acamprosate may be taken without regard to food or meals.
Usual Dose
Adult: Two 333-mg tablets 3 times a day.
Child: not recommended.
Overdosage
The only symptom associated with acamprosate overdose has been diarrhea. Overdose victims should be taken to a hospital emergency room for observation and treatment. ALWAYS bring the prescription bottle or container.
Special Information
Call your doctor if you are breast-feeding, pregnant, or thinking about becoming pregnant while taking this medicine.
Take care while driving a car or performing complex tasks.
If you forget to take a dose, take it as soon as possible. If you do not remember until it is almost time for your next dose, skip the dose you forgot and continue with your regular schedule. Call your doctor if you forget to take 2 or more doses in a row. Do not take a double dose.
Acamprosate must be part of an ongoing treatment program. Do not stop taking it on your own, even if you start drinking again.
Special Populations
Pregnancy/Breast-feeding: Acamprosate can damage animal fetuses in doses that are approximately equal to those taken by people on this medicine. Women of childbearing age should use an effective contraceptive while taking this drug. The potential benefits of acamprosate must be weighed against its risks if your doctor considers it a crucial treatment during your pregnancy.
Acamprosate passes into breast milk. Nursing mothers who must take this drug should bottle-feed.
Seniors: Dosage reduction may be needed in seniors because of a general decline in kidney function due to age.
Generic Name
Acarbose (uh-CAR-bose)
Brand Name
Precose
Type of Drug
Antidiabetic.
Prescribed For
Type 2 (non-insulin-dependent) diabetes mellitus.
---

Excerpted from The Pill Book by Harold M. Silverman
All rights reserved by the original copyright owners. Excerpts are provided for display purposes only and may not be reproduced, reprinted or distributed without the written permission of the publisher.