Note: Supplemental materials are not guaranteed with Rental or Used book purchases.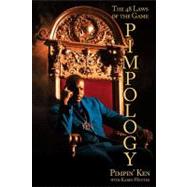 Questions About This Book?
What version or edition is this?
This is the edition with a publication date of 8/5/2008.
What is included with this book?
The New copy of this book will include any supplemental materials advertised. Please check the title of the book to determine if it should include any CDs, lab manuals, study guides, etc.
Summary
The names change, but the game remains the same.The pimp has reached nearly mythical status. We are fascinated by the question of how a guy from the ghetto with no startup capital and no credit -- nothing but the words out of his mouth -- comes not only to have a stable of sexy women who consider him "their man," but to drive a Rolls, sport diamonds, and wear custom suits and alligator shoes from Italy.His secret is to follow the "unwritten rules of the game" -- a set of regulations handed down orally from older, wiser macks -- which give him superhuman powers of charm, psychological manipulation, and persuasion.InPimpology,star of the documentariesPimps Up, Ho's Downand American Pimp and Annual Players Ball Mack of the Year winner Ken Ivy pulls a square's coat on the unwritten rules that took him from the ghetto streets to the executive suites. Ken's lessons will serve any person in any interaction: Whether at work, in relationships, or among friends, somebody's got to be on top. To be the one with the upper hand, you've got to have good game, and good game starts with knowing the rules.If you want the money, power, and respect you dream of, you can't just "pimp your ride," you need to pimp your whole life. And unless you've seen Ray Charles leading Stevie Wonder somewhere, you need Ken's guidelines to do it. They'll reach out and touch you like AT&T and bring good things to life like GE. Then you can be the boss with the hot sauce who gets it all like Monty Hall.
Table of Contents
Contents Introduction Pimps Are Born, Not Sworn Law 1 Purse First, Ass Last Law 2 Get a Name in a Game Law 3 Don't Chase 'Em, Replace 'Em Law 4 Keep a Ho in Arrears Law 5 Prey on the Weak Law 6 When Pimpin' Begins, Friendship Ends Law 7 Pimp the Game Law 8 Don't Let Your History Be a Mystery Law 9 Learn the Rules Law 10 Plan Your Work and Work Your Plan Law 11 Avoid Gorillas and Godzillas Law 12 Ain't No Love in This Shit Law 13 Pimp Like You're Ho-less Law 14 Better a Turnout Than a Burnout Law 15 Say What You Mean and Mean What You Say Law 16 Give Motivation and Inspiration Law 17 Get You a Bottom Bitch Law 18 Cop and Blow Law 19 Turn Ho Ends into Dividends Law 20 Get In a Ho's Head Law 21 A Ho Without Instruction Is Headed for Self-Destruction Law 22 Keep Hoes on Their Toes Law 23 A Ho Joins a Stable to Ruin It Law 24 Set the Trend Law 25 Grind for Your Shine Law 26 The Game Is to Be Sold, Not Told Law 27 Keep Your Game on the Low Law 28 Be a Leader Law 29 Play One Ho Against the Next Law 30 Prosperity over Popularity Law 31 Look Out for Suzy Choosy Law 32 Turn a Tramp into a Champ Law 33 Bring Your People with You to the Top Law 34 Show Respect to Get Respect Law 35 Trust Nothing but the Game Law 36 Be Internationally Known, Nationally Recognized, and Locally Accepted Law 37 Let a Ho Know Law 38 Wreck a Hater Law 39 Switch Up Law 40 Don't Down 'Em, Crown 'Em Law 41 Keep Your Front Up Till You Come Up Law 42 If You Can See It, You Can Be It Law 43 Talk Shit and Swallow Spit Law 44 You Need Fire and Desire Law 45 Get Rid of the Word "If" Law 46 Move and Shake Like a Pimp Shakes Law 47 Pimpin' Is What You Do, Not Who You Are Law 48 Don't Believe the Hype Pimptionary Acknowledgments
Excerpts
Law 1: Purse First, Ass Last
If a pimp is going to take a chance, a bitch must give him money in advance.
-- Father Divine
The Life
A pimp associate of mine, Little Bear, came from a distinguished line of pimps. His daddy was one of the biggest pimps in Milwaukee when I was growing up. Pimpin' was in Little Bear, not on him. Years ago, Little Bear was running an after-hours joint. Many pimps had these little clubs back in the day as a way of catching hoes. A bunch of us were in his joint when one of the finest hoes I ever saw walked in. She had a body like an hourglass. She was so fine her mama should have had triplets. She was just a gorgeous ho. The scene was live, but when this ho walked in, the place stopped.
Sammy, a half-ass pimp who was sitting in the corner blurted out, "That bitch so fine, she don't need no choosing fee to fuck with my pimpin'!"
Out of nowhere Little Bear jumped up and said, "Bitch, break yourself!"
She walks up to Little Bear and asks, "Mr. Bear, what can you do with this money that I can't do with it myself? If you can answer that, I will break myself."
"Bitch, I'm the pimp and you're the ho," he said. "So act like the quarterback and pass the motherfucking bankroll."
She smiled and gave him the trap money. Little Bear then turned to me. "That's a fine-ass bitch," he said. "As soon as she makes me twenty Gs, I'm going to have some buck-naked fun with her." Then he posed the same question he'd been asked to me. "Pimpin', what couldyoudo with that money?"
I stood up, because I was about to perform, and I wanted everyone to hear. "For the record," I started, "I mean to say, for the album -- because the record is too short -- if any of you suckers want to know what a pimp can do with that money that a bitch can't, go to the motherfucking hardware store, get you some duct tape, tape that money on the wall, and piss on it. That's what a pimp can do that a bitch can't!"
The Ism
"Purse first, ass last" is the motto of pimpin', the very foundation on which pimpin' is built. What separates a pimp from a trick is that a pimp completely flips the game. A trick pays a ho for the pussy, but a ho doesn't get to fuck a pimp untilshe pays him.A ho has got to put it in a pimp's pocket like a rocket before pimpin' can begin. It's not about a pimp breaking a ho, it's about a ho breaking herself. Violating this first law will guarantee a pimp a career of troubles and stress. If a woman can try you before she buy you, then, as B.B. King says, "The thrill is gone."
In life what is expensive seems valuable, and what's available for free seems worthless. You've heard that no one buys the cow when the milk is free, but what they didn't tell you is that after a while, no one even wants that free milk. To be valued, the key is not to give, but to receive -- the more, the better. You don't want to "earn" your price, you want to "cost" it. This is the psychology behind the whole game: anything worth having, you must pay for up front.
Copyright © 2007 by Ken Ivy

---

Excerpted from Pimpology: The 48 Laws of the Game by Pimpin' Ken, Karen Hunter
All rights reserved by the original copyright owners. Excerpts are provided for display purposes only and may not be reproduced, reprinted or distributed without the written permission of the publisher.