Note: Supplemental materials are not guaranteed with Rental or Used book purchases.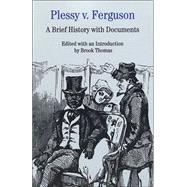 Plessy v. Ferguson A Brief History with Documents
by
Thomas, Brook
Questions About This Book?
What version or edition is this?
This is the edition with a publication date of 7/15/1996.
What is included with this book?
The New copy of this book will include any supplemental materials advertised. Please check the title of the book to determine if it should include any CDs, lab manuals, study guides, etc.
Summary
This text offers a concise analysis of the Plessy case, allowing readers to understand the Court's reasoning, the social and political realities that made such a decision possible, and the immediate effects on public life. Thomas's comprehensive introduction explains the complicated legal issues involved in both the majority decision and the lone dissent by Justice John Marshall Harlan. a rich collection of primary documents-including court decisions, Booker T. Washington's 1895 'Atlanta Exposition Address, ' an essay by W.E.B. Du Bois, and a previously unpublished speech by Charles W. Chesnutt-enables readers to recreate for themselves the context of the debates and to conditions in which the decision was made.
Author Biography
Brook Thomas is chair of the English and Comparative Literature Department at the University of California, Irvine. After a book on James Joyce's Ulysses (1982), he turned his attention to the intersections of law, literature, and cultural history in the United States. He is author of Cross-Examinations of Law and Literature: Cooper, Hawthorne, Stowe, and Melville (1987): The New Historicism and Other Old-Fashioned Topics (1991); and American Literary Realism and the Failed Promise of Contract (1997). He has lectured on Plessy v. Ferguson to more than five thousand undergraduates over the course of several years.
Table of Contents
Foreword
v
Preface
vii
PART ONE Introduction: The Legal Background
1
(38)
11
(7)

| | |
| --- | --- |
| | The Slaughter-House Cases and Their Implications |

18
(5)

| | |
| --- | --- |
| | The Civil Rights Cases and Their Consequences |

23
(6)

| | |
| --- | --- |
| | Plessy's Argument before the Court |

29
(2)
31
(3)
34
(5)
PART TWO The Documents
39
(130)

| | |
| --- | --- |
| | Plessy v. Ferguson, May 18, 1896 |

41
(20)

| | |
| --- | --- |
| | Selected Views on the ``Race Question'' at the Time of Plessy |

61
(66)

| | |
| --- | --- |
| | The Race Question in the United States, September 1890 |

62
(14)

| | |
| --- | --- |
| | Race Amalgamation, August 1896 |

76
(25)

| | |
| --- | --- |
| | Capacity of the Negro---His Position in the North. The Color Line in New England, 1890 |

101
(18)

| | |
| --- | --- |
| | Atlanta Exposition Address, September 18, 1895 |

119
(6)

| | |
| --- | --- |
| | Central Law Review, January 17, 1896 |

125
(2)
127
(42)
127
(9)

| | |
| --- | --- |
| | Times-Picayune (New Orleans), Equality, but Not Socialism, May 19, 1896 |

128
(1)

| | |
| --- | --- |
| | Tribune (New York), The Unfortunate Law of the Land May 19, 1896 |

128
(1)

| | |
| --- | --- |
| | Union Advertiser (Rochester, New York), State Sovereignty, May 19, 1896 |

129
(1)

| | |
| --- | --- |
| | Democrat and Chronicle (Rochester, New York), A Strange Decision, May 20, 1896 |

129
(2)

| | |
| --- | --- |
| | Republican (Springfield, Massachusetts), May 20, 1896 |

131
(1)

| | |
| --- | --- |
| | Evening Journal (New York), May 20, 1896 |

131
(1)

| | |
| --- | --- |
| | Journal (Providence, Rhode Island), May 20, 1896 |

132
(1)

| | |
| --- | --- |
| | Dispatch (Richmond, Virginia), Separate Coaches, May 21, 1896 |

133
(1)

| | |
| --- | --- |
| | Weekly Blade (Parsons, Kansas), May 30, 1896 |

133
(1)

| | |
| --- | --- |
| | A.M.E. Church Review (Philadelphia), June 1896 |

134
(1)

| | |
| --- | --- |
| | Booker T. Washington, Who Is Permanently Hurt? June 1896 |

135
(1)
136
(3)

| | |
| --- | --- |
| | Central Law Journal, August 14, 1896 |

136
(1)

| | |
| --- | --- |
| | Michigan Law Journal, 1896 |

137
(1)

| | |
| --- | --- |
| | American Law Review, 1896 |

138
(1)

| | |
| --- | --- |
| | Virginia Law Register, 1896 |

139
(1)

| | |
| --- | --- |
| | African American Intellectuals |

139
(21)

| | |
| --- | --- |
| | Strivings of the Negro People, 1897 |

140
(9)

| | |
| --- | --- |
| | The Courts and the Negro, ca. 1911 |

149
(11)

| | |
| --- | --- |
| | Sixteen Years after the Decision |

160
(9)

| | |
| --- | --- |
| | From The Fourteenth Amendment and the States, 1912 |

161
(3)

| | |
| --- | --- |
| | Dissenting Opinions of Mr. Justice Harlan, 1912 |

164
(5)
PART THREE Conclusion: In the Wake of Plessy
169
(27)
APPENDICES
179
(7)

| | |
| --- | --- |
| | Chronology of Events Related to Plessy (1849-1925) |

186
(4)

| | |
| --- | --- |
| | Questions for Consideration |

190
(3)
193
(3)
Index
196