Note: Supplemental materials are not guaranteed with Rental or Used book purchases.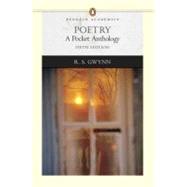 Poetry: A Pocket Anthology (Penguin Academics Series)
ISBN13:
9780321366313
by
Gwynn, R. S.
Summary
This brief, inexpensive, and portable anthology features more than 250 poems, presenting a diverse body of work ranging from William Shakespeare and John Donne to Cathy Song and Sherman Alexie.Chronologically organized within each genre, the diverse selection of poems covers the full scope of the poetic tradition from popular ballads to works by poets born in the 60s and 70s. An "Introduction to Poetry" offers instruction for reading and analyzing poetry, defining key terms in the context of the discussion. Biographical headnotes highlight common themes and ideas in the authorrs"s body of work. Individuals who want a brief overview of the study of poetry.
Table of Contents
Preface
xxv
Introduction
1
(1)

| | |
| --- | --- |
| | An Anecdote: Where Poetry Starts |

1
(1)

| | |
| --- | --- |
| | Speaker, Listener, and Context |

2
(2)
4
(4)

| | |
| --- | --- |
| | Lyric, Narrative, Dramatic |

8
(3)
11
(6)
17
(4)
21
(3)
24
(2)

| | |
| --- | --- |
| | Repetition: Sounds and Schemes |

26
(2)
28
(5)

| | |
| --- | --- |
| | Free Verse, Open Form, and Closed Form |

33
(2)
35
(2)
37
(3)

| | |
| --- | --- |
| | Literary History and Poetic Conventions |

40
(3)
43
(12)
55
(400)
57
(1)
57
(1)
58
(2)

| | |
| --- | --- |
| | Sir Thomas Wyatt (1503?-1542) |

60
(1)
61
(1)

| | |
| --- | --- |
| | Edmund Spenser (1552--1599) |

62
(1)

| | |
| --- | --- |
| | Sir Philip Sidney (1554--1586) |

| | |
| --- | --- |
| | Astrophel and Stella: Sonnet 1 |

63
(1)

| | |
| --- | --- |
| | Robert Southwell (1561?--1595) |

64
(1)

| | |
| --- | --- |
| | Michael Drayton (1563--1631) |

65
(1)

| | |
| --- | --- |
| | William Shakespeare (1564--1616) |

66
(1)
67
(1)
67
(1)
68
(1)
68
(1)
69
(1)
69
(1)

| | |
| --- | --- |
| | When Daisies Pied (Spring and Winter) |

70
(1)

| | |
| --- | --- |
| | Thomas Campion (1567--1620) |

| | |
| --- | --- |
| | There Is a Garden in Her Face |

71
(1)
72
(2)
74
(1)
75
(1)
75
(1)

| | |
| --- | --- |
| | A Valediction: Forbidding Mourning |

76
(1)
77
(1)
78
(1)

| | |
| --- | --- |
| | In This Strange Labyrinth How Shall I Turn |

79
(1)

| | |
| --- | --- |
| | Robert Herrick (1591--1674) |

| | |
| --- | --- |
| | To the Virgins, to Make Much of Time |

80
(1)

| | |
| --- | --- |
| | George Herbert (1593--1633) |

81
(1)
82
(1)
82
(1)
83
(1)

| | |
| --- | --- |
| | Edmund Waller (1606-1687) |

84
(1)
85
(1)

| | |
| --- | --- |
| | On the Late Massacre in Piedmont |

85
(1)

| | |
| --- | --- |
| | When I Consider How My Light Is Spent |

86
(1)

| | |
| --- | --- |
| | Anne Bradstreet (1612--1672) |

87
(1)

| | |
| --- | --- |
| | Richard Lovelace (1618--1658) |

| | |
| --- | --- |
| | To Lucasta, Going to the Wars |

88
(1)

| | |
| --- | --- |
| | Andrew Marvell (1621--1678) |

89
(2)

| | |
| --- | --- |
| | To the Memory of Mr. Oldham |

91
(1)

| | |
| --- | --- |
| | Edward Taylor (1642--1729) |

92
(1)

| | |
| --- | --- |
| | Jonathan Swift (1667--1745) |

| | |
| --- | --- |
| | A Description of a City Shower |

93
(2)

| | |
| --- | --- |
| | Alexander Pope (1688--1744) |

| | |
| --- | --- |
| | from An Essay on Criticism |

95
(2)
97
(1)

| | |
| --- | --- |
| | Elegy Written in a Country Churchyard |

98
(4)

| | |
| --- | --- |
| | William Blake (1757--1827) |

102
(1)
103
(1)
104
(1)
104
(1)

| | |
| --- | --- |
| | Robert Burns (1759--1796) |

105
(1)
106
(2)

| | |
| --- | --- |
| | William Wordsworth (1770--1850) |

| | |
| --- | --- |
| | I Wandered Lonely as a Cloud |

108
(1)

| | |
| --- | --- |
| | It Is a Beauteous Evening |

109
(1)

| | |
| --- | --- |
| | Nuns Fret Not at Their Convent's Narrow Room |

109
(1)

| | |
| --- | --- |
| | Ode (Intimations of Immortality . . . ) |

110
(6)

| | |
| --- | --- |
| | Samuel Taylor Coleridge (1772--1834) |

116
(2)
118
(2)
120
(1)

| | |
| --- | --- |
| | George Gordon, Lord Byron (1788--1824) |

121
(1)
122
(1)
122
(1)

| | |
| --- | --- |
| | Percy Byshe Shelley (1792--1822) |

123
(3)
126
(1)

| | |
| --- | --- |
| | William Cullen Bryant (1794--1878) |

126
(1)
127
(2)
129
(2)
131
(2)

| | |
| --- | --- |
| | On First Looking into Chapman's Homer |

133
(1)
134
(1)

| | |
| --- | --- |
| | Elizabeth Barrett Browning (1806--1861) |

| | |
| --- | --- |
| | Sonnets from the Portuguese 18 |

135
(1)

| | |
| --- | --- |
| | Sonnets from the Portuguese 43 |

135
(1)

| | |
| --- | --- |
| | Henry Wadsworth Longfellow (1807--1882) |

| | |
| --- | --- |
| | The Arsenal at Springfield |

136
(2)
138
(1)

| | |
| --- | --- |
| | Edgar Allan Poe (1809--1849) |

138
(2)
140
(1)
141
(4)

| | |
| --- | --- |
| | Alfred, Lord Tennyson (1809--1892) |

145
(1)
145
(5)
150
(1)
151
(2)

| | |
| --- | --- |
| | Robert Browning (1812--1889) |

153
(2)
155
(2)

| | |
| --- | --- |
| | Walt Whitman (1819--1892) |

157
(6)

| | |
| --- | --- |
| | A Noiseless Patient Spider |

163
(1)
163
(1)
164
(1)
165
(1)
166
(1)
167
(1)
168
(1)
169
(1)
170
(1)
171
(1)

| | |
| --- | --- |
| | When I Heard the Learn'd Astronomer |

172
(1)

| | |
| --- | --- |
| | Matthew Arnold (1822--1888) |

173
(1)

| | |
| --- | --- |
| | Emily Dickinson (1830--1886) |

| | |
| --- | --- |
| | Because I Could Not Stop for Death |

174
(1)

| | |
| --- | --- |
| | The Brain Is Wider than the Sky |

175
(1)

| | |
| --- | --- |
| | I Felt a Funeral, in My Brain |

176
(1)

| | |
| --- | --- |
| | Much Madness Is Divinest Sense |

177
(1)

| | |
| --- | --- |
| | A Narrow Fellow in the Grass |

177
(1)

| | |
| --- | --- |
| | Some Keep the Sabbath Going to Church |

178
(1)

| | |
| --- | --- |
| | The Soul Selects Her Own Society |

178
(1)

| | |
| --- | --- |
| | Tell All the Truth, But Tell It Slant |

179
(1)

| | |
| --- | --- |
| | There's a Certain Slant of Light |

179
(1)

| | |
| --- | --- |
| | Wild Nights---Wild Nights! |

180
(1)

| | |
| --- | --- |
| | Christina Rossetti (1830--1894) |

181
(1)

| | |
| --- | --- |
| | Ah, Are You Digging on My Grave? |

182
(1)

| | |
| --- | --- |
| | The Convergence of the Twain |

183
(2)
185
(1)
186
(1)

| | |
| --- | --- |
| | Gerard Manley Hopkins (1844--1889) |

187
(1)
187
(1)

| | |
| --- | --- |
| | Spring and Fall: To a Young Child |

188
(1)
188
(1)

| | |
| --- | --- |
| | Emma Lazarus (1849--1887) |

189
(1)

| | |
| --- | --- |
| | A. E. Housman (1859--1936) |

190
(1)

| | |
| --- | --- |
| | Loveliest of Trees, the Cherry Now |

191
(1)

| | |
| --- | --- |
| | Stars, I Have Seen Them Fall |

191
(1)

| | |
| --- | --- |
| | ``Terence, This Is Stupid Stuff ...'' |

192
(2)

| | |
| --- | --- |
| | William Butler Yeats (1865--1939) |

| | |
| --- | --- |
| | The Lake Isle of Innisfree |

194
(1)
195
(1)
195
(1)
196
(1)

| | |
| --- | --- |
| | The Song of Wandering Aengus |

197
(1)

| | |
| --- | --- |
| | Edwin Arlington Robinson (1869--1935) |

198
(1)
199
(1)
200
(1)
201
(1)

| | |
| --- | --- |
| | Stephen Crane (1871--1900) |

| | |
| --- | --- |
| | The Trees in the Garden Rained Flowers |

202
(1)
203
(1)

| | |
| --- | --- |
| | Paul Laurence Dunbar (1872--1906) |

203
(1)

| | |
| --- | --- |
| | Robert Frost (1874--1963) |

| | |
| --- | --- |
| | Acquainted with the Night |

204
(1)
205
(1)
206
(1)
207
(3)

| | |
| --- | --- |
| | The Need of Being Versed in Country Things |

210
(1)
211
(1)

| | |
| --- | --- |
| | Stopping by Woods on a Snowy Evening |

212
(1)

| | |
| --- | --- |
| | Adelaide Crapsey (1878--1914) |

212
(1)
213
(1)
213
(1)

| | |
| --- | --- |
| | Wallace Stevens (1879--1955) |

213
(1)

| | |
| --- | --- |
| | Disillusionment of Ten O'Clock |

214
(1)
215
(1)
215
(1)
216
(4)

| | |
| --- | --- |
| | William Carlos Williams (1883--1963) |

| | |
| --- | --- |
| | The Last Words of My English Grandmother |

220
(1)
221
(1)
222
(1)
223
(1)

| | |
| --- | --- |
| | In a Station of the Metro |

223
(1)
224
(1)

| | |
| --- | --- |
| | The River-Merchant's Wife: A Letter |

225
(1)

| | |
| --- | --- |
| | Elinor Wylie (1885--1928) |

226
(1)
226
(1)

| | |
| --- | --- |
| | H. D. (Hilda Doolittle) (1886--1961) |

227
(1)
228
(1)

| | |
| --- | --- |
| | Siegfried Sassoon (1886--1967) |

228
(1)

| | |
| --- | --- |
| | Robinson Jeffers (1887--1962) |

229
(2)

| | |
| --- | --- |
| | Marianne Moore (1887--1972) |

231
(1)
232
(1)
233
(2)

| | |
| --- | --- |
| | The Love Song of J. Alfred Prufrock |

235
(4)
239
(2)

| | |
| --- | --- |
| | John Crowe Ransom (1888--1974) |

241
(2)
243
(1)

| | |
| --- | --- |
| | Edna St. Vincent Millay (1892--1950) |

| | |
| --- | --- |
| | If I Should Learn, in Some Quite Casual Way |

243
(1)

| | |
| --- | --- |
| | Oh, Oh, You Will Be Sorry for that Word |

244
(1)

| | |
| --- | --- |
| | What Lips My Lips Have Kissed, and Where, and Why |

245
(1)

| | |
| --- | --- |
| | Wilfred Owen (1893--1918) |

245
(2)

| | |
| --- | --- |
| | E. E. Cummings (1894--1962) |

247
(1)

| | |
| --- | --- |
| | nobody loses all the time |

248
(1)

| | |
| --- | --- |
| | pity this busy monster, manunkind |

249
(1)
250
(1)
251
(1)

| | |
| --- | --- |
| | Louise Bogan (1897--1970) |

252
(1)
253
(1)

| | |
| --- | --- |
| | Langston Hughes (1902--1967) |

254
(1)
255
(1)
256
(1)

| | |
| --- | --- |
| | Stevie Smith (1902--1971) |

257
(1)

| | |
| --- | --- |
| | Countee Cullen (1903--1946) |

258
(1)
259
(1)
260
(2)

| | |
| --- | --- |
| | As I Walked Out One Evening |

262
(2)
264
(1)
265
(1)

| | |
| --- | --- |
| | Theodore Roethke (1908--1963) |

266
(1)
266
(1)
267
(1)

| | |
| --- | --- |
| | Elizabeth Bishop (1911--1979) |

268
(2)
270
(1)
271
(1)

| | |
| --- | --- |
| | Robert Hayden (1913--1980) |

272
(1)

| | |
| --- | --- |
| | Dudley Randall (1914--2000) |

273
(1)

| | |
| --- | --- |
| | William Stafford (1914--1993) |

| | |
| --- | --- |
| | Traveling Through the Dark |

274
(1)

| | |
| --- | --- |
| | Dylan Thomas (1914--1953) |

| | |
| --- | --- |
| | Do Not Go Gentle into That Good Night |

275
(1)
276
(2)
278
(1)

| | |
| --- | --- |
| | Randall Jarrell (1914--1965) |

279
(1)

| | |
| --- | --- |
| | The Death of the Ball Turret Gunner |

280
(1)

| | |
| --- | --- |
| | Margaret Walker (1915--1998) |

281
(1)

| | |
| --- | --- |
| | Gwendolyn Brooks (1917--2000) |

| | |
| --- | --- |
| | the ballad of chocolate Mabbie |

282
(1)
283
(1)
284
(1)

| | |
| --- | --- |
| | Robert Lowell (1917--1977) |

285
(2)

| | |
| --- | --- |
| | Lawrence Ferlinghetti (b. 1919) |

| | |
| --- | --- |
| | A Coney Island of the Mind, #15 |

287
(2)
289
(1)

| | |
| --- | --- |
| | Howard Nemerov (1920--1991) |

| | |
| --- | --- |
| | A Primer of the Daily Round |

290
(1)
291
(2)
293
(1)
294
(1)
295
(1)

| | |
| --- | --- |
| | Philip Larkin (1922--1985) |

296
(1)
297
(1)
298
(1)

| | |
| --- | --- |
| | James Dickey (1923--1997) |

299
(1)
300
(2)

| | |
| --- | --- |
| | Anthony Hecht (1923--2004) |

302
(1)
303
(1)

| | |
| --- | --- |
| | As I Was Going to Saint-Ives |

304
(2)

| | |
| --- | --- |
| | Denise Levertov (1923--1997) |

306
(1)
307
(1)

| | |
| --- | --- |
| | My Father in the Night Commanding No |

308
(2)

| | |
| --- | --- |
| | Vassar Miller (1924--1997) |

310
(1)

| | |
| --- | --- |
| | Donald Justice (1925--2004) |

311
(1)
312
(1)
313
(2)

| | |
| --- | --- |
| | Noted in the New York Times |

315
(1)

| | |
| --- | --- |
| | Allen Ginsberg (1926--1997) |

| | |
| --- | --- |
| | A Supermarket in California |

316
(1)

| | |
| --- | --- |
| | James Merrill (1926--1995) |

317
(1)
318
(1)

| | |
| --- | --- |
| | Frank O'Hara (1926--1966) |

319
(1)

| | |
| --- | --- |
| | W. D. Snodgrass (b. 1926) |

320
(1)

| | |
| --- | --- |
| | Farm Implements and Rutabagas in a Landscape |

321
(2)
323
(1)

| | |
| --- | --- |
| | For the Anniversary of My Death |

324
(1)
324
(2)

| | |
| --- | --- |
| | James Wright (1927--1980) |

| | |
| --- | --- |
| | Autumn Begins in Martins Ferry, Ohio |

326
(1)
327
(1)

| | |
| --- | --- |
| | Animals Are Passing from Our Lives |

328
(1)
329
(1)
330
(3)
333
(1)
334
(1)
335
(1)

| | |
| --- | --- |
| | In a Prominent Bar in Secaucus One Day |

336
(1)
337
(1)
338
(1)
338
(3)
341
(1)
342
(2)
344
(1)
345
(1)

| | |
| --- | --- |
| | Miller Williams (b. 1930) |

346
(1)
347
(1)

| | |
| --- | --- |
| | Reading the Obituary Page |

348
(1)

| | |
| --- | --- |
| | Sylvia Plath (1932--1963) |

349
(3)
352
(1)
352
(1)

| | |
| --- | --- |
| | Strangers Like Us: Pittsburgh, Raleigh, 1945--1985 |

353
(1)
354
(1)
355
(1)
356
(2)
358
(1)
359
(1)

| | |
| --- | --- |
| | Lucille Clifton (b. 1936) |

360
(1)
360
(1)

| | |
| --- | --- |
| | What's That Smell in the Kitchen? |

361
(1)
362
(2)
364
(1)

| | |
| --- | --- |
| | Robert Phillips (b. 1938) |

365
(3)
368
(1)

| | |
| --- | --- |
| | Margaret Atwood (b. 1939) |

369
(1)
370
(1)
371
(1)
372
(2)
374
(1)
375
(2)
377
(1)

| | |
| --- | --- |
| | Florence Cassen Mayers (b. 1940) |

378
(1)

| | |
| --- | --- |
| | Pattiann Rogers (b. 1940) |

379
(2)
381
(1)
382
(1)

| | |
| --- | --- |
| | Picking Blackberries with a Friend Who Has Been Reading Jacques Lacan |

383
(1)
384
(1)
385
(1)
386
(1)
387
(1)

| | |
| --- | --- |
| | B. H. Fairchild (b. 1942) |

388
(4)
392
(2)

| | |
| --- | --- |
| | The One Girl at the Boys Party |

394
(1)
395
(1)

| | |
| --- | --- |
| | My Husband Discovers Poetry |

396
(1)

| | |
| --- | --- |
| | Ellen Bryant Voigt (b. 1943) |

397
(1)
398
(1)

| | |
| --- | --- |
| | A Martian Sends a Postcard Home |

399
(2)

| | |
| --- | --- |
| | Women Bathing at Bergen-Belsen |

401
(1)
402
(1)

| | |
| --- | --- |
| | A Monorhyme for the Shower |

403
(1)
404
(1)

| | |
| --- | --- |
| | Leon Stokesbury (b. 1945) |

405
(2)

| | |
| --- | --- |
| | The Ballad of Aunt Geneva |

407
(1)
408
(1)

| | |
| --- | --- |
| | Maybe Dats Your Pwoblem Too |

409
(2)

| | |
| --- | --- |
| | Yusef Komunyakaa (b. 1947) |

411
(1)

| | |
| --- | --- |
| | Approaching a Significant Birthday, He Peruses an Anthology of Poetry |

412
(1)
413
(1)
414
(2)
416
(1)
417
(1)
418
(1)

| | |
| --- | --- |
| | Winter Retreat: Homage to Martin Luther King, Jr. |

419
(2)
421
(1)
422
(2)

| | |
| --- | --- |
| | Air View of an Industrial Scene |

424
(1)
425
(1)

| | |
| --- | --- |
| | Judith Ortiz Cofer (b. 1952) |

| | |
| --- | --- |
| | The Latin Deli: An Ars Poetica |

426
(2)
428
(1)
429
(1)
430
(2)

| | |
| --- | --- |
| | Naomi Shihab Nye (b. 1952) |

432
(1)

| | |
| --- | --- |
| | The Purpose of Altar Boys |

433
(1)
434
(2)

| | |
| --- | --- |
| | Harryette Mullen (b. 1953) |

436
(1)

| | |
| --- | --- |
| | Michael Donaghy (1954--2004) |

437
(1)

| | |
| --- | --- |
| | Sonnenizio on a Line from Drayton |

438
(1)
439
(1)
440
(1)
441
(2)

| | |
| --- | --- |
| | Primping in the Rearview Mirror |

443
(1)
444
(1)
445
(1)

| | |
| --- | --- |
| | Catherine Tufariello (b. 1963) |

446
(1)

| | |
| --- | --- |
| | The Exaggeration of Despair |

447
(1)

| | |
| --- | --- |
| | Natasha Trethewey (b. 1966) |

448
(1)
449
(2)

| | |
| --- | --- |
| | A. E. Stallings (b. 1968) |

| | |
| --- | --- |
| | Triolet on a Line Apocryphally Attributed to Martin Luther |

451
(1)
452
(1)

| | |
| --- | --- |
| | Beth Ann Fennelly (b. 1971) |

| | |
| --- | --- |
| | Asked for a Happy Memory of Her Father, She Recalls Wrigley Field |

453
(2)
Appendix: Traditional Stanza, Fixed, and Nonce Forms
455
(6)
Acknowledgments
461
(10)
Index of Critical Terms
471
(2)
Index of Authors, Titles, and First Lines of Poems
473