Note: Supplemental materials are not guaranteed with Rental or Used book purchases.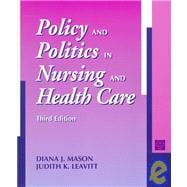 Questions About This Book?
What version or edition is this?
This is the 3rd edition with a publication date of 8/1/1998.
What is included with this book?
The New copy of this book will include any supplemental materials advertised. Please check the title of the book to determine if it should include any CDs, lab manuals, study guides, etc.
Summary
A 1998 AJN Book of the Year! Over 100 experts examine policy and politics in nursing within the workplace, government, professional organizations, and the community. Scholarly discussions, combined with personal narratives and case histories, bring an array of topics to life from the legislative and regulatory processes to the organization of health care in the United States. This resource helps readers develop valuable skills such as political and policy analysis, conflict management, lobbying, the use of media, and working with communities for change.
Table of Contents
Foreword
xxi
(2)
Preface
xxiii
(6)
Introduction
xxix
Unit I POLICY AND POLITICS: A Nursing Perspective
3
(122)

| | |
| --- | --- |
| | 1 Policy and Politics: A Framework for Action |

3
(15)

| | |
| --- | --- |
| | 2 Feminist Perspectives on Policy and Politics |

18
(23)

| | |
| --- | --- |
| | Donna M. Costello-Nickitas |

| | |
| --- | --- |
| | VIGNETTE: FROM BEDSIDE TO BEIJING |

29
(6)

| | |
| --- | --- |
| | VIGNETTE: DANCING WITH THE CHAOS: A GRASSROOTS APPROACH TO TRANSFORMATION AND HEALING IN NURSING |

35
(6)

| | |
| --- | --- |
| | 3 Historical Overview: Policy, Politics, and Nursing |

41
(18)

| | |
| --- | --- |
| | 4 Organization and Delivery of Health Care in the United States: The Health Care System That Isn't |

59
(21)

| | |
| --- | --- |
| | VIGNETTE: AFFORDABLE LONG-TERM CARE: NURSING MODELS OF CARE DELIVERY |

69
(4)

| | |
| --- | --- |
| | VIGNETTE: DEVELOPING AND IMPLEMENTING A HEALTH PROMOTION INITIATIVE |

73
(7)
80
(45)

| | |
| --- | --- |
| | VIGNETTE: ONE NURSE'S PERSPECTIVE ON MANAGED CARE |

99
(5)

| | |
| --- | --- |
| | CASE STUDY: MOVING A VISION: THE VIETNAM WOMEN'S MEMORIAL |

104
(21)
Unit II POLICY AND POLITICS: Knowing the Process, Using the Power
125
(136)

| | |
| --- | --- |
| | 6 Policy Development and Analysis |

125
(14)

| | |
| --- | --- |
| | 7 Political Analysis and Strategy |

139
(21)
156
(4)

| | |
| --- | --- |
| | 8 Dynamics of Public Policy: Community-based Practice Meets Managed Care |

160
(13)
173
(7)
180
(11)

| | |
| --- | --- |
| | VIGNETTE: THE AD HOC COMMITTEE TO DEFEND HEALTH CARE: A COLLABORATIVE NURSE-PHYSICIAN EFFORT |

188
(3)

| | |
| --- | --- |
| | 11 Research as Policy/Political Tool |

191
(17)

| | |
| --- | --- |
| | 12 The Economics of Health Care |

208
(15)

| | |
| --- | --- |
| | 13 The Role of the Media in Influencing Policy: Getting the Message Across |

223
(18)

| | |
| --- | --- |
| | VIGNETTE: FREE MEDIA COVERAGE: USING LETTERS (MESSAGES) TO THE EDITOR |

234
(1)

| | |
| --- | --- |
| | VIGNETTE: EVERY PATIENT DESERVES A NURSE |

235
(6)

| | |
| --- | --- |
| | 14 Ethical Issues: Politics, Power, and Policy |

241
(20)

| | |
| --- | --- |
| | CASE STUDY: RATIONING HEALTH CARE: THE OREGON STORY |

249
(12)
Unit III POLICY AND POLITICS IN THE WORKPLACE
261
(88)

| | |
| --- | --- |
| | 15 Contemporary Issues in the Workplace: A Glimpse Over the Horizon into the New Age of Health Care |

261
(19)

| | |
| --- | --- |
| | VIGNETTE: THE POLITICS OF CASE MANAGEMENT |

274
(6)

| | |
| --- | --- |
| | 16 Strategies for Change in the Workplace |

280
(9)

| | |
| --- | --- |
| | 17 Communicating and Collaborating for Change in the Workplace |

289
(5)

| | |
| --- | --- |
| | 18 Ensuring the Future of Nurses in Clinical Practice: Issues and Strategies for Staff Nurses and Advanced Practice Nurses |

294
(13)

| | |
| --- | --- |
| | VIGNETTE: ENSURING THE FUTURE OF NURSE PRACTITIONERS IN CLINICAL PRACTICE |

303
(4)

| | |
| --- | --- |
| | 19 Collective Action in the Workplace |

307
(16)

| | |
| --- | --- |
| | VIGNETTE: BLOWING THE WHISTLE |

317
(6)

| | |
| --- | --- |
| | 20 The Politics of Nursing Research |

323
(26)

| | |
| --- | --- |
| | CASE STUDY: THE HEALTHY WORK ENVIRONMENT AS CORE TO AN ORGANIZATION'S SUCCESS |

332
(17)
Unit IV POLICY AND POLITICS IN GOVERNMENT
349
(176)

| | |
| --- | --- |
| | 21 Contemporary Issues in Government |

349
(35)

| | |
| --- | --- |
| | VIGNETTE: IMPACT OF THE NEW WELFARE LAW ON CHILD HEALTH |

378
(6)

| | |
| --- | --- |
| | 22 Legislative and Regulatory Processes |

384
(13)

| | |
| --- | --- |
| | 23 Nursing and the Courts |

397
(8)
405
(12)
417
(19)

| | |
| --- | --- |
| | VIGNETTE: ONE NURSE'S JOURNEY TO BECOMING A POLICYMAKER |

426
(10)
436
(26)

| | |
| --- | --- |
| | VIGNETTE: RISING TO THE TOP: AN INTERVIEW WITH SHEILA BURKE |

458
(4)

| | |
| --- | --- |
| | 27 Political Appointments |

462
(13)

| | |
| --- | --- |
| | VIGNETTE: NURSES AS APPOINTED LEADERS IN STATE GOVERNMENT |

471
(4)
475
(6)

| | |
| --- | --- |
| | 29 Lobbying Policymakers: Individual and Collective Strategies |

481
(9)

| | |
| --- | --- |
| | 30 The American Voter: Political Campaigns and Nursing's Leadership |

490
(35)

| | |
| --- | --- |
| | VIGNETTE: MANAGING A CAMPAIGN |

504
(7)

| | |
| --- | --- |
| | CASE STUDY: PILGRIM IN POLITICS |

511
(14)
Unit V CONTEMPORARY ISSUES IN PROFESSIONAL ORGANIZATIONS
525
(56)

| | |
| --- | --- |
| | 31 Contemporary Issues in Professional Organizations |

525
(10)

| | |
| --- | --- |
| | 32 You and Your Professional Organization |

535
(11)

| | |
| --- | --- |
| | VIGNETTE: TRANSFORMING A NURSING ORGANIZATION TO INFLUENCE PUBLIC POLICY: NATIONAL BLACK NURSES ASSOCIATION |

542
(4)

| | |
| --- | --- |
| | 33 Political Action Committees |

546
(35)

| | |
| --- | --- |
| | CASE STUDY: NURSING ORGANIZATIONS IN ACTION |

555
(26)
555
(1)

| | |
| --- | --- |
| | AMERICAN ASSEMBLY FOR MEN IN NURSING |

556
(1)

| | |
| --- | --- |
| | AMERICAN ASSOCIATION OF COLLEGES OF NURSING |

557
(2)

| | |
| --- | --- |
| | AMERICAN ASSOCIATION OF OCCUPATIONAL HEALTH NURSES |

559
(3)

| | |
| --- | --- |
| | AMERICAN COLLEGE OF NURSE-MIDWIVES |

562
(1)

| | |
| --- | --- |
| | AMERICAN NEPHROLOGY NURSES ASSOCIATION |

563
(2)

| | |
| --- | --- |
| | ASSOCIATION OF CHILD AND ADOLESCENT PSYCHIATRIC NURSES |

565
(1)

| | |
| --- | --- |
| | ASSOCIATION OF OPERATING ROOM NURSES |

566
(2)

| | |
| --- | --- |
| | NATIONAL ALLIANCE OF NURSE PRACTITIONERS |

568
(1)

| | |
| --- | --- |
| | NATIONAL ASSOCIATION OF NURSE MASSAGE THERAPISTS |

569
(1)

| | |
| --- | --- |
| | NATIONAL ASSOCIATION OF ORTHOPAEDIC NURSES |

570
(1)

| | |
| --- | --- |
| | NATIONAL ASSOCIATION OF STATE SCHOOL NURSE CONSULTANTS |

571
(2)
573
(1)

| | |
| --- | --- |
| | Katherine McDermott Blackburn |

| | |
| --- | --- |
| | SOCIETY OF GASTROENTEROLOGY NURSES AND ASSOCIATES |

574
(2)

| | |
| --- | --- |
| | SOCIETY OF PEDIATRIC NURSES |

576
(1)

| | |
| --- | --- |
| | NATIONAL FEDERATION FOR SPECIALTY NURSING ORGANIZATIONS: NURSE IN WASHINGTON INTERNSHIP |

577
(4)
Unit VI POLICY AND POLITICS IN THE COMMUNITY
581
(100)

| | |
| --- | --- |
| | 34 Contemporary Issues in the Community |

581
(12)

| | |
| --- | --- |
| | VIGNETTE: BICYCLING, PUBLIC POLICY, AND HEALTH: THE NURSE AS COMMUNITY ACTIVIST |

587
(6)

| | |
| --- | --- |
| | 35 Working with the Community for Change |

593
(15)

| | |
| --- | --- |
| | VIGNETTE: ENVIRONMENTAL HEALTH POLICY: ENVIRONMENTAL JUSTICE |

602
(6)

| | |
| --- | --- |
| | 36 Policy, Politics, and Foundations |

608
(11)

| | |
| --- | --- |
| | 37 Nursing, Health, And Health Care in the International Community |

619
(33)

| | |
| --- | --- |
| | VIGNETTE: THE POWER OF LITERACY |

633
(4)

| | |
| --- | --- |
| | VIGNETTE: THE FOURTH WORLD CONFERENCE ON WOMEN: THE ROAD TO BEIJING AND BEYOND |

637
(3)

| | |
| --- | --- |
| | CASE STUDY: THE COMMUNITY AND CHILDBEARING CENTERS |

640
(12)
652
(29)

| | |
| --- | --- |
| | THE RAINBOW KITCHEN: DEVELOPING A NEIGHBORHOOD HEALTH CENTER |

652
(8)

| | |
| --- | --- |
| | NURSES, CONSUMERS, ACTIVISTS, AND THE POLITICS OF AIDS |

660
(21)
Afterword
681
(5)
APPENDIXES
686
(25)
A Internships in Policy and Politics
686
(18)
B Political Activity and Government-employed Nurses
704
(4)
C Nursing's Agenda for Health Care Reform
708
(3)
Index
711