Note: Supplemental materials are not guaranteed with Rental or Used book purchases.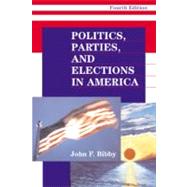 Politics, Parties, and Elections in America
ISBN13:
9780830415472
by
Bibby, John F.
Questions About This Book?
What version or edition is this?
This is the edition with a publication date of 8/10/1999.
What is included with this book?
The New copy of this book will include any supplemental materials advertised. Please check the title of the book to determine if it should include any CDs, lab manuals, study guides, etc.
Summary
Packed with the latest research, POLITICS, PARTIES AND ELECTIONS IN AMERICA provides a comprehensive account of what political parties do, how they are organized, how party leaders behave, the functions of political parties and their limitations, the unique features of American political parties, and the impact of political parties within the American political system. The text is straightforward, presenting rigorous concepts and recent scholarship in a manner that students can readily understand. Its balanced and up-to-date coverage of political parties imparts practical knowledge of the realities of political life.
Table of Contents
| | |
| --- | --- |
| | Parties and Politics in America: An Overview |

1
(24)
4
(1)
5
(2)
7
(8)

| | |
| --- | --- |
| | Parties as Competitors for Political Influence |

15
(3)

| | |
| --- | --- |
| | Parties and Interest Groups: There Is a Difference! |

18
(2)

| | |
| --- | --- |
| | Party Government and the Peaceful Transfer of Governmental Authority |

20
(1)

| | |
| --- | --- |
| | Suggestions for Further Reading |

21
(1)
22
(3)

| | |
| --- | --- |
| | The Party Battle in America |

25
(42)

| | |
| --- | --- |
| | The First Party System, 1788-1824: Federalists, Republicans, and One Party Factionalism |

27
(3)

| | |
| --- | --- |
| | The Second Party System, 1828-1854: Democrats versus Whigs in Two Party Competitive Politics |

30
(2)

| | |
| --- | --- |
| | The Third Party System, 1856-1896: Ascendant Republicans versus Democrats |

32
(2)

| | |
| --- | --- |
| | The Fourth Party System, 1896-1928: Republican Dominance Renewed |

34
(4)

| | |
| --- | --- |
| | The Fifth Party System, 1932-1968: The Democratic New Deal Era |

38
(3)

| | |
| --- | --- |
| | The Sixth Party System, 1968-?: The Post-New Deal Era---Weakened Partisanship, Candidate-Centered Politics, and Divided Government |

41
(2)

| | |
| --- | --- |
| | Minor Parties in American Politics |

43
(7)

| | |
| --- | --- |
| | Some Lessons from Party History |

50
(11)
61
(1)

| | |
| --- | --- |
| | Suggestions for Further Reading |

62
(1)
63
(4)

| | |
| --- | --- |
| | Characteristics of the American Party System |

67
(34)

| | |
| --- | --- |
| | Two Party Competition with Variations |

69
(8)

| | |
| --- | --- |
| | Decentralized Power Structures |

77
(11)

| | |
| --- | --- |
| | Broadly Based Electoral Support |

88
(1)
89
(7)

| | |
| --- | --- |
| | Quasi-Public Institutions with Ambiguous Membership |

96
(1)

| | |
| --- | --- |
| | Weak Parties, But Substantial Partisan Influence |

97
(1)

| | |
| --- | --- |
| | Suggestions for Further Reading |

97
(1)
98
(3)
101
(62)
106
(25)
131
(12)

| | |
| --- | --- |
| | Country and Local Parties |

143
(3)

| | |
| --- | --- |
| | Does Party Organization Make a Difference? |

146
(1)
147
(8)

| | |
| --- | --- |
| | Party Organizations: Adaptable and Durable |

155
(1)

| | |
| --- | --- |
| | Suggestions for Further Reading |

155
(1)
156
(7)

| | |
| --- | --- |
| | Nominations for State and Congressional Offices |

163
(34)

| | |
| --- | --- |
| | The Evolution of the Direct Primary |

165
(4)

| | |
| --- | --- |
| | State Regulation of the Direct Primary |

169
(9)
178
(3)
181
(2)

| | |
| --- | --- |
| | Voter Turnout in Primaries |

183
(5)

| | |
| --- | --- |
| | The National Party Organizations and Nominations in the States |

188
(2)

| | |
| --- | --- |
| | The Direct Primary and the General Election |

190
(1)

| | |
| --- | --- |
| | The Direct Primary and Political Parties |

191
(2)

| | |
| --- | --- |
| | Suggestions for Further Reading |

193
(1)
193
(4)

| | |
| --- | --- |
| | Presidential Nominating Politics |

197
(50)

| | |
| --- | --- |
| | Methods of Delegate Selection |

199
(6)

| | |
| --- | --- |
| | Phases of the Nomination Process |

205
(17)

| | |
| --- | --- |
| | The Ongoing Process of Party Reform |

222
(10)

| | |
| --- | --- |
| | Participation in Presidential Nominating Politics |

232
(7)

| | |
| --- | --- |
| | Media Politics in Presidential Nominations |

239
(2)

| | |
| --- | --- |
| | A Lengthy, Candidate-Centered, Primary-Focused, Participatory, and Media-Oriented Process |

241
(1)

| | |
| --- | --- |
| | Suggestions for Further Reading |

242
(1)
243
(4)

| | |
| --- | --- |
| | The General Election: Regulation and Campaign Strategy |

247
(64)
249
(3)

| | |
| --- | --- |
| | Direct Election of the Senate |

252
(1)

| | |
| --- | --- |
| | Party Column versus Office Bloc Ballot Forms |

253
(1)
253
(23)
276
(10)

| | |
| --- | --- |
| | The General Election Campaign |

286
(20)

| | |
| --- | --- |
| | The Campaign and Governance |

306
(1)

| | |
| --- | --- |
| | Suggestions for Further Reading |

306
(1)
307
(4)

| | |
| --- | --- |
| | Political Parties and The Voters |

311
(66)
312
(10)
322
(5)
327
(5)

| | |
| --- | --- |
| | Social and Economic Bases of Partisanship and Voting |

332
(9)
341
(30)

| | |
| --- | --- |
| | Voters, Elections, and Control of Government |

371
(1)

| | |
| --- | --- |
| | Suggestions for Further Reading |

371
(1)
372
(5)

| | |
| --- | --- |
| | Parties in the Government |

377
(60)

| | |
| --- | --- |
| | The President as Party Leader |

381
(7)

| | |
| --- | --- |
| | The Party, the President, and Congress |

388
(10)

| | |
| --- | --- |
| | The Party, the President, and the Executive Branch |

398
(6)

| | |
| --- | --- |
| | The Party, the President, and the Judiciary |

404
(2)
406
(25)

| | |
| --- | --- |
| | A Party-Influenced Government, But Not a Party-Dominated Government |

431
(1)

| | |
| --- | --- |
| | Suggestions for Further Reading |

432
(1)
432
(5)

| | |
| --- | --- |
| | A Concluding Note: American Parties---Distinctive, Durable, Adaptive, and Useful |

437
(4)
440
(1)
Index to References
441
(4)
Index
445