Note: Supplemental materials are not guaranteed with Rental or Used book purchases.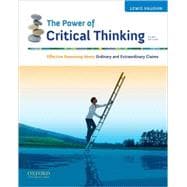 The Power of Critical Thinking Effective Reasoning About Ordinary and Extraordinary Claims
by
Vaughn, Lewis
Questions About This Book?
What version or edition is this?
This is the 3rd edition with a publication date of 10/9/2009.
What is included with this book?
The Used copy of this book is not guaranteed to include any supplemental materials. Typically, only the book itself is included.
Summary
The Power of Critical Thinking: Effective Reasoning About Ordinary and Extraordinary Claims, Third Edition, presents the broadest range of tools for today's critical thinking students to apply in any arena, from everyday life to academia, and from science to the media. It explores the essentials of critical reasoning, argumentation, logic, and argumentative essay writing while also incorporating important topics that most other texts leave out, such as "inference to the best explanation," scientific reasoning, evidence and authority, visual reasoning, and obstacles to critical thinking. The Power of Critical Thinking, Third Edition, integrates many pedagogical features, including hundreds of diverse exercises, examples, and illustrations; text boxes that apply critical thinking to student experience; step-by-step guidelines for evaluating claims, arguments, and explanations; a glossary of important terms; many reminders, summaries, and review notes; and five progressive, stand-alone writing modules interspersed throughout the text. Written in a student-friendly style and enhanced by humor, this text is ideal for courses in critical thinking, introduction to logic, informal logic, argumentative writing, and introduction to argumentation. New to the Third Edition: * Six new "Essays for Evaluation" (three pairs arranged in a pro/con format, each pair debating a single issue) * An expanded Chapter 11 on moral reasoning * New, more instructive photos that encourage critical thinking about visual elements * More guidance on doing research and judging sources * A revised text box program that includes "Newsmakers" and "From the Web" in addition to "For Further Thought" * Updated pop culture and political references and examples--many ripped from the headlines or drawn from everyday life The Power of Critical Thinking, Third Edition, is supplemented by an Instructor's Manual with Computerized Test Bank (available both in print and on a CD) and a Companion Website at www.oup.com/us/criticalthinking that includes instructor resources and a student study guide.
Author Biography

Lewis Vaughn is the author or coauthor of several books, including: Bioethics: Principles, Issues, and Cases (OUP, 2008); How to Think About Weird Things: Critical Thinking for a New Age, Fifth Edition (2007); Doing Ethics: Moral Reasoning and Contemporary Issues (2007); Doing Philosophy: An Introduction Through Thought Experiments, Third Edition (2006); and Writing Philosophy: A Student's Guide to Writing Philosophy Essays (OUP, 2005).

Table of Contents

*=New to this Edition
Preface
PART 1. BASICS
1. The Power of Critical Thinking
Why It Matters
How It Works
Claims and Reasons
Reasons and Arguments
Arguments in the Rough
Summary
Exercises
Field Problems
Self-Assessment Quiz
Critical Thinking and Writing: Module 1
Writing Assignments
* 2. Obstacles to Critical Thinking
* Psychological Obstacles
The Almighty Self
The Power of the Group
* Philosophical Obstacles
Subjective Relativism
Social Relativism
Skepticism
Summary
Exercises
Field Problems
Self-Assessment Quiz
Integrative Exercises
Critical Thinking and Writing: Module 2
Writing Assignments
3. Making Sense of Arguments
Argument Basics
Judging Arguments
Finding Missing Parts
Argument Patterns
Diagramming Arguments
Assessing Long Arguments
Summary
Field Problems
Self-Assessment Quiz
Integrative Exercises
Critical Thinking and Writing: Module 3
Writing Assignments
PART 2. REASONS
4. Reasons for Belief and Doubt
When Claims Conflict
Experts and Evidence
Personal Experience
Impairment
Expectation
Innumeracy
Fooling Ourselves
Resisting Contrary Evidence
Looking for Confirming Evidence
Preferring Available Evidence
Claims in the News
Inside the News
Sorting Out the News
Advertising and Persuasion
Identification
Slogans
Misleading Comparisons
Weasel Words
Summary
Exercises
Field Problems
Self-Assessment Quiz
Integrative Exercises
Critical Thinking and Writing: Module 4
Writing Assignments
5. Faulty Reasoning
Irrelevant Premises
Genetic Fallacy
Composition
Division
Appeal to the Person
Equivocation
Appeal to Popularity
Appeal to Tradition
Appeal to Ignorance
Appeal to Emotion
Red Herring
Straw Man
Unacceptable Premises
Begging the Question
False Dilemma
Slippery Slope
Hasty Generalization
Faulty Analogy
Summary
Exercises
Field Problems
Self-Assessment Quiz
Integrative Exercises
Critical Thinking and Writing: Module 5
Writing Assignments
PART 3. ARGUMENTS
6. Deductive Reasoning: Propositional Logic
Connectives and Truth Values
Conjunction
Disjunction
Negation
Conditional
Checking for Validity
Simple Arguments
Tricky Arguments
Streamlined Evaluation
Summary
Field Problems
Self-Assessment Quiz
Integrative Exercises
Writing Assignments
7. Deductive Reasoning: Categorical Logic
Statements and Classes
Translations and Standard Form
Terms
Quantifiers
Diagramming Categorical Statements
Sizing Up Categorical Syllogisms
Summary
Field Problems
Self-Assessment Quiz
Integrative Exercises
Writing Assignments
8. Inductive Reasoning
Enumerative Induction
Sample Size
Representativeness
Opinion Polls
Analogical Induction
Causal Arguments
Testing for Causes
Causal Confusions
Necessary and Sufficient Conditions
Summary
Field Problems
Self-Assessment Quiz
Integrative Exercises
Writing Assignments
PART 4. EXPLANATIONS
9. Inference to the Best Explanation
Explanations and Inference
Theories and Consistency
Theories and Criteria
Testability
Fruitfulness
Scope
Simplicity
Conservatism
Telling Good Theories from Bad
A Doomed Flight
An Amazing Cure
Summary
Field Problems
Self-Assessment Quiz
Integrative Exercises
Writing Assignments
10. Judging Scientific Theories
Science and Not Science
The Scientific Method
Testing Scientific Theories
Judging Scientific Theories
Copernicus Versus Ptolemy
Evolution Versus Creationism
Science and Weird Theories
Making Weird Mistakes
Leaping to the Weirdest Theory
Mixing What Seems with What Is
Misunderstanding the Possibilities
Judging Weird Theories
Crop Circles
Talking with the Dead
Summary
Field Problems
Self-Assessment Quiz
Integrative Exercises
Writing Assignments
11. Judging Moral Arguments and Theories
Moral Arguments
* Moral Premises
Moral Theories
* Evaluating Moral Theories
* Two Important Theories
A Coherent Worldview
Summary
Exercises
Field Problems
Self-Assessment Quiz
Integrative Exercises
Writing Assignments
Appendix A: Essays for Evaluation
1. "Death Penalty Discriminates Against Black Crime Victims"
2. "Marine Parks"
3. "The Wrong Ruling on Vouchers"
4. "The Kalam Cosmological Argument"
5. "More Innocents Die When We Don't Have Capital Punishment"
6. "Misleading the Patient for Fun and Profit"
7. "Tight Limits on Stem Cells Betray Research Potential"
8. "The Cohabitation Epidemic"
9. "The Demon-Haunted Sentence: A Skeptical Analysis of Reverse Speech"
10. "Amityville: The Horror of It All"
11. "A Deviance from God's Norm"
12. "Marriage Still Evolving, as Ever"
13. "Slouching Toward Chimeras"
14. "The Right to Ridicule"
15. "Time to Think"
* 16. "Torture: Time for Congress to End the Debate"
* 17. "Torture: Severe Interrogations Work"
* 18. "Freedom of Expression: Protect Student Speech-Even 'Unwise' Bong Banner"
* 19. "Freedom of Expression: Policy Reflects Common Sense"
* 20. "Flag Amendment: Congress Nears Choice: Protect Freedom or Stoke Anger?"
* 21. "Flag Amendment: Flag Needs Protection"
Appendix B: Answers to Exercises
Notes
Glossary
Credits
Index