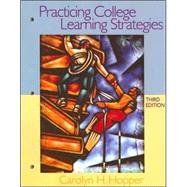 List Price: $49.67
In Stock Usually Ships in 24-48 Hours

More New and Used
from Private Sellers
Questions About This Book?
What version or edition is this?
This is the 3rd edition with a publication date of 4/21/2003.
What is included with this book?
The Used copy of this book is not guaranteed to inclue any supplemental materials. Typically, only the book itself is included.
Summary
Based on the belief that students learn more effectively through hands-on reinforcement,Practicing College Learning Strategiesstresses the critical-thinking, note-taking, and test-taking skills needed for successful completion of the first semester of college and beyond. Class discussion is complemented by a concise presentation of materials and practice, including hands-on activities to enhance the learning strategies presented. Brain Bytesthroughout the text show students how memory strategies work and provide tools to maximize retention, to improve job performance, school achievement, and personal success. What's Your Advice?exercises at the end of every chapter ask students to synthesize and evaluate what they learn in the form of advice to others.
Table of Contents
Preface
xiii

| | |
| --- | --- |
| | Survival Kit: Things You Need to Know Right Now! |

1
(272)

| | |
| --- | --- |
| | Musts for the First Day of Class |

2
(1)

| | |
| --- | --- |
| | Ten General Survival Tips to Keep You Afloat |

2
(1)
3
(3)

| | |
| --- | --- |
| | The Big 3 Are Posture, Neck and Shoulder Muscles, and Breath Support |

3
(3)

| | |
| --- | --- |
| | Survival Tips for Taking Notes and Reading Assignments |

6
(1)

| | |
| --- | --- |
| | Survival Tips for Taking Tests |

6
(3)
6
(2)
8
(1)

| | |
| --- | --- |
| | Checklist for Essay Tests |

9
(1)

| | |
| --- | --- |
| | A Dozen Reasons to Review a Returned Test |

10
(1)

| | |
| --- | --- |
| | Obtaining Your Technology Survival Tools |

11
(2)

| | |
| --- | --- |
| | Jensen's Equation for Optimal Learning |

12
(1)
13
(2)

| | |
| --- | --- |
| | Applying the Principles of Time Management |

15
(22)

| | |
| --- | --- |
| | Critical Thinking About Time Management |

16
(1)

| | |
| --- | --- |
| | Scheduling: The Foundation of Time Management |

17
(11)
17
(1)
18
(1)
19
(3)

| | |
| --- | --- |
| | Planning a Master Schedule |

22
(2)

| | |
| --- | --- |
| | Putting Your Master Schedule into Practice |

24
(3)
27
(1)
28
(1)
28
(1)

| | |
| --- | --- |
| | Time Wasters: Plan Your Attack |

29
(1)

| | |
| --- | --- |
| | Virtual Field Trip: Procrastination and Time Management |

30
(2)

| | |
| --- | --- |
| | Critical Thinking About Prioritizing Exercise |

32
(2)
34
(1)
35
(2)
37
(12)

| | |
| --- | --- |
| | The Necessity of Critical Thinking |

37
(1)

| | |
| --- | --- |
| | The Process of Decision Making |

38
(3)
41
(1)
42
(1)

| | |
| --- | --- |
| | Levels of Learning: Bloom's Taxonomy |

43
(2)

| | |
| --- | --- |
| | Knowledge, Comprehension, Application, Analysis, Synthesis, Evaluation |

44
(1)

| | |
| --- | --- |
| | Virtual Field Trip: Bloom's Taxonomy |

45
(1)
46
(1)
47
(2)
49
(18)
50
(1)
51
(1)

| | |
| --- | --- |
| | Virtual Field Trip: Locus of Control |

52
(1)
53
(1)

| | |
| --- | --- |
| | When Should You Set Goals? |

54
(1)

| | |
| --- | --- |
| | Examining Areas of Your Life |

54
(1)
55
(1)
56
(1)

| | |
| --- | --- |
| | Elements of a Useful Goal |

56
(3)

| | |
| --- | --- |
| | Practice Writing Useful Goals |

57
(1)

| | |
| --- | --- |
| | Writing Your Goals in a Way They Are Likely to Be Accomplished |

58
(1)

| | |
| --- | --- |
| | Critical Thinking About Follow-Up |

59
(1)

| | |
| --- | --- |
| | Setting Goals for Difficult Classes |

59
(3)
60
(1)
60
(1)
61
(1)

| | |
| --- | --- |
| | Critical Thinking About What's Your Problem Class? |

62
(1)

| | |
| --- | --- |
| | Reasons Students Fail College |

63
(1)
64
(1)
65
(2)
67
(32)

| | |
| --- | --- |
| | A Brief Explanation of Memory Principles |

67
(6)

| | |
| --- | --- |
| | Applying the Memory Principles |

73
(1)

| | |
| --- | --- |
| | Making an Effort to Remember |

73
(1)

| | |
| --- | --- |
| | Controlling the Amount and Form of Information |

74
(4)
78
(3)

| | |
| --- | --- |
| | Allowing Time for Information to Soak In |

81
(3)

| | |
| --- | --- |
| | Virtual Field Trip: Memory Principles |

84
(1)

| | |
| --- | --- |
| | Virtual Field Trip: Memory Principles Quiz |

84
(1)

| | |
| --- | --- |
| | How Memory Works: Putting Principles in Perspective |

84
(2)

| | |
| --- | --- |
| | Stage One: Getting Information into the Brain--Reception into Short-Term Memory |

86
(1)

| | |
| --- | --- |
| | Factors That Influence Reception |

86
(1)

| | |
| --- | --- |
| | Critical Thinking About Reception |

87
(1)

| | |
| --- | --- |
| | The Nature of Short-Term Memory |

88
(1)

| | |
| --- | --- |
| | Stage Two: Processing from Short-Term to Long-Term Memory |

88
(3)
88
(1)
89
(1)
90
(1)

| | |
| --- | --- |
| | The Nature of Long-Term Memory |

91
(1)

| | |
| --- | --- |
| | Stage Three: Retrieving from Long-Term Memory |

91
(1)

| | |
| --- | --- |
| | What Happens When You Retrieve Information from Long-Term Memory? |

92
(1)

| | |
| --- | --- |
| | Virtual Field Trip: Learning More About the Brain |

93
(1)
94
(2)
96
(3)

| | |
| --- | --- |
| | Processing Information from Lectures |

99
(24)
99
(1)

| | |
| --- | --- |
| | Relating Information Processing to Memory Principles |

100
(1)

| | |
| --- | --- |
| | Critical Thinking About Information Processing |

101
(1)
102
(2)
103
(1)

| | |
| --- | --- |
| | Virtual Field Trip: Let's Go Improve Your Listening |

104
(1)
104
(1)

| | |
| --- | --- |
| | Using the Label in the Margin System for Lectures |

105
(10)

| | |
| --- | --- |
| | Controlling the Amount and Form of the Information |

105
(1)
106
(1)
106
(1)
107
(5)

| | |
| --- | --- |
| | Sample Notes--Label in the Margin |

112
(3)

| | |
| --- | --- |
| | Summary Sheet for Label in the Margin: Lecture Notes |

115
(3)

| | |
| --- | --- |
| | Virtual Field Trip: Expanding What You Know About Note Taking |

118
(1)

| | |
| --- | --- |
| | Critical Thinking About Taking Notes |

118
(1)
119
(1)
120
(3)

| | |
| --- | --- |
| | Processing Information from Textbooks |

123
(24)

| | |
| --- | --- |
| | Using the Label in the Margin System for Textbooks |

123
(4)

| | |
| --- | --- |
| | Making an Effort to Remember |

123
(1)

| | |
| --- | --- |
| | Controlling the Amount and Form of Information |

124
(2)

| | |
| --- | --- |
| | Practice Using the Label in the Margin System for Textbooks |

126
(1)

| | |
| --- | --- |
| | Learning Styles: How a Person Learns Best |

127
(3)

| | |
| --- | --- |
| | Finding an Effective Way to Study Through Your Modality Strengths |

128
(1)
128
(1)
128
(1)
129
(1)
129
(1)

| | |
| --- | --- |
| | Summary Sheet for Label in the Margin: Textbooks |

130
(4)

| | |
| --- | --- |
| | Virtual Field Trip: Let's Learn More About Critical Reading and Mapping |

134
(1)
134
(4)

| | |
| --- | --- |
| | Sample Notes if This Had Been a Lecture |

138
(1)

| | |
| --- | --- |
| | Sample of the Label in the Margin System for Textbooks |

138
(1)
138
(1)
139
(1)
139
(1)
140
(1)

| | |
| --- | --- |
| | Discovering the Best Place for You to Study |

141
(2)
143
(1)

| | |
| --- | --- |
| | Virtual Field Trip: Searching for Concentration Tips |

143
(1)
144
(1)
145
(2)
147
(32)

| | |
| --- | --- |
| | Why Determine Learning Style? |

147
(1)
148
(8)

| | |
| --- | --- |
| | Differences Between Left and Right Hemispheres |

148
(4)

| | |
| --- | --- |
| | Linear Versus Holistic Processing |

152
(1)

| | |
| --- | --- |
| | Sequential Versus Random Processing |

152
(2)

| | |
| --- | --- |
| | Symbolic Versus Concrete Processing |

154
(1)

| | |
| --- | --- |
| | Logical Versus Intuitive Processing |

154
(1)

| | |
| --- | --- |
| | Verbal Versus Nonverbal Processing |

155
(1)

| | |
| --- | --- |
| | Reality-Based Versus Fantasy-Oriented Processing |

156
(1)

| | |
| --- | --- |
| | Critical Thinking About Reality Checks |

156
(1)

| | |
| --- | --- |
| | Sensory Modes of Learning |

157
(5)
160
(1)
161
(1)
162
(1)

| | |
| --- | --- |
| | Social Learning Preference: Alone or In Groups |

162
(3)
165
(4)

| | |
| --- | --- |
| | Multiple Intelligences Exercise 1 |

167
(2)

| | |
| --- | --- |
| | Multiple Intelligences Exercise 2 |

169
(1)

| | |
| --- | --- |
| | Virtual Field Trip: Learning More About Multiple Intelligence |

169
(2)

| | |
| --- | --- |
| | Using Multiple Intelligences to Make Decisions |

171
(2)

| | |
| --- | --- |
| | Virtual Field Trip: Career Guide |

173
(1)
174
(1)
175
(1)
176
(3)
179
(42)

| | |
| --- | --- |
| | Critical Thinking About Tests |

181
(1)

| | |
| --- | --- |
| | Strategies for Objective Tests |

182
(12)

| | |
| --- | --- |
| | Self-Analysis: Preparing for Tests |

182
(1)

| | |
| --- | --- |
| | Test-Taking Skills: Diagnostic Inventory |

182
(3)

| | |
| --- | --- |
| | Budgeting Your Time When Taking Tests |

185
(1)
186
(2)

| | |
| --- | --- |
| | Strategies for Taking Any Test |

188
(1)

| | |
| --- | --- |
| | Strategies for True/False Tests |

188
(6)

| | |
| --- | --- |
| | Strategies for Multiple-Choice Tests |

194
(5)

| | |
| --- | --- |
| | Virtual Field Trip: Objective Tests |

199
(2)

| | |
| --- | --- |
| | Predicting Test Questions |

199
(2)

| | |
| --- | --- |
| | Strategies for Essay Tests |

201
(5)

| | |
| --- | --- |
| | Basic Strategies for Writing Answers to Essay Tests |

201
(1)
202
(4)

| | |
| --- | --- |
| | Critical Thinking About Direction Words |

206
(6)

| | |
| --- | --- |
| | Writing Winning Essay Answers |

208
(1)

| | |
| --- | --- |
| | Practice Evaluating Essay Questions |

209
(3)

| | |
| --- | --- |
| | Virtual Field Trip: Essay Tests |

212
(1)

| | |
| --- | --- |
| | Virtual Field Trip: Dealing with Test Anxiety |

213
(1)

| | |
| --- | --- |
| | Questions to Ask Before an Exam |

213
(1)
214
(2)
216
(3)
219
(2)
221
(14)
221
(1)

| | |
| --- | --- |
| | Recognizing Possible Signs of Stress |

222
(1)
223
(1)

| | |
| --- | --- |
| | Critical Thinking About Stress |

223
(1)

| | |
| --- | --- |
| | Virtual Field Trip: Let's Find Out More About Managing Stress |

224
(1)

| | |
| --- | --- |
| | Ten Commandments for Managing Stress |

225
(1)

| | |
| --- | --- |
| | Critical Thinking About The Ten Commandments of Stress |

226
(1)

| | |
| --- | --- |
| | Coping Strategies for Alleviating Stress Symptoms |

226
(4)

| | |
| --- | --- |
| | Lifestyle Habits That Help Reduce Stress: Try a Few! |

230
(2)
232
(1)
233
(2)

| | |
| --- | --- |
| | College Essentials and College Etiquette |

235
(18)
236
(5)

| | |
| --- | --- |
| | Using Your College Catalog |

236
(1)

| | |
| --- | --- |
| | General Education or Core Curriculum Courses |

237
(1)

| | |
| --- | --- |
| | All I Ever Needed to Know I Learned from My Advisor |

238
(1)

| | |
| --- | --- |
| | Using Your Student Handbook |

239
(1)
239
(1)
240
(1)
240
(1)

| | |
| --- | --- |
| | Virtual Field Trip: Your College Homepage |

241
(1)

| | |
| --- | --- |
| | Some Frequently Asked Questions (FAQs) by First-Year College Students or Transfers |

241
(1)
241
(3)

| | |
| --- | --- |
| | How to Calculate Your GPA |

242
(2)

| | |
| --- | --- |
| | Virtual Field Trip: Check Your GPA |

244
(1)
244
(1)

| | |
| --- | --- |
| | Critical Thinking About Higher Education |

244
(5)
245
(2)
247
(1)

| | |
| --- | --- |
| | Registering for a New Term |

248
(1)

| | |
| --- | --- |
| | Virtual Field Trip: College Life |

249
(1)
250
(1)
251
(2)
253
(20)

| | |
| --- | --- |
| | Using the Resources in the Library |

253
(1)
253
(1)
253
(5)
254
(1)

| | |
| --- | --- |
| | Using the Computerized On-Line Catalog |

255
(2)
257
(1)
258
(3)
261
(2)

| | |
| --- | --- |
| | Using the Internet for Research |

263
(1)

| | |
| --- | --- |
| | Virtual Field Trip: Internet Searches |

263
(1)

| | |
| --- | --- |
| | Virtual Field Trip: Evaluating Sites |

264
(2)
266
(2)
268
(1)

| | |
| --- | --- |
| | Exercise for Quick References |

269
(1)

| | |
| --- | --- |
| | Virtual Field Trip: Citing Sources |

269
(1)
270
(1)
271
(2)

| | |
| --- | --- |
| | Appendix: Principles of Studying Math |

273
(6)

| | |
| --- | --- |
| | Math Study Skills: Diagnostic Inventory |

273
(3)
273
(1)

| | |
| --- | --- |
| | Time and Place for Studying Math |

274
(1)

| | |
| --- | --- |
| | Study Strategies for Math Class |

274
(1)
274
(1)
275
(1)

| | |
| --- | --- |
| | How Math Is Different from Other Subjects |

276
(1)

| | |
| --- | --- |
| | Critical Thinking About Studying for Math |

276
(1)

| | |
| --- | --- |
| | Suggestions for Studying Math |

277
(1)

| | |
| --- | --- |
| | Virtual Field Trip: Improving Your Math Skills |

277
(2)
Bibliography
279
Index
1