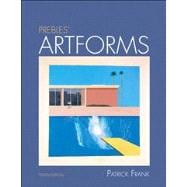 Questions About This Book?
What version or edition is this?
This is the 10th edition with a publication date of 6/6/2011.
What is included with this book?
The Used copy of this book is not guaranteed to include any supplemental materials. Typically, only the book itself is included.
Summary
Prebles' Artforms continues to lead the field with its steadfast focus on contemporary art, global artists, and cutting edge technology for the art appreciation classroom. We form Art. Art forms us. The title of this book has a dual meaning. Besides the expected discussion of the various forms of art, the title also reflects the fact that art does indeed help to form us as people. As we create forms, we are in turn formed by what we have created. Several years ago, the title was changed to Prebles' Artforms, acknowledging the pioneering contribution of the original authors, Duane and Sarah Preble, to the study of art. Their vision and spirit have touched hundreds of thousands of students who have studied this book. Artformsgrew out of a desire to introduce art through an engaging visual experience, and to expose students to a culturally diverse canon of work. It is written and designed to help readers build an informed foundation for individual understanding and enjoyment of art. By introducing art theory, practice, and history in a single volume, this book aims to draw students into a new or expanded awareness of the visual arts. Beyond fostering appreciation of major works of art, this book's primary concern is to open students' eyes and minds to the richness of the visual arts as unique forms of human communication and to convey the idea that the arts enrich life best when we experience, understand, and enjoy them as integral parts of the process of living.
Author Biography
Patrick Frank has taught in many higher education environments, from rural community colleges to private research universities. His recent scholarly work has focused on Latin American graphic arts. He is author of Posada's Broadsheets: Mexican Popular Imagery 1890–1910 and Los Artistas del Pueblo: Prints and Workers' Culture in Buenos Aires (University of New Mexico Press). He has curated five exhibitions of Latin American prints. He has also edited a volume of artists' writings, Readings in Latin American Modern Art (Yale University Press). He served as collaborating author for the modern section of Marilyn Stokstad's Art History (third edition). He earned M.A. and Ph.D. degrees at George Washington University in Washington, D.C., and is currently teaching the History of Modern Latin American Art at Pitzer College in Claremont, Calif. He lives in the seaside community of Venice.
Table of Contents
CONTENTS
ABOUT THE AUTHOR
ACKNOWLEDGMENTS
PREFACE
Part 1: The Language of Visual Experience

1 THE NATURE OF ART AND CREATIVITY
What Is Art?
Purposes and Functions of Art
Biography: Jazz, Memory, and Metaphor: Romare Bearden
Creativity
Art in the World: Early Encounters with the Artist Within
Untrained Artists
2 VISUAL COMMUNICATION
Looking and Seeing
The Visual Toolbox
Line
Shape
Mass
Space
Time and Motion
Light
Color
Art and Reality
Seeing and Responding to Form
Biography: A Personal Vision: Georgia O'Keeffe
Iconography
3 HOW AN ART WORK IS BUILT
Unity and Variety
Balance
Emphasis and Subordination
Directional Forces
Contrast
Repetition and Rhythm
Scale and Proportion
Design Summary
Biography: Expression Is Foremost: Henri Matisse
Part 2: The Media of Art
4 DRAWING
Biography: A Life's Work in Ten Years: Vincent van Gogh 106
Purposes of Drawing
Tools and Techniques
Graphic Novels / Comics
Contemporary Approaches
5 PAINTING
Ingredients and Surfaces
Watercolor
Tempera and Encaustic
Oil
Acrylic
Fresco
Art in the World:The Great Wall of Los Angeles
6 PRINTMAKING
Relief
Intaglio
Lithography
Stencil
Current Directions
7 PHOTOGRAPHY
A Tool and an Art Form
Biography: "A Photographer at My Very Core:" Margaret Bourke-White
Pushing the Limits
The Digital Revolution
8 MOVING IMAGES: FILM AND DIGITAL ARTS
Film: The Moving Image
Television and Video
Digital Art Forms
9 GRAPHIC DESIGN
Design Disciplines
Graphic Design
Biography: Design Between the Eyes: Chaz Maviyane-Davies
Interactive Design
Motion Graphics
Product Design
10 SCULPTURE
Freestanding and Relief Sculpture
Methods and Materials
Kinetic Sculpture
Mixed Media
Installations and Site-Specific Art
11 FLIRTING WITH FUNCTION
Clay
At the Edge of Art: Boolean Valley
Glass
Metal
Wood
Fiber
Biography: Stitched into History: Faith Ringgold
12 ARCHITECTURE
An Art and a Science
Styles, Materials, and Methods
Biography: Deconstructing a Building: Zaha Hadid
Designing with Nature
Biography: Radical Innovator: Frank Lloyd Wright
13 EVALUATING ART
Evaluation
Art Criticism
What Makes it Great?
Art in the World:What to Do in a Museum
Part 3: Art as Cultural Heritage
14 FROM THE EARLIEST ART TO THE BRONZE AGE
The Paleolithic Period
At the Edge of Art:Stones from Blombos
The Neolithic Period
The Beginnings of Civilization
Mesopotamia
Egypt
15 THE CLASSICAL AND MEDIEVAL WEST
Greece
Art in the World:The Battle of the Parthenon
Rome
Early Christian and Byzantine Art
The Middle Ages in Europe
16 RENAISSANCE AND BAROQUE EUROPE
The Renaissance
Biography: Temperamental Genius: Michelangelo Buonarroti
Baroque
Art in the World:Engendering It
17 TRADITIONAL ARTS OF ASIA
India
Southeast Asia
China
Japan
18 THE ISLAMIC WORLD
Arab Lands
Spain
Persia
India: The Mughal Empire
19 AFRICA, OCEANIA, AND THE AMERICAS
Africa
Oceania and Australia
At the Edge of Art:New Ireland Mask
Native North America
Biography: Warrior, Captive, and Artist: Howling Wolf
Pre-Columbian Central and South America
Part 4: The Modern World
20 LATE EIGHTEENTH AND NINETEENTH CENTURIES
Neoclassicism
Romanticism
Photography
Realism
Biography: Flouting Social Conventions: Rosa Bonheur
Impressionism
Biography: Guided by Light: Claude Monet
The Post-Impressionist Period
Biography: Struggling Idealist: Paul Gauguin
21 EARLY TWENTIETH CENTURY
The Fauves and Expressionism
Cubism
Biography: Restless Creativity: Pablo Picasso
Toward Abstract Sculpture
The Modern Spirit in America
Futurism and the Celebration of Motion
22 BETWEEN WORLD WARS
Dada
Surrealism
Expanding on Cubism
Building a New Society
Political Protest
Latin American Modernism
American Regionalism
Biography: Compelling Autobiographer: Frida Kahlo
African-American Modernists
Organic Abstraction
23 POSTWAR MODERN MOVEMENTS IN THE WEST
The New York School
Photography and Architecture at Mid-Century
Assemblage
Events and Happenings
At the Edge of Art:Sensorial Masks
Pop Art
Biography: The Pope of Pop: Andy Warhol
Minimal Art
Conceptual Art
Site Works and Earthworks
Installations and Environments
Early Feminism
Performance Art
Art in the World:Censoring It
24 MODERN ART BEYOND THE WEST
Japan
At the Edge of Art:Passing Through
China
India
Islamic Lands
Africa
Part 5: The Postmodern World
25 POSTMODERNITY AND GLOBAL ART
Postmodern Architecture
Painting
Photography
Sculpture
Public Art
Issue-Oriented Art
Street Art
At the Edge of Art
The Global Present

TIMELINE
GLOSSARY
PRONUNCIATION GUIDE
NOTES
INDEX