Note: Supplemental materials are not guaranteed with Rental or Used book purchases.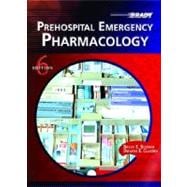 Questions About This Book?
What version or edition is this?
This is the 6th edition with a publication date of 9/24/2004.
What is included with this book?
The Used copy of this book is not guaranteed to include any supplemental materials. Typically, only the book itself is included.
Related Products
Summary
This pharmacology book and handy reference is a complete guide to the most common medications used in prehospital care. It reflects current trends in prehospital care and the most recent drug information.This revision will update the book to cover the current AHA guidelines for cardiac care and will be updated to include the most recent drug information available. Chapter topics include pharmacokinetics and pharmacodynamics; administration of drugs; drug dosage calculations; fluids, electrolytes, and IV therapy; the automatic nervous system; drugs used in the treatment of emergencies: cardiovascular, respiratory, metabolic-endocrine, neurological, obstetrical and gynecological, toxicological, behavioral, and gastrointestinal; and drugs used in pain management.For practicing paramedics.
Author Biography
Bryan E. Bledsoe is Clinical Associate Professor of Emergency Medicine, University of North Texas Health Sciences Center, Fort Worth, Texas.
Table of Contents
Preface
xi
Acknowledgments
xiii
About the Authors
xv
Notices
xvii
Precautions on Bloodborne Pathogens and Infectious Diseases
xix
1
(23)
1
(1)
1
(4)

| | |
| --- | --- |
| | Drug Research and Bringing a Drug to Market |

5
(3)

| | |
| --- | --- |
| | FDA Classification of Newly Approved Drugs |

8
(1)
8
(3)
11
(1)
11
(6)

| | |
| --- | --- |
| | Components of a Drug Profile |

17
(4)

| | |
| --- | --- |
| | Important Pharmacological Terminology |

21
(1)
22
(2)

| | |
| --- | --- |
| | 2 Pharmacokinetics and Pharmacodynamics |

24
(21)
24
(1)
24
(1)
25
(1)
25
(1)

| | |
| --- | --- |
| | Review of Physiology of Transport |

25
(9)
34
(8)
42
(3)

| | |
| --- | --- |
| | 3 Administration of Drugs |

45
(19)
45
(1)
46
(1)

| | |
| --- | --- |
| | Patient Care Using Medications |

46
(1)
46
(1)

| | |
| --- | --- |
| | Six Rights of Medication Administration |

47
(3)

| | |
| --- | --- |
| | General Administration Routes |

50
(2)

| | |
| --- | --- |
| | Drug Administration and Preparation |

52
(1)
53
(1)
54
(1)

| | |
| --- | --- |
| | Disposal of Contaminated Equipment and Sharps |

55
(1)

| | |
| --- | --- |
| | Medication Routes Used in Emergency Medicine |

56
(4)

| | |
| --- | --- |
| | Pediatric Administration Techniques |

60
(2)
62
(2)

| | |
| --- | --- |
| | 4 Drug Dosage Calculations |

64
(22)
64
(1)
65
(1)

| | |
| --- | --- |
| | Section 1: The Metric System |

65
(4)

| | |
| --- | --- |
| | Section 2: Find the Ordered Dose |

69
(2)

| | |
| --- | --- |
| | Section 3: Find the Units per Kilogram |

71
(2)

| | |
| --- | --- |
| | Section 4: Concentration Problems |

73
(3)

| | |
| --- | --- |
| | Section 5: Calculate an IV Drip |

76
(3)

| | |
| --- | --- |
| | Section 6: Calculate an IV Drip Based on Patient Weight |

79
(1)

| | |
| --- | --- |
| | Section 7: Milliliters per Hour to Drops per Minute |

80
(1)
81
(5)

| | |
| --- | --- |
| | 5 Fluids, Electrolytes, and Intravenous Therapy |

86
(32)
86
(1)
87
(1)
87
(1)
87
(2)
89
(2)
91
(3)
94
(17)

| | |
| --- | --- |
| | Insertion of Indwelling IV Catheter |

111
(4)

| | |
| --- | --- |
| | Collection of Blood Samples for Laboratory Analysis |

115
(1)
116
(1)
117
(1)

| | |
| --- | --- |
| | 6 The Autonomic Nervous System |

118
(12)
118
(1)
118
(1)

| | |
| --- | --- |
| | The Autonomic Nervous System |

118
(10)
128
(2)

| | |
| --- | --- |
| | 7 Drugs Used in the Treatment of Cardiovascular Emergencies |

130
(90)
130
(1)
131
(1)
132
(3)
135
(15)
150
(7)
157
(21)
178
(3)
181
(2)
183
(2)
185
(9)
194
(2)

| | |
| --- | --- |
| | Cardiac Pain Management (Analgesics) |

196
(5)
201
(4)
205
(1)
206
(5)
211
(5)

| | |
| --- | --- |
| | Other Cardiovascular Drugs |

216
(1)
217
(3)

| | |
| --- | --- |
| | 8 Drugs Used in the Treatment of Respiratory Emergencies |

220
(45)
220
(1)
221
(1)
222
(3)
225
(18)
243
(9)
252
(6)
258
(1)

| | |
| --- | --- |
| | Pharmacologically-Assisted Intubation |

259
(4)
263
(2)

| | |
| --- | --- |
| | 9 Drugs Used in the Treatment of Metabolic-Endocrine Emergencies |

265
(18)
265
(1)
265
(1)
266
(1)
266
(2)

| | |
| --- | --- |
| | Diabetic Ketoacidosis (Diabetic Coma) |

268
(1)

| | |
| --- | --- |
| | Hypoglycemia (Insulin Shock) |

269
(1)
270
(4)
274
(3)
277
(4)
281
(2)
10 Drugs Used in the Treatment of Neurological Emergencies
283
(18)
283
(1)
283
(1)
283
(5)

| | |
| --- | --- |
| | Nontraumatic Neurological Emergencies |

288
(10)
298
(3)
11 Drugs Used in the Treatment of Obstetrical and Gynecological Emergencies
301
(9)
301
(1)
301
(1)
302
(1)

| | |
| --- | --- |
| | Hypertensive Disorders of Pregnancy |

303
(2)
305
(3)
308
(2)
12 Toxicological Emergencies in Prehospital Care
310
(43)
310
(1)
310
(1)
311
(1)
311
(1)

| | |
| --- | --- |
| | General Approach to the Poisoned Patient |

312
(1)
313
(1)

| | |
| --- | --- |
| | Specific Toxic Agents Encountered in Prehospital Care |

314
(32)
346
(7)
13 Drugs Used in the Treatment of Behavioral Emergencies
353
(15)
353
(1)
353
(1)

| | |
| --- | --- |
| | Understanding Behavioral Emergencies |

353
(12)
365
(3)
14 Drugs Used in the Treatment of Gastrointestinal Emergencies
368
(8)
368
(1)

| | |
| --- | --- |
| | Gastrointestinal Medications |

368
(7)
375
(1)
15 Drugs Used in Pain Management
376
(16)
376
(1)
376
(2)
378
(10)
388
(4)
16 Weapons of Mass Destruction
392
(10)
392
(1)
392
(1)
393
(1)
393
(9)
Summary
402
(1)
Appendix A Glossary of Street Drug Names
403
(4)
Appendix B Emergency Intravenous Fluids Quick Reference Guide
407
(6)
Appendix C Quick Drug Reference
413
(53)
Appendix D Adult Advanced Cardiac Life Support Algorithms
466
(11)
Appendix E Common Home Prescription Drug Information
477
(21)
Appendix F Pediatric Drug Dosages
498
(6)
Appendix G Pediatric Advanced Cardiac Life Support Treatment Algorithm
504
(3)
Appendix H Drug Administration Skills
507
(23)
Appendix I A Guide to Herbal Supplements
530
(9)
Appendix J Practice Problems Answer Key
539
(4)
Index
543