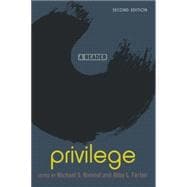 Summary
Innovative and thought-provoking, this timely anthology expands the concept of privilege in America beyond the traditional limiters of being white and male. In addition to readings from well-known authors in the field, this edition includes pieces from contemporary scholars breaking new ground in superordinate studies. Seventeen carefully selected essays explore the multifaceted aspects of privilege: how race, gender, class, and sexual preference interact in the lives of those who are privileged by one or more of these identities. Written from a variety of viewpoints, personal and analytic, the essays in this volume help students understand that "race" can mean white people, "gender" can mean men, and "sexuality" can mean heterosexuals. Contents Part One. Making Privilege Visible 1. White Privilege and Male Privilege (Peggy McIntosh) 2. Black Male Privilege (Jewell Wood) 3. Why Are Droves of Unqualified, Unprepared Kids Getting into Our Top Colleges? (John Larew) 4. On Being Okie (Roxanne Dunbar-Ortiz) 5. Becoming 100% Straight (M. Messner) 6. The Heterosexual Questionnaire (M. Rochlin) Part Two. Understanding Privilege 7. Privilege, Power, and Difference and Us (Allan Johnson) 8. How Jews Became White (Karen Brodkin Saks) 9. Masculinity as Homophobia (M. Kimmel) 10. Anti-Racist Reflections from an Angry White Male (Tim Wise) 11. Class in the United States: Not Only Alive but Reproducing (Diane Kendall) Part Three. Examining Intersections 12. Invisibility/Hypervisibility: The Paradox of Normative Whiteness (Maureen Reddy) 13. Class and Race: The New Black Elite (Bell Hooks) 14. How Gay Stays White and What Kind of White It Stays (Allan Berube) Part Four. Moving Forward 15. Subverting Racism from Within (Becky Thompson) 16. Toward a New Vision (Patricia Hill Collins) 17. Dismantling Privilege and Becoming an Ally (Abby Ferber)
Author Biography
Michael S. Kimmel is professor of sociology at the State University of New York, Stony Brook. His books include Changing Men, Guyland, Men's Lives, The Politics of Manhood, Manhood in America, and The Gendered Society. He edits Men and Masculinities, an interdisciplinary scholarly journal, and a book series on men and masculinity at the University of California Press. He is the spokesperson for the National Organization for Men Against Sexism (NOMAS) and lectures extensively on campuses in the U.S. and abroad.

Abby L. Ferber is codirector of women's and ethnic studies, professor of sociology, and director of the Matrix Center for the Advancement of Social Equity and Inclusion at the University of Colorado at Colorado Springs, where she cofacilitates the annual Knapsack Institute, a curriculum transformation institute, and is on the national leadership team of the annual White Privilege Conference. She is the author of numerous books, including White Man Falling and Home Grown Hate.
Table of Contents
Credit Lines
p. ix
Preface
p. xii
Introduction: Toward a Pedagogy of the Oppressor
p. 1
Making Privilege Visible
White Privilege and Male Privilege
p. 13
The Black Male Privileges Checklist
p. 27
Why Are Droves of Unqualified, Unprepared Kids Getting into Our Top Colleges? Because Their Dads Are Alumni
p. 39
On Being Okie
p. 49
p. 65
The Heterosexual Questionnaire
p. 73
Understanding Privilege
Privilege, Power, Differences and Us
p. 77
How Jews Became White
p. 87
Masculinity as Homophobia
p. 107
On White Pride, Reverse Racism, and Other Delusions
p. 133
Class: Still Alive and Reproducing in the United States
p. 145
Examining Intersections
Invisibility/Hypervisibility: The Paradox of Normative Whiteness
p. 155
Class and Race: The New Black Elite
p. 169
How Gay Stays White and What Kind of White It Stays
p. 179
Moving Forward
Subverting Racism from Within
p. 213
Toward a New Vision: Race, Class, and Gender as Categories of Analysis and Connection
p. 233
Dismantling Privilege and Becoming an Activist
p. 251
Index
p. 257
Table of Contents provided by Ingram. All Rights Reserved.