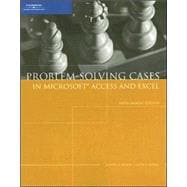 Problem-solving Cases in Microsoft Access and Excel
by
Brady,Joseph
Summary
Apply Excel and Access effectively and efficiently to solve real-world business problems in this fifth edition of Problem-Solving Cases in Microsoft Access and Excel. With six individual tutorials that build a practical knowledge of Microsoft Office 2007 Excel and Access capabilities, this book sets the groundwork for applying these spreadsheet and database skills to actual scenarios. These scenarios take the form of eleven all-new case studies, which introduce problems that are likely to face today's business professionals and allow readers to apply the information gleaned from the tutorials to solve them. With updates that include an all new sixth tutorial that covers data analysis techniques and a 30-day trial of Microsoft Office 2007 software, this book affords readers the most up-to-date, practical education in the most commonly used software programs.
Table of Contents
Database Cases Using Access Tutorial
Database Design Tutorial
Microsoft Access Tutorial
Preliminary Case: The College Geeks
The Internet Book Swap
The E-Commerce Convenience Store Database
Just-In-Time Lobsters Database
The Crab Shack Employee Database
Decision Support Cases Using Excel Scenario Manager Tutorial
Building a Decision Support System in Excel
Transit Strike Negotiations
The Toll Road Leasing Decision
Decision Support Cases Using Excel Solver Tutorial
Building a Decision Support System Using the Excel Solver
The College Mutual Fund Investment Mix Decision
Scheduling Grill Manufacturing at Wombat Grills
Decision Support Cases Using Basic Excel Functionality
The Baseball Park Decision
Integration Case: Using Access and Excel
Analysis of a Low-Interest-Rate Loan Portfolio
Data Analysis Techniques Tutorial E Data Analysis Techniques
Presentation Skills Tutorial F Giving an Oral Presentation
Table of Contents provided by Publisher. All Rights Reserved.