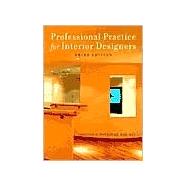 Questions About This Book?
What version or edition is this?
This is the 3rd edition with a publication date of 8/1/2001.
What is included with this book?
The Used copy of this book is not guaranteed to include any supplemental materials. Typically, only the book itself is included.
Related Products
Summary
The tools needed to create and manage a thriving interior design practiceThis essential sourcebook provides all of the information needed to establish and manage a productive, profitable interior design firm. Filled with savvy business and career advice, Professional Practice for Interior Designers, Third Edition delivers updated and expanded coverage of the full range of legal, financial, management, marketing, administrative, and ethical issues faced by sole practitioners, firm principals, and managers.This comprehensive reference lays out clear, practical guidelines on how to structure a contract and prevent legal problems; work with other designers, allied professionals, clients, and vendors; and calculate fees that are both fair and profitable. Recommended reading for NCIDQ candidates, it offers easy-to-follow tips and instruction on how to: Write and implement a successful business plan Choose the right form of business to fit specific needs Institute strategic planning Develop effective promotional tools Manage finances and set up a computerized accounting system Manage employees and team members Establishing a comprehensive foundation for effective business practice, Professional Practice for Interior Designers, Third Edition is the one-stop resource that no interior designer can afford to be without.
Author Biography
CHRISTINE M. PIOTROWSKI, ASID, IIDA, is the owner of Christine M. Piotrowski and Associates in Phoenix, Arizona, and a former professor of interior design at Northern Arizona State University in Flagstaff. She has more than 20 years of commercial and residential design experience.
Table of Contents
Preface
xv
Acknowledgments
xvii
Part I An Introduction to the Profession of Interior Design
3
(48)
5
(26)
6
(1)

| | |
| --- | --- |
| | History of the Profession |

7
(7)

| | |
| --- | --- |
| | Divisions of the Profession |

14
(1)
14
(3)

| | |
| --- | --- |
| | Professional Associations |

17
(5)
22
(2)
24
(2)
26
(5)
31
(12)

| | |
| --- | --- |
| | Ethics in the Business Environment |

31
(3)
34
(6)
40
(3)
43
(8)
43
(1)
44
(1)

| | |
| --- | --- |
| | A Personal Mission Statement |

45
(1)
46
(5)
Part II How to Establish an Interior Design Practice
51
(72)

| | |
| --- | --- |
| | Planning a New Interior Design Practice |

53
(18)
54
(1)

| | |
| --- | --- |
| | Advantages and Disadvantages of Business Ownership |

55
(1)

| | |
| --- | --- |
| | Starting a New Design Practice |

56
(3)
59
(2)
61
(5)

| | |
| --- | --- |
| | Writing the Business Plan |

66
(1)
67
(4)
71
(12)
71
(1)
72
(1)
73
(4)
77
(2)
79
(1)

| | |
| --- | --- |
| | Sources of Information and Assistance |

80
(3)
83
(14)
83
(3)
86
(2)
88
(3)

| | |
| --- | --- |
| | Limited Liability Company |

91
(1)
92
(1)

| | |
| --- | --- |
| | Professional Corporations |

93
(1)
93
(4)
97
(14)
97
(4)

| | |
| --- | --- |
| | Estimated Taxes for the Self-Employed |

101
(1)
101
(2)
103
(1)
104
(1)

| | |
| --- | --- |
| | Copyrights, Trademarks, and Patents |

105
(6)
111
(12)
111
(2)
113
(4)

| | |
| --- | --- |
| | Equipping the Office/Studio |

117
(2)
119
(4)
Part III The Business of Interior Design
123
(84)

| | |
| --- | --- |
| | Business Organization and Management |

125
(10)

| | |
| --- | --- |
| | Organization of the Interior Design Practice |

125
(1)
126
(2)

| | |
| --- | --- |
| | Organizational Structure Within the Office |

128
(1)

| | |
| --- | --- |
| | Types of Business Organizations |

129
(2)
131
(1)
132
(3)
135
(12)
135
(2)
137
(4)
141
(2)
143
(4)
147
(22)
147
(4)
151
(3)

| | |
| --- | --- |
| | The Performance Evaluation |

154
(5)
159
(4)

| | |
| --- | --- |
| | Compensation and Fringe Benefits |

163
(6)

| | |
| --- | --- |
| | Legal Issues of Employment |

169
(16)

| | |
| --- | --- |
| | Federal Laws Regulating Employment |

170
(2)
172
(2)
174
(2)
176
(4)
180
(1)
181
(4)
185
(12)
186
(1)
186
(3)

| | |
| --- | --- |
| | Intentional Torts Against a Person |

189
(1)

| | |
| --- | --- |
| | Intentional Torts Against Property |

190
(1)
191
(2)
193
(4)

| | |
| --- | --- |
| | Warranties and Product Liability |

197
(10)
197
(4)
201
(6)
Part IV Managing the Business's Finances
207
(132)
209
(22)

| | |
| --- | --- |
| | Accounting Methods: Accrual versus Cash Accounting |

210
(1)
211
(4)
215
(4)

| | |
| --- | --- |
| | The Statement of Cash Flow |

219
(1)

| | |
| --- | --- |
| | Accounting Records and Systems |

220
(4)
224
(3)
227
(4)
231
(12)

| | |
| --- | --- |
| | What Is Financial Management? |

231
(1)

| | |
| --- | --- |
| | Financial Ratios and Percentages |

232
(3)
235
(4)
239
(4)
243
(22)
243
(3)
246
(2)

| | |
| --- | --- |
| | Methods for Setting Design Fees |

248
(9)
257
(4)

| | |
| --- | --- |
| | Indirect Job Cost Factors |

261
(4)

| | |
| --- | --- |
| | Preparing Design Contracts |

265
(38)

| | |
| --- | --- |
| | Definition and Basic Elements of a Contract |

265
(4)

| | |
| --- | --- |
| | Letter of Agreement or Contract? |

269
(1)
269
(2)
271
(1)

| | |
| --- | --- |
| | Developing the Design Contract |

271
(3)

| | |
| --- | --- |
| | Interior Design Contracts: Content and Form |

274
(24)
298
(2)
300
(3)

| | |
| --- | --- |
| | Product Pricing Considerations |

303
(20)
304
(2)
306
(3)
309
(2)

| | |
| --- | --- |
| | Deposits, Down Payments, and Retainers |

311
(1)
312
(1)

| | |
| --- | --- |
| | Delivery and Installation Charges |

313
(2)
315
(1)

| | |
| --- | --- |
| | The Role of the Designer/Specifier |

316
(3)

| | |
| --- | --- |
| | Federal Laws and Pricing Practices |

319
(4)

| | |
| --- | --- |
| | The Sale of Goods and the Uniform Commercial Code |

323
(16)
324
(1)
324
(1)
325
(6)
331
(1)
331
(1)
332
(1)
333
(1)

| | |
| --- | --- |
| | The Seller's Rights and Obligations |

333
(1)

| | |
| --- | --- |
| | The Buyer's Rights and Obligations |

334
(5)
Part V Marketing and Business Development
339
(108)

| | |
| --- | --- |
| | Marketing Interior Design Services |

341
(12)
342
(1)
342
(2)
344
(1)
345
(1)
346
(2)
348
(5)

| | |
| --- | --- |
| | Promoting the Interior Design Practice |

353
(18)
354
(1)
354
(1)
355
(8)
363
(1)
364
(2)
366
(5)

| | |
| --- | --- |
| | Advanced Promotional Tools |

371
(24)
371
(6)
377
(1)

| | |
| --- | --- |
| | Speaking at Seminars and Meetings |

378
(1)
379
(1)
379
(1)
380
(4)
384
(3)
387
(8)
395
(14)
395
(1)

| | |
| --- | --- |
| | Selling Services versus Products |

396
(1)

| | |
| --- | --- |
| | Building Client Relationships |

397
(1)
398
(5)
403
(6)
409
(20)
409
(4)
413
(2)
415
(3)
418
(2)
420
(2)
422
(1)
422
(2)

| | |
| --- | --- |
| | Other Guidelines for Making Presentations |

424
(5)
429
(18)
429
(3)
432
(2)
434
(2)
436
(11)
Part VI Project Management
447
(110)

| | |
| --- | --- |
| | Project Management Techniques |

449
(28)

| | |
| --- | --- |
| | What Is Project Management? |

449
(1)

| | |
| --- | --- |
| | Phases of an Interior Design Project |

450
(7)
457
(1)
458
(4)
462
(1)
463
(4)
467
(3)

| | |
| --- | --- |
| | Project Files or Job Books |

470
(4)
474
(3)

| | |
| --- | --- |
| | Working with Trade Sources |

477
(12)
477
(1)

| | |
| --- | --- |
| | Sales Representatives (or Reps) |

478
(1)

| | |
| --- | --- |
| | Market Centers, Marts, and Showrooms |

479
(2)
481
(1)
481
(1)
481
(1)

| | |
| --- | --- |
| | Tradespeople and Craftspeople |

482
(1)
482
(1)
483
(2)

| | |
| --- | --- |
| | Technology and Trade Sources |

485
(4)

| | |
| --- | --- |
| | Contract Documents and Specifications |

489
(30)
489
(3)
492
(8)
500
(13)
513
(3)
516
(3)
519
(24)

| | |
| --- | --- |
| | Construction and Procurement Administration |

519
(3)
522
(16)
538
(2)
540
(3)

| | |
| --- | --- |
| | Contract Administration: Delivery and Project Closeout |

543
(14)

| | |
| --- | --- |
| | Delivery and Installation |

543
(4)
547
(3)

| | |
| --- | --- |
| | Postoccupancy and Follow-up |

550
(7)
Part VII Careers
557
(60)
559
(18)
559
(2)

| | |
| --- | --- |
| | Residential Interior Design |

561
(1)

| | |
| --- | --- |
| | Commercial Interior Design |

562
(3)

| | |
| --- | --- |
| | Common Employment Options |

565
(4)

| | |
| --- | --- |
| | Alternative Career Options |

569
(4)

| | |
| --- | --- |
| | Preparing for Specialization in a Career |

573
(4)

| | |
| --- | --- |
| | Getting the Next---or First---Job |

577
(40)
577
(6)
583
(9)
592
(3)
595
(5)

| | |
| --- | --- |
| | How Employers Review Resumes and Cover Letters |

600
(2)
602
(6)
608
(2)
610
(2)
612
(5)
Glossary
617
(20)
Appendix
637
(6)
Index
643