Note: Supplemental materials are not guaranteed with Rental or Used book purchases.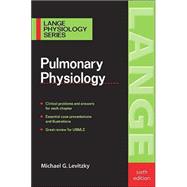 Related Products
Summary
Understanding pulmonary physiology begins with a solid emphasis on essential concepts. And that's exactly the base of knowledge that you'll get from Pulmonary Physiology. Through six successful editions, this well-illustrated, concise, yet complete text has immersed medical students and residents in all the critical topics of this demanding discipline-from the mechanics of breathing to the respiratory system under stress. Learning objectives are clearly mapped out for each chapter, which then promotes self-instruction of the material. And when it comes time to test your knowledge, clinical problems prompt you to apply what you've learned to realistic clinical scenarios.
Author Biography
Michael G. Levitzky is Professor of Physiology and Anesthesiology, Louisiana State University Health Sciences Center, New Orleans, Louisiana.
Table of Contents
Preface
ix

| | |
| --- | --- |
| | Function & Structure of the Respiratory System |

1
(10)
1
(1)

| | |
| --- | --- |
| | Functions of the Respiratory System |

2
(2)

| | |
| --- | --- |
| | Structure of the Respiratory System |

4
(6)
10
(1)
10
(1)
11
(43)
11
(1)

| | |
| --- | --- |
| | Generation of a Pressure Gradient Between Atmosphere & Alveoli |

12
(8)

| | |
| --- | --- |
| | Pressure-Volume Relationships in the Respiratory System |

20
(9)

| | |
| --- | --- |
| | Interaction of Lung & Chest Wall: The Static Pressure-Volume Curve |

29
(3)
32
(17)
49
(1)
50
(1)
51
(1)
52
(2)
54
(32)
54
(1)
54
(3)

| | |
| --- | --- |
| | Measurement of the Lung Volumes |

57
(8)

| | |
| --- | --- |
| | Anatomic Dead Space & Alveolar Ventilation |

65
(2)

| | |
| --- | --- |
| | Measurement of Alveolar Ventilation |

67
(4)

| | |
| --- | --- |
| | Alveolar Ventilation & Alveolar Oxygen & Carbon Dioxide Levels |

71
(4)

| | |
| --- | --- |
| | Regional Distribution of Alveolar Ventilation |

75
(4)
79
(2)
81
(1)
82
(1)
83
(1)
84
(2)
86
(27)
86
(1)

| | |
| --- | --- |
| | The Bronchial Circulation |

87
(2)

| | |
| --- | --- |
| | The Functional Anatomy of the Pulmonary Circulation |

89
(3)

| | |
| --- | --- |
| | Pulmonary Vascular Resistance |

92
(7)

| | |
| --- | --- |
| | The Regional Distribution of pulmonary Blood Flow: The Zones of the Lung |

99
(6)

| | |
| --- | --- |
| | Hypoxic Pulmonary Vasoconstriction |

105
(2)
107
(3)
110
(1)
111
(1)
112
(1)

| | |
| --- | --- |
| | Ventilation-Perfusion Relationships |

113
(17)
113
(1)

| | |
| --- | --- |
| | The Concept of Matching Ventilation & Perfusion |

113
(1)

| | |
| --- | --- |
| | Consequences of High & Low V/Q |

114
(2)

| | |
| --- | --- |
| | Testing for Nonuniform Distribution of Inspired Gas & Pulmonary Blood Flow |

116
(9)

| | |
| --- | --- |
| | Regional V/Q Differences & Their Consequences in the Lung |

125
(3)
128
(1)
128
(1)
129
(1)
130
(12)
130
(1)
130
(3)

| | |
| --- | --- |
| | Limitations of Gas Transfer |

133
(2)
135
(2)

| | |
| --- | --- |
| | Diffusion of Carbon Dioxide |

137
(1)

| | |
| --- | --- |
| | Measurement of Diffusing Capacity |

137
(3)
140
(1)
140
(1)
141
(1)

| | |
| --- | --- |
| | The Transport of Oxygen & Carbon Dioxide in the Blood |

142
(21)
142
(1)

| | |
| --- | --- |
| | Transport of Oxygen by the Blood |

142
(3)

| | |
| --- | --- |
| | Hemoglobin & the Physiologic Implications of the Oxyhemoglobin Dissociation Curve |

145
(3)

| | |
| --- | --- |
| | Influences on the Oxyhemoglobin Dissociation Curve |

148
(8)

| | |
| --- | --- |
| | Transport of Carbon Dioxide by the Blood |

156
(2)

| | |
| --- | --- |
| | The Carbon Dioxide Dissociation Curve |

158
(1)

| | |
| --- | --- |
| | The Bohr & Haldane Effects Explained |

159
(2)
161
(1)
161
(1)
162
(1)

| | |
| --- | --- |
| | The Regulation of Acid-Base Status |

163
(25)
163
(1)

| | |
| --- | --- |
| | The Chemistry of Acids, Bases, & Buffers |

163
(3)

| | |
| --- | --- |
| | Buffer Systems of the Human Body |

166
(5)
171
(4)

| | |
| --- | --- |
| | Respiratory & Renal Compensatory Mechanisms |

175
(3)

| | |
| --- | --- |
| | Clinical Interpretation of Blood Gases & Acid-Base Status |

178
(2)
180
(3)
183
(1)
184
(3)
187
(1)
188
(27)
188
(2)

| | |
| --- | --- |
| | The Generation of Spontaneous Rhythmicity |

190
(1)

| | |
| --- | --- |
| | The Medullary Respiratory Center |

191
(2)

| | |
| --- | --- |
| | The Pontine Respiratory Group |

193
(1)
194
(1)

| | |
| --- | --- |
| | Reflex Mechanisms of Respiratory Control |

194
(6)

| | |
| --- | --- |
| | Influences of Higher Centers |

200
(1)

| | |
| --- | --- |
| | The Response to Carbon Dioxide |

201
(7)

| | |
| --- | --- |
| | The Response to Hydrogen Ions |

208
(1)
209
(1)
210
(2)
212
(1)
213
(1)
214
(1)

| | |
| --- | --- |
| | Nonrespiratory Functions of the Lung |

215
(13)
215
(1)

| | |
| --- | --- |
| | Pulmonary Defense Mechanisms |

215
(6)

| | |
| --- | --- |
| | Nonrespiratory Functions of the Pulmonary Circulation |

221
(2)

| | |
| --- | --- |
| | Metabolic Functions of the Lung |

223
(3)
226
(1)
226
(2)

| | |
| --- | --- |
| | The Respiratory System Under Stress |

228
(20)
228
(1)

| | |
| --- | --- |
| | Exercise & the Respiratory System |

228
(6)

| | |
| --- | --- |
| | Altitude & Acclimatization |

234
(6)

| | |
| --- | --- |
| | Diving & the Respiratory System |

240
(6)
246
(1)
246
(1)
247
(1)
Clinical Problem Answers
248
(13)
Appendix
261
(4)

| | |
| --- | --- |
| | I. Symbols Used in Respiratory Physiology |

261
(1)

| | |
| --- | --- |
| | II. The Laws Governing the Behavior of Gases |

261
(1)

| | |
| --- | --- |
| | III. Frequently Used Equations |

262
(1)

| | |
| --- | --- |
| | IV. Pulmonary Function Test Decision Tree |

263
(1)

| | |
| --- | --- |
| | V. Table of Normal Respiratory and Circulatory Values |

264
(1)

| | |
| --- | --- |
| | VI. General Suggested Readings |

264
(1)
Index
265