Note: Supplemental materials are not guaranteed with Rental or Used book purchases.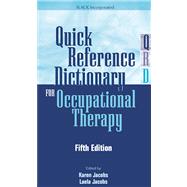 Summary
A leading resource for over a decade,Quick Reference Dictionary for Occupational Therapyhas provided occupational therapy professionals and students with pertinent information right at their fingertips. Revised and updated into a Fifth Edition, this pocket size resource includes the latest information in the field of occupational therapy. Within theFifth EditionofQuick Reference Dictionary for Occupational Therapy, over 3,800 terms are defined (over 250 more than last edition) and 64 appendices are included (including 7 new). Quick Reference Dictionary for Occupational Therapy, Fifth Editionby Dr. Karen Jacobs and Laela Jacobs is the only comprehensive dictionary available specifically for occupational therapy. The handy dictionary provides a quick reference to words, their definitions, and important resources that are used in daily practice and academic training. Its convenient size makes it easy to use whether yours"re in the clinic or at school. Features of the Fifth Edition: bull; Glossary of terms from the American Occupational Therapy Associationrs"s Occupational Therapy Practice Framework 2 bull; Terms from occupational science bull; Glossary of terms from the Canadian Association of Occupational Therapistsrs" Enabling II bull; Expanded and updated appendices more user-friendly! Some New Appendices Include: bull; Burn chart-rule of nines bull; Positive language bull; Nutrition basics bull; Visual impairment bull; Definitions of occupational therapy Occupational therapy and occupational therapy assistants, clinicians, faculty and students will benefit from the easy-to-use format and updated information thatQuick Reference Dictionary for Occupational Therapy, Fifth Editionhas to offer. It is a must have for all in occupational therapy.
Author Biography
Karen Jacobs, EdD, OTR/L, CPE, FAOTA, is a past president and vice president of the American Occupational Therapy Association and a 2005 recipient of a Fulbright Scholarship to the University of Akureyri in Akureyri, Iceland. Dr. Jacobs is a clinical professor and the program director of distance education post-professional programs in occupational therapy at Boston University, Boston, MA. She earned a doctoral degree at the University of Massachusetts, a Master of Science in occupational therapy at Boston University, and a Bachelor of Arts at Washington University in St. Louis, MO.  

Dr. Jacobs' research examines the interface between the environment and human capabilities. In particular, she examines the individual factors and environmental demands associated with increased risk of functional limitations among populations of university and middle school-aged students, particularly in notebook computing and backpack use (http://people.bu.edu/kjacobs/index.shtml).  

In addition to being an occupational therapist, Dr. Jacobs is also a certified professional ergonomist and the founding editor of the international journal WORK: A Journal of Prevention, Assessment and Rehabilitation.   

Dr. Jacobs is a faculty-in-residence and lives in an apartment in one of the dormitories at Boston University. She is the mother of three children—Laela, Joshua, and Ariel—and the amma (grandma in Icelandic) to Sophie Redd. She balances work with occupations such a cross country skiing, kayaking, photography, and travel.   

Laela Jacobs, OTR/L, received her degree in occupational therapy from Florida Agricultural and Mechanical University, Tallahassee, FL. She practiced as the rehabilitation coordinator/manager at Maples Rehabilitation and Nursing Center in Wrentham, MA for the past 8 years and continues to work for Therapy Resources Management. Laela has expertise in reimbursement and vestibular, neurological, and orthopedic rehabilitation.   

Laela and her husband, Craig Simon, are the proud parents of Sophie Redd, born May 21, 2008. Laela's interests include travel, theater, and spending time with her family.
Table of Contents
Dedication
Acknowledgments
About the Editors
Introduction
Dictionary of Terms
References
List of Appendices
American Occupational Therapy
Association Occupational Therapy
Code of Ethics
American Occupational Therapy
Association Guidelines to the Occupational Therapy Code of Ethics
American Occupational Therapy
Association Core Values and Attitudes of Occupational Therapy Practice
American Occupational Therapy
Association's Past Presidents
American Occupational Therapy
Association Statements
International Classification of Functioning, Disability, and Health
Frames of Reference Used in Occupational Therapy
Rancho Los Amigos Scales of Cognitive Functioning
Definitions of Occupational Therapy
Glossary and Definitions of Terms
Used in the Initial Health Assessment / Refugee Health Assessment
Levels of Assistance
Diseases, Pathologies, and Syndromes Defined
Laboratory Values
Metabolic Equivalent (MET) Values for Activity and Exercise
Guidelines for Blood Pressure
Management in Adults and Target Heart Rate
Brunnstrom's Stages of Recovery
Classifications of Seizures and Epilepsy
Stages of Alzheimer Disease
Stages of Decubitus Ulcers
Growth and Development in Early Childhood
Splints
Burn Chart-Rule of Nines
Visual Impairment
Nutrition Basics
Adaptive Nutrition
Wheelchair Measurement Procedures
Dermatomes
Cranial Nerves
Bones of the Body
Muscles of the Body
Muscles: Origin/Insertion/Action-Innervation-Blood Supply
Manual Muscle Testing
Range of Motion
Range of Motion: Illustrations
Reflex/Reaction
Total Hip Precautions
Functional Abilities by Spinal Cord Injury Level
Grasp and Pinch Averages
Grading Edema
Grading for Balance: Graded Posture Movement Ability of Individual
Pharmacology
Acronyms and Abbreviations: General
Acronyms: Evaluations
Acronyms: Organizational
Medical Roots Terminology
Symbols
Metric System
Metric and English Conversion
Statistics: Basic
Weights and Measures
Workstation Checklist
Positive Language
Braille Alphabet
Basic Signs and Tips for Communicating With Individuals
With Hearing Impairments
Useful German Phrases
Useful German Words
Useful French Phrases
Useful French Words
Useful Spanish Phrases
Useful Spanish Words
Legislation and Policy Decisions
Affecting Rehabilitation
Table of Contents provided by Publisher. All Rights Reserved.