Note: Supplemental materials are not guaranteed with Rental or Used book purchases.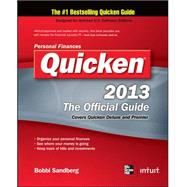 Summary
The Only Official Guide to the Latest Release of the #1 Personal Finance SoftwareManage your finances and assets with ease!Quicken 2011: The Official Guideis packed with insider tips and expert techniques for tracking your income, expenses, savings, transactions, investments, and so much more.Fully endorsed by Intuit, makers of Quicken, this official guide saves you time and money by showing you how to maximize all of the software's powerful capabilities--including new features and hidden gems. You'll get valuable guidance along with information about online resources to help you make strategic financial decisions and plan for a secure future. Customize Quicken for your preferences Track your cash flow Set up Online Account Services Automate transactions and tasks Reconcile checking, savings, and credit cards accounts Track investments and optimize your portfolio Monitor assets and loans Manage household records Reduce debt, save money, and plan for retirement Simplify tax preparation and maximize deductions
Author Biography
Bobbi Sandberg is a consultant, instructor, and retired CPA who is recognized by Intuit as a Certified Professional Advisor. She teaches at community college and local senior centers and has been training users on Quicken since its first DOS version in the 1980s.
Table of Contents
Part One: Quicken Setup and Basics; Chapter 1. Getting to Know Quicken; Chapter 2. Working with Accounts, Categories, and Tags; Chapter 3. Going Online with Quicken; Part Two: Banking; Chapter 4. Recording Bank and Credit Card Transactions; Chapter 5. Using Online Banking Features; Chapter 6. Automating Transactions and Tasks; Chapter 7. Reconciling Your Accounts; Chapter 8. Examining Your Banking Activity; Part Three: Investing; Chapter 9. Entering Your Investment Transactions; Chapter 10. Using Transaction Download and Research Tools; Chapter 11. Evaluating Your Position; Part Four: Net Worth; Chapter 12. Monitoring Assets and Loans; Chapter 13. Keeping Tabs on Your Net Worth; Part Five: Planning; Chapter 14. Planning for the Future; Chapter 15. Using Financial Calculations; Chapter 16. Reducing Debt and Saving Money; Part Six: Tax; Chapter 17. Simplifying Tax Preparation; Chapter 18. Planning for Tax Time; Part Seven: Appendixes; Appendix A. Managing Quicken Files; Appendix B. Customizing Quicken; Appendix C. Converting from Microsoft Money; Index