Note: Supplemental materials are not guaranteed with Rental or Used book purchases.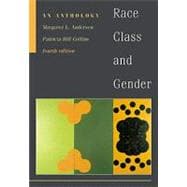 Questions About This Book?
What version or edition is this?
This is the 4th edition with a publication date of 8/1/2000.
What is included with this book?
The New copy of this book will include any supplemental materials advertised. Please check the title of the book to determine if it should include any CDs, lab manuals, study guides, etc.
Summary
Included in RACE, CLASS, AND GENDER are 73 interdisciplinary readings. The authors provide articles that are highly readable, articles that show how race, class, and gender shape people's experiences, and help students to see the issues in an analytic, as well as descriptive way. The book provides conceptual grounding in understanding race, class, and gender; it has a strong historical and sociological perspective; and it is strengthened by conceptual introductions by the authors. Students find the readings engaging and accessible. Included in the collection are narratives aimed at building empathy, and articles on social issues such as welfare reform, affirmative action, poverty, immigration, racism, etc. The past editions have continually been top-sellers.
Table of Contents
Preface
xiii
About the Editors
xix
About the Contributors
xx
Introduction
1
(9)
Suggested Readings
10
(1)
Info Trac College Edition
11
(2)
I Shifting the Center and Reconstructing Knowledge
13
(54)
13
(7)
20
(1)
21
(2)
23
(1)

| | |
| --- | --- |
| | Missing People and Others: Joining Together to Expand the Circle |

23
(5)
28
(7)
35
(9)

| | |
| --- | --- |
| | Angry Women Are Building: Issues and Struggles Facing American Indian Women Today |

44
(4)
48
(4)
52
(15)
II Conceptualizing Race, Class, and Gender
67
(146)
67
(21)
88
(1)
89
(1)
90
(1)

| | |
| --- | --- |
| | Something about the Subject Makes It Hard to Name |

90
(5)

| | |
| --- | --- |
| | White Privilege and Male Privilege: A Personal Account of Coming to See Correspondences through Work in Women's Studies (1988) |

95
(11)
106
(2)

| | |
| --- | --- |
| | Seeing More Than Black & White: Latinos, Racism, and the Cultural Divides |

108
(7)

| | |
| --- | --- |
| | What White Supremacists Taught a Jewish Scholar about Identity |

115
(4)
119
(6)
125
(1)

| | |
| --- | --- |
| | Tired of Playing Monopoly? |

125
(9)
134
(5)

| | |
| --- | --- |
| | Poverty as Race, Power, and Wealth |

139
(4)

| | |
| --- | --- |
| | The Silenced Majority: Why the Average Working Person Has Disappeared from American Media and Culture |

143
(3)
146
(10)

| | |
| --- | --- |
| | Moving Up with Kin and Community: Upward Social Mobility for Black and White Women |

156
(12)
168
(1)

| | |
| --- | --- |
| | Gender through the Prism of Difference |

168
(9)

| | |
| --- | --- |
| | Pierrette Hondagneu-Sotelo |

| | |
| --- | --- |
| | Age, Race, Class, and Sex: Women Redefining Difference |

177
(8)

| | |
| --- | --- |
| | Understanding and Fighting Sexism: A Call to Men |

185
(6)

| | |
| --- | --- |
| | Ideological Racism and Cultural Resistance: Constructing Our Own Images |

191
(10)

| | |
| --- | --- |
| | ``J.A.P.''-Slapping: The Politics of Scapegoating |

201
(4)

| | |
| --- | --- |
| | A New Vision of Masculinity |

205
(8)
III Rethinking Institutions
213
(192)
213
(14)
227
(1)
228
(1)

| | |
| --- | --- |
| | Work and Economic Transformation |

229
(1)

| | |
| --- | --- |
| | Economic Restructuring and Systems of Inequality at Century's End |

229
(5)

| | |
| --- | --- |
| | Race, Class, Gender, and Women's Works |

234
(9)

| | |
| --- | --- |
| | The Gap between Striving and Achieving: The Case of Asian American Women |

243
(8)

| | |
| --- | --- |
| | The Latino Population: The Importance of Economic Restructuring |

251
(8)

| | |
| --- | --- |
| | Working Poor, Working Hard |

259
(4)

| | |
| --- | --- |
| | The Armstrongs: An Oral History of a Homeless American Family |

263
(5)
268
(1)

| | |
| --- | --- |
| | Our Mothers' Grief: Racial-Ethnic Women and the Maintenance of Families |

268
(21)

| | |
| --- | --- |
| | The Diversity of American Families |

289
(7)

| | |
| --- | --- |
| | Countering the Conspiracy to Ignore Black Girls |

296
(8)

| | |
| --- | --- |
| | Racial Safety and Cultural Maintenance: The Child Care Concerns of Employed Mothers of Color |

304
(10)

| | |
| --- | --- |
| | Migration and Vietnamese American Women: Remaking Ethnicity |

314
(8)

| | |
| --- | --- |
| | Cultural Institutions and The Production Of Ideas |

322
(1)

| | |
| --- | --- |
| | Racist Stereotyping in the English Language |

322
(11)

| | |
| --- | --- |
| | Media Magic: Making Class Invisible |

333
(9)

| | |
| --- | --- |
| | The Myth of the Latin Woman: I Just Met a Girl Named Maria |

342
(5)

| | |
| --- | --- |
| | Masculinities and Athletic Careers |

347
(14)

| | |
| --- | --- |
| | My Problem with Multi-cultural Education |

361
(4)
365
(3)

| | |
| --- | --- |
| | State Institutions and Social Policy |

368
(1)

| | |
| --- | --- |
| | The First Americans: American Indians |

368
(8)

| | |
| --- | --- |
| | Can Education Eliminate Race, Class, and Gender Inequality? |

376
(13)

| | |
| --- | --- |
| | The Shredded Net: The End of Welfare as We Knew It |

389
(6)

| | |
| --- | --- |
| | Aid to Dependent Corporations: Exposing Federal Handouts to the Wealthy |

395
(5)

| | |
| --- | --- |
| | Thoughts on Class, Race, and Prison |

400
(5)
IV Analyzing Social Issues
405
(126)
405
(12)
417
(1)
417
(2)
419
(1)

| | |
| --- | --- |
| | ``Is This a White Country, or What?'' |

419
(8)

| | |
| --- | --- |
| | Black Hispanics: The Ties That Bind |

427
(3)

| | |
| --- | --- |
| | Optional Ethnicities: For Whites Only? |

430
(9)
439
(8)
447
(6)
453
(3)
456
(1)
456
(10)

| | |
| --- | --- |
| | A New Politics of Sexuality |

466
(4)

| | |
| --- | --- |
| | Where Has Gay Liberation Gone?: An Interview with Barbara Smith |

470
(4)
474
(6)

| | |
| --- | --- |
| | Maiden Voyage: Excursion into Sexuality and Identity Politics in Asian America |

480
(8)
488
(9)

| | |
| --- | --- |
| | Violence and Social Control |

497
(1)

| | |
| --- | --- |
| | The Harm That Has No Name: Street Harassment, Embodiment, and African American Women |

497
(11)

| | |
| --- | --- |
| | More Power Than We Want: Masculine Sexuality and Violence |

508
(6)

| | |
| --- | --- |
| | The Police and the Black Male |

514
(5)

| | |
| --- | --- |
| | Korean Americans vs. African Americans: Conflict and Construction |

519
(8)

| | |
| --- | --- |
| | Where Race and Gender Meet: Racism, Hate Crimes, and Pornography |

527
(4)
V Making a Difference
531
(54)
531
(7)
538
(1)
539
(1)

| | |
| --- | --- |
| | Coalition Politics: Turning the Century |

540
(6)

| | |
| --- | --- |
| | The Boys and Girls of (Union) Summer |

546
(6)
552
(4)

| | |
| --- | --- |
| | Taking Multicultural, Antiracist Education Seriously: An Interview with Enid Lee |

556
(6)

| | |
| --- | --- |
| | Women of Color on the Front Line |

562
(11)

| | |
| --- | --- |
| | Having the Tools at Hand: Building Successful Multicultural Social Justice Organizations |

573
(12)
Index
585