Note: Supplemental materials are not guaranteed with Rental or Used book purchases.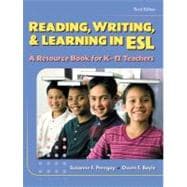 Summary
This is an old edition! Please see the fourth edition, ISBN: 0-205-41034-0, to view the most up-to-date information about this book. This comprehensive and accessible text provides practical strategies for promoting literacy and language development in second language learners (K-12). It explores contemporary language acquisition theory as it relates to instruction and provides suggestions and methods on motivating and involving ESL students.
Author Biography
Suzanne F. Peregoy is professor of education at San Francisco State University Owen F. Boyle is a professor of education in reading and language arts, San Jose State University.
Table of Contents
Preface
xv

| | |
| --- | --- |
| | English Language Learners in School |

1
(27)

| | |
| --- | --- |
| | Who Are English Language Learners? |

3
(1)

| | |
| --- | --- |
| | How Can I Get to Know My English Language Learners? |

4
(4)

| | |
| --- | --- |
| | Getting Basic Information When a New Student Arrives |

4
(2)

| | |
| --- | --- |
| | Classroom Activities That Let You Get to Know Your Students |

6
(2)

| | |
| --- | --- |
| | How Do Cultural Differences Affect Teaching and Learning? |

8
(7)

| | |
| --- | --- |
| | Culture in the Classroom Context |

9
(1)

| | |
| --- | --- |
| | Definitions of Culture and Its Content |

9
(3)

| | |
| --- | --- |
| | Sociolinguistic Interactions in the Classroom |

12
(1)

| | |
| --- | --- |
| | Culturally Related Responses to Classroom Organization |

13
(1)

| | |
| --- | --- |
| | Literacy Traditions from Home and Community |

14
(1)

| | |
| --- | --- |
| | How Can I Ease Newcomers into the Routines of My Classroom When They Know Little or No English? |

15
(3)

| | |
| --- | --- |
| | First Things First: Safety and Security |

15
(1)

| | |
| --- | --- |
| | Creating a Sense of Belonging |

16
(2)

| | |
| --- | --- |
| | What Kinds of Programs Exist to Meet the Needs of English Language Learners? |

18
(8)

| | |
| --- | --- |
| | Bilingual Education Programs |

18
(6)

| | |
| --- | --- |
| | English Language Development Programs |

24
(1)

| | |
| --- | --- |
| | English Language Learners in the ``General Education'' Classroom |

25
(1)

| | |
| --- | --- |
| | Quality Indicators to Look For in Programs Serving English Learners |

25
(1)
26
(1)

| | |
| --- | --- |
| | Suggestions for Further Reading |

26
(1)
27
(1)

| | |
| --- | --- |
| | Second Language Acquisition |

28
(33)

| | |
| --- | --- |
| | What Do You Know When You Know a Language? Defining Language Proficiency as Communicative Competence |

29
(4)

| | |
| --- | --- |
| | Language Acquisition Theories |

33
(13)

| | |
| --- | --- |
| | First Language Acquisition Theories |

34
(6)

| | |
| --- | --- |
| | Second Language Acquisition Theories |

40
(6)

| | |
| --- | --- |
| | Learning a Second Language in School: Processes and Factors |

46
(12)

| | |
| --- | --- |
| | Second Language Acquisition Contexts: Formal Study versus Immersion in a Country Where the Language Is Spoken |

47
(2)

| | |
| --- | --- |
| | Age and the Interplay of Sociocultural, Cognitive, and Personality Factors |

49
(2)

| | |
| --- | --- |
| | Differences in School Expectations of Younger and Older Learners |

51
(1)

| | |
| --- | --- |
| | Teacher Expectations for English Learner Achievement |

52
(1)

| | |
| --- | --- |
| | Language Used for Social Interaction versus Language Used for Academic Learning |

53
(2)

| | |
| --- | --- |
| | Comprehensible Input and Social Interaction |

55
(2)

| | |
| --- | --- |
| | What about Language Learning Errors? |

57
(1)
58
(1)

| | |
| --- | --- |
| | Suggestions for Further Reading |

59
(1)
60
(1)

| | |
| --- | --- |
| | Classroom Practices for English Learner Instruction |

61
(43)

| | |
| --- | --- |
| | Sheltered Instruction or Specially Designed Academic Instruction in English (SDAIE) |

64
(8)

| | |
| --- | --- |
| | Planning and Organizing Sheltered Instruction or SDAIE |

65
(1)

| | |
| --- | --- |
| | Sheltered Instruction or SDAIE: A Science Example |

65
(5)

| | |
| --- | --- |
| | Sheltered Instruction or SDAIE: A Literature Example |

70
(2)
72
(5)
72
(2)

| | |
| --- | --- |
| | Cooperative Learning Methods |

74
(1)

| | |
| --- | --- |
| | Phases of Cooperative Group Development |

75
(1)
76
(1)
77
(8)

| | |
| --- | --- |
| | Distinguishing Theme Units from Theme Cycles |

79
(1)

| | |
| --- | --- |
| | Organizing Thematic Instruction |

80
(3)

| | |
| --- | --- |
| | Functional Language and Literacy Uses in Thematic Instruction |

83
(1)

| | |
| --- | --- |
| | Creating Variety in Language and Literacy Uses |

84
(1)
85
(9)

| | |
| --- | --- |
| | Scaffolding: A KEEP Example |

86
(3)

| | |
| --- | --- |
| | Scaffolding in First Language Acquisition Research |

89
(1)

| | |
| --- | --- |
| | Scaffolding Applied to Second Language Acquisition |

90
(2)

| | |
| --- | --- |
| | Scaffolds for First and Second Language Reading and Writing |

92
(2)

| | |
| --- | --- |
| | Assessment of English Learners |

94
(7)

| | |
| --- | --- |
| | English Learner Assessment: Definition and Purposes |

94
(2)

| | |
| --- | --- |
| | Identification and Placement of Students in Need of Language Education Support Services |

96
(1)

| | |
| --- | --- |
| | Limitations of Standardized Language Proficiency Tests |

97
(1)
98
(1)
98
(1)

| | |
| --- | --- |
| | Assessment of Student Learning and Progress |

99
(2)
101
(1)

| | |
| --- | --- |
| | Suggestions for Further Reading |

102
(1)
103
(1)

| | |
| --- | --- |
| | Oral Language Development in Second Language Acquisition |

104
(42)

| | |
| --- | --- |
| | Oral Language in Perspective |

105
(6)

| | |
| --- | --- |
| | Integration of Listening, Speaking, Reading, and Writing |

106
(1)

| | |
| --- | --- |
| | Relationships among Listening, Speaking, Reading, and Writing |

107
(2)

| | |
| --- | --- |
| | Form, Function, and Social Context in Oral Language Use |

109
(2)

| | |
| --- | --- |
| | Describing Oral Language Performance of Beginning and Intermediate English Learners |

111
(5)

| | |
| --- | --- |
| | Second Language Oral Proficiency of Beginning English Learners |

112
(3)

| | |
| --- | --- |
| | Second Language Oral Proficiency of Intermediate English Learners |

115
(1)

| | |
| --- | --- |
| | Promoting Oral Language Development in the Classroom |

116
(10)
118
(1)
118
(1)
119
(2)
121
(1)
121
(1)

| | |
| --- | --- |
| | Tape Recording Children's Re-Creations of Wordless Book Stories |

122
(1)

| | |
| --- | --- |
| | Taping and Dubbing a Television Show |

123
(1)
124
(1)
125
(1)

| | |
| --- | --- |
| | Oral Language Development through Content-Area Instruction |

126
(5)

| | |
| --- | --- |
| | Oral English Development and Use in Mathematics |

126
(2)

| | |
| --- | --- |
| | Oral English Development and Use in Science |

128
(1)

| | |
| --- | --- |
| | Oral English Development and Use in Social Studies |

129
(2)

| | |
| --- | --- |
| | Classroom Assessment of English Learners' Oral Language Development |

131
(11)

| | |
| --- | --- |
| | The Student Oral Language Observation Matrix (SOLOM) |

131
(7)

| | |
| --- | --- |
| | Checklists and Anecdotal Observations |

138
(4)
142
(1)

| | |
| --- | --- |
| | Suggestions for Further Reading |

143
(1)
144
(2)

| | |
| --- | --- |
| | Emergent Literacy: English Learners Beginning to Write and Read |

146
(56)

| | |
| --- | --- |
| | What Does Research Tell Us about the Early Literacy Development of English Learners? |

149
(2)

| | |
| --- | --- |
| | Contrasting the Emergent Literacy and Reading Readiness Perspectives |

151
(5)

| | |
| --- | --- |
| | Reading Readiness Perspective |

151
(2)

| | |
| --- | --- |
| | Emergent Literacy Perspective |

153
(2)

| | |
| --- | --- |
| | Differences between Oral and Written Language Development |

155
(1)

| | |
| --- | --- |
| | Highlighting Literacy Functions in Your Classroom |

156
(1)

| | |
| --- | --- |
| | Exploring the Visual Form of Written Language |

157
(11)

| | |
| --- | --- |
| | Development of Alphabetic Writing: Connecting Symbols and Sounds |

159
(4)

| | |
| --- | --- |
| | Print Concepts That Emerge in Emergent Literacy |

163
(2)

| | |
| --- | --- |
| | Invented or Temporary Spelling: Children Working Out Sound/Symbol Correspondences |

165
(3)

| | |
| --- | --- |
| | Emergent Literacy in English as a Non-native Language |

168
(2)

| | |
| --- | --- |
| | Home and School Environments That Nurture Emergent Literacy |

170
(6)

| | |
| --- | --- |
| | How Do Home Environments Promote Early Literacy? |

171
(2)
173
(1)

| | |
| --- | --- |
| | Promoting Parent Involvement in English Learners' Schooling |

174
(2)

| | |
| --- | --- |
| | Classroom Strategies to Promote Early Literacy |

176
(9)
176
(1)

| | |
| --- | --- |
| | Creating a Literacy-Rich Classroom Environment |

177
(2)
179
(1)

| | |
| --- | --- |
| | Using Daily Routines to Highlight the Forms and Functions of Print |

179
(2)

| | |
| --- | --- |
| | Reading Aloud to Students |

181
(2)

| | |
| --- | --- |
| | Shared Writing and Reading through the Language Experience Approach |

183
(1)
183
(1)
184
(1)

| | |
| --- | --- |
| | Helping Children Recognize and Spell Words Independently |

185
(10)

| | |
| --- | --- |
| | Using Big Books to Teach Sight Words and Phonics |

185
(1)

| | |
| --- | --- |
| | Increasing Students' Sight Word Vocabulary |

186
(1)
187
(1)
188
(2)

| | |
| --- | --- |
| | Invented or Temporary Spelling and Word Recognition |

190
(1)

| | |
| --- | --- |
| | Developmental Levels in Student Spelling |

190
(5)

| | |
| --- | --- |
| | Summary of Early Literacy Instructional Strategies |

195
(1)

| | |
| --- | --- |
| | Evaluating Emergent Literacy Development |

195
(3)
198
(1)

| | |
| --- | --- |
| | Suggestions for Further Reading |

199
(1)
200
(2)

| | |
| --- | --- |
| | English Learners and Process Writing |

202
(55)

| | |
| --- | --- |
| | Research on Second Language Writing |

204
(2)
206
(5)

| | |
| --- | --- |
| | Experiencing Process Writing: ``I Remember'' |

207
(1)

| | |
| --- | --- |
| | Students' Responses to ``I Remember'' |

208
(3)

| | |
| --- | --- |
| | How Process Writing Helps English Learners |

211
(1)

| | |
| --- | --- |
| | Collaborative Contexts for Process Writing |

212
(8)
212
(5)
217
(1)

| | |
| --- | --- |
| | Publishing Student Writing |

218
(2)

| | |
| --- | --- |
| | Developmental Phases in Second Language Writing |

220
(1)

| | |
| --- | --- |
| | Description of Beginning Writers |

221
(2)

| | |
| --- | --- |
| | Strategies to Assist Beginning Writers |

223
(11)

| | |
| --- | --- |
| | Strategies to Assist Beginning Writers |

223
(1)
224
(1)

| | |
| --- | --- |
| | Partner Stories Using Pictures and Wordless Books |

224
(1)

| | |
| --- | --- |
| | Concept Books: Creating a Teaching Library |

225
(1)

| | |
| --- | --- |
| | Peek-a-boo Books for Younger Students and Riddle Books for Older Students |

225
(1)
226
(1)

| | |
| --- | --- |
| | From Personal Journals to Dialogue Journals to Buddy Journals |

227
(3)

| | |
| --- | --- |
| | Improvisational Sign Language |

230
(1)
231
(1)
232
(1)
233
(1)

| | |
| --- | --- |
| | Description of Intermediate Writers |

234
(2)

| | |
| --- | --- |
| | Strategies for Intermediate Writers |

236
(9)
237
(1)
238
(1)
239
(1)
240
(2)
242
(3)

| | |
| --- | --- |
| | A Word about Writing with Computers |

245
(2)

| | |
| --- | --- |
| | Assessing English Learners' Writing Progress |

247
(6)
247
(4)
251
(2)
253
(2)

| | |
| --- | --- |
| | Suggestions for Further Reading |

255
(1)
255
(2)

| | |
| --- | --- |
| | Reading and Literature Instruction for English Language Learners |

257
(50)

| | |
| --- | --- |
| | What Does Research Tell Us about Reading in a Second Language? |

259
(4)
260
(1)

| | |
| --- | --- |
| | English Language Learners and Background Knowledge |

260
(2)

| | |
| --- | --- |
| | Reading Processes of Proficient Readers |

262
(1)

| | |
| --- | --- |
| | Working in Literature Response Groups |

263
(4)

| | |
| --- | --- |
| | Steps That Prepare Students to Work in Response Groups |

265
(1)

| | |
| --- | --- |
| | How Response to Literature Assists English Language Learners |

266
(1)

| | |
| --- | --- |
| | Developmental Phases in Second Language Reading |

267
(1)

| | |
| --- | --- |
| | Beginning Readers: Characteristics and Strategies |

267
(13)

| | |
| --- | --- |
| | Language-Experience Approach |

268
(3)

| | |
| --- | --- |
| | Providing Quality Literature for Beginners |

271
(1)
272
(2)

| | |
| --- | --- |
| | Illustrating Stories and Poems |

274
(1)

| | |
| --- | --- |
| | Shared Reading with Big Books |

274
(2)

| | |
| --- | --- |
| | Directed Listening-Thinking Activity (DL-TA) |

276
(2)
278
(1)
279
(1)

| | |
| --- | --- |
| | Intermediate Readers: Characteristics and Strategies |

280
(9)
281
(3)

| | |
| --- | --- |
| | Directed Reading-Thinking Activity (DR-TA) |

284
(2)

| | |
| --- | --- |
| | Literature Response Journals |

286
(2)

| | |
| --- | --- |
| | Developing Scripts for Readers' Theater |

288
(1)

| | |
| --- | --- |
| | Adapting Stories into Plays and Scripts for Film and Videotape |

288
(1)

| | |
| --- | --- |
| | Using Computers and CD-ROMs to Enhance Learning |

289
(1)

| | |
| --- | --- |
| | Assessing Second Language Readers' Progress |

289
(14)

| | |
| --- | --- |
| | Assessing with Materials Students Bring to Class |

290
(1)
290
(1)
291
(8)

| | |
| --- | --- |
| | Informal Reading Inventories |

299
(1)
299
(2)
301
(2)
303
(2)

| | |
| --- | --- |
| | Suggestions for Further Reading |

305
(1)
306
(1)

| | |
| --- | --- |
| | Content Reading and Writing: Prereading and During Reading |

307
(34)

| | |
| --- | --- |
| | What Does Research Tell Us about Reading and Writing across the Curriculum for English Language Learners? |

311
(1)

| | |
| --- | --- |
| | Background Information on Students' Interactions with Texts |

312
(8)

| | |
| --- | --- |
| | Aesthetic and Efferent Interactions with Texts |

312
(1)

| | |
| --- | --- |
| | Effects of Text Structure on Comprehension and Memory |

313
(6)
319
(1)

| | |
| --- | --- |
| | Metacognition and Learning from Text |

320
(1)

| | |
| --- | --- |
| | Matching Students and Texts |

320
(4)

| | |
| --- | --- |
| | Evaluating Students' Interaction with Text Using the Group Reading Inventory (GRI) |

321
(3)

| | |
| --- | --- |
| | Strategies to Promote Reading Comprehension |

324
(2)

| | |
| --- | --- |
| | Prereading Strategies: Developing Motivation, Purpose, and Background Knowledge |

326
(6)

| | |
| --- | --- |
| | Teacher Talk: Making Purposes Clear |

326
(2)
328
(1)
328
(1)
329
(1)

| | |
| --- | --- |
| | Developing Vocabulary before Students Read a Text |

329
(1)
330
(1)
330
(1)
331
(1)

| | |
| --- | --- |
| | During-Reading Strategies: Monitoring Comprehension |

332
(6)

| | |
| --- | --- |
| | Using Headings and Subheadings |

333
(1)

| | |
| --- | --- |
| | Directed Reading-Thinking Activity (DR-TA) |

333
(1)

| | |
| --- | --- |
| | Vocabulary Strategies during Reading |

334
(1)

| | |
| --- | --- |
| | Using Clustering to Develop Vocabulary in Context |

335
(1)
336
(2)
338
(1)
338
(1)

| | |
| --- | --- |
| | Suggestions for Further Reading |

339
(1)
340
(1)

| | |
| --- | --- |
| | Content Reading and Writing: Postreading Strategies For Organizing and Remembering |

341
(31)

| | |
| --- | --- |
| | Postreading Strategies for Students |

342
(6)

| | |
| --- | --- |
| | Semantic Feature Analysis for Vocabulary Development after Reading |

343
(1)

| | |
| --- | --- |
| | Rebearsing to Organize and Remember Information |

344
(1)
345
(1)
346
(2)

| | |
| --- | --- |
| | Writing as a Learning Tool across the Curriculum |

348
(9)

| | |
| --- | --- |
| | Journals and Learning Logs |

348
(2)

| | |
| --- | --- |
| | Developing Topics and Student Self-Selection of Topics in Content Areas |

350
(2)

| | |
| --- | --- |
| | Photo Essays: Combining Direct Experience, the Visual Mode, and Writing |

352
(1)

| | |
| --- | --- |
| | Written and Oral Collaborative Research Projects |

353
(3)

| | |
| --- | --- |
| | K-W-L, a Strategy That Fosters Thinking before, during, and after Reading |

356
(1)

| | |
| --- | --- |
| | Theme Studies: Providing a Meaningful Learning Context |

357
(7)

| | |
| --- | --- |
| | Introducting the Topic and Choosing Study Questions |

357
(3)
360
(1)

| | |
| --- | --- |
| | Instructional Modifications for English Learners |

361
(3)
364
(4)
364
(3)

| | |
| --- | --- |
| | Using Multiple Measures for Assessment |

367
(1)
368
(1)

| | |
| --- | --- |
| | Suggestions for Further Reading |

369
(1)
370
(2)

| | |
| --- | --- |
| | Reading Assessment and Instruction |

372
(40)

| | |
| --- | --- |
| | Theoretical Approach to Literacy Assessment |

374
(11)

| | |
| --- | --- |
| | Language Proficiency: Listening, Speaking, Reading and Writing |

374
(5)

| | |
| --- | --- |
| | Looking Closely at the Reading Process in English |

379
(3)

| | |
| --- | --- |
| | Resources that Non-Native-English Speakers Bring to English Reading |

382
(3)

| | |
| --- | --- |
| | Assessing Reading Using an Informal Reading Inventory |

385
(15)

| | |
| --- | --- |
| | Using IRIs to Systematically Assess Students Status and Progress |

386
(2)

| | |
| --- | --- |
| | Reading Levels Can be Established Using Informal Reading Inventories |

388
(1)

| | |
| --- | --- |
| | Procedures for Determining Independent, Instructional and Frustration Levels |

388
(1)

| | |
| --- | --- |
| | Independent Reading Level |

389
(1)

| | |
| --- | --- |
| | Instructional Reading Level |

389
(1)

| | |
| --- | --- |
| | Frustration Reading Level |

390
(1)

| | |
| --- | --- |
| | Sample Informal Reading Inventory |

390
(2)

| | |
| --- | --- |
| | Case Study of Lou Using an IRI |

392
(4)

| | |
| --- | --- |
| | Summary of Lou's Reading Abilities |

396
(4)

| | |
| --- | --- |
| | A List of Commercial Informal Reading Inventories |

400
(1)

| | |
| --- | --- |
| | Other Procedures for Evaluating and Instructing Struggling Readers Linking Assessment and Instruction |

400
(1)
400
(1)

| | |
| --- | --- |
| | Linking Assessment and Instruction |

401
(8)
402
(4)
406
(2)
408
(1)
408
(1)
409
(1)

| | |
| --- | --- |
| | Suggestions for Further Reading |

409
(1)
410
(2)
412
(5)
Bibliography
417
(19)
Author Index
436
Subject Index