Note: Supplemental materials are not guaranteed with Rental or Used book purchases.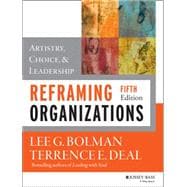 Related Products
Summary
The Classic Leadership Resources Now In Its 5th Edition!
First published in 1984, Lee Bolman and Terrence Deal's bestselling text has become a classic in the field. Its four-frame model provides four different perspectives through which organizations can be understood.
The Structural Frame focuses on organization structure and provides insight into how managers and leaders within organizations can better organize and structure organizations, groups, and teams to get results.
The Human Resource Frame focuses on the people in organizations and provides insight into how to tailor organizations to satisfy human needs, improve human resource management, and build positive interpersonal and group dynamics.
The Political Frame focuses on the political dynamics in organizations and examines how managers and leaders in organizations can understand power and conflict, build coalitions, hone political skills, and deal with internal and external politics.
The Symbolic Frame focuses on meaning and culture in organizations, and provides insight into how leaders and managers can shape culture, stage organizational drama for internal and external audiences, and build spirit through ritual, ceremony, and story.
Bolman and Deal update their classic with coverage of pressing issues such as globalization, changing workforces, offshoring, and leadership across cultures. An Instructor's Guide and personal leadership orientations assessment are available online at www.wiley.com/college/bolman.
Author Biography
Lee G. Bolman holds the Marion Bloch/Missouri Chair in Leadership at the Bloch School of Business and Public Administration at the University of Missouri-Kansas City. He consults worldwide to corporations, public agencies, universities, and schools. In addition to his many books with Terry Deal, he is also coauthor of Reframing Academic Leadership with Joan V. Gallos.
Terrence E. Deal left active university life as the Irving R. Melbo Clinical Professor of the University of Southern California's Rossier School of Education. He is the coauthor of twenty-three books, including the bestselling Corporate Cultures (with A. A. Kennedy, 1982) and Managing the Hidden Organization (with W. A. Jenkins, 1994).
Bolman and Deal are also coauthors of Leading with Soul (now in its third edition), Wizard and Warrior, and their forthcoming book, Reframing Leadership (also from Wiley).
Table of Contents
Preface
Part One Making Sense of Organizations
1 Introduction: The Power of Reframing
2 Simple Ideas, Complex Organizations
Part Two The Structural Frame
3 Getting Organized
4 Structure and Restructuring
5 Organizing Groups and Teams
Part Three The Human Resource Frame
6 People and Organizations
7 Improving Human Resource Management
8 Interpersonal and Group Dynamic
Part Four The Political Frame
9 Power, Conflict, and Coalition
10 The Manager as Politician
11 Organizations as Political Arenas and Political Agents
Part Five The Symbolic Frame
12 Organizational Symbols and Culture
13 Culture in Action
14 Organization as Theater
Part Six Improving Leadership Practice
15 Integrating Frames for Effective Practice
16 Reframing in Action: Opportunities and Perils
17 Reframing Leadership
18 Reframing Change in Organizations
19 Reframing Ethics and Spirit
20 Bringing It All Together: Change and Leadership in Action
21 Epilogue: Artistry, Choice, and Leadership
Appendix: The Best of Organizational Studies
References
Acknowledgments
The Authors
Name Index
Subject Index