Note: Supplemental materials are not guaranteed with Rental or Used book purchases.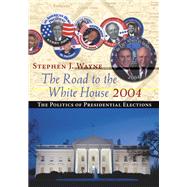 The Road to the White House 2004 The Politics of Presidential Elections (with InfoTrac)
ISBN13:
9780534614256
by
Wayne, Stephen J.
Questions About This Book?
What version or edition is this?
This is the 7th edition with a publication date of 8/21/2003.
What is included with this book?
The Used copy of this book is not guaranteed to include any supplemental materials. Typically, only the book itself is included.
Summary
Stephen Wayne, a leading scholar of presidential electoral politics, describes and analyzes the crucial politics, procedures, and strategies behind campaign finance, media relations, nominating conventions, and the general election. The post-election edition includes a thorough analysis of the entire 2000 presidential election and its dramatic conclusion. Coverage of the Money Race in 2000, with special emphasis on the new McCain-Feingold law and its implications for the money race in 2004. The strategies and tactics of the 2000 presidential nominations and elections. "The Air Wars of 2000" advertising by the candidates, parties, and outside groups in the 2000 presidential nominations and elections The Florida election controversy and its implication for future presidential elections. Focusing on the facts of how the presidential election system works and summarizing the state of the art and science of presidential electoral politics at the beginning of the 21st century, this text is a must for any study of presidential elections. Organized in four parts: first, discussing the arena in which presidential elections occur-the electoral system, campaign finance, and the political environment; second, describing the various stages of the presidential campaign; third, discussing the general election campaign; and last, looking at the election, its significance, and its likely consequences.
Table of Contents
Preface
vii
About the Author
xiii
PART I THE ELECTORAL ARENA

| | |
| --- | --- |
| | 1 Presidential Selection: A Historical Overview |

3
(29)
3
(1)

| | |
| --- | --- |
| | The Creation of the Electoral College |

4
(2)

| | |
| --- | --- |
| | The Development of Nominating Systems |

6
(7)

| | |
| --- | --- |
| | The Evolution of the General Election |

13
(4)

| | |
| --- | --- |
| | The 2000 Presidential Election Controversy |

17
(6)
17
(3)

| | |
| --- | --- |
| | The Public Relations Campaign |

20
(3)

| | |
| --- | --- |
| | The Politics of Electoral College Voting |

23
(9)
25
(2)
27
(1)
27
(1)
28
(1)
29
(3)
32
(33)
32
(1)
33
(3)
36
(2)
38
(6)

| | |
| --- | --- |
| | Box 2-1: Exploiting the Soft Money Loophole |

41
(2)

| | |
| --- | --- |
| | Box 2-2: Contribution Limits (before and after McCain-Feingold) |

43
(1)
44
(13)
44
(6)

| | |
| --- | --- |
| | Box 2-3: The Well-Funded Candidate's Dilemma: To Accept or Reject Government Funds |

50
(1)

| | |
| --- | --- |
| | Box 2-4: The Money Race for the 2000 Nomination |

51
(2)
53
(3)

| | |
| --- | --- |
| | Competition Between Parties and Their Candidates |

56
(1)

| | |
| --- | --- |
| | Money and Electoral Success |

57
(1)
58
(2)
60
(1)
61
(1)
61
(1)
62
(3)

| | |
| --- | --- |
| | 3 The Political Environment |

65
(38)
65
(1)
66
(11)

| | |
| --- | --- |
| | The Expansion of Suffrage |

68
(3)

| | |
| --- | --- |
| | Other Influences on Turnout |

71
(1)

| | |
| --- | --- |
| | Box 3-1: Registering to Vote |

72
(4)
76
(1)

| | |
| --- | --- |
| | The Partisan Basis of Politics |

77
(6)

| | |
| --- | --- |
| | A Model of the U.S. Voter |

77
(2)

| | |
| --- | --- |
| | A More Refined Theory of Voting |

79
(1)
80
(1)
81
(2)

| | |
| --- | --- |
| | The Social Basis of Politics |

83
(10)
83
(2)

| | |
| --- | --- |
| | Evolving Political Coalitions |

85
(7)

| | |
| --- | --- |
| | The Future of the Parties |

92
(1)
93
(1)
94
(1)
95
(1)
95
(1)
96
(7)
PART II THE NOMINATION
103
(56)
103
(1)

| | |
| --- | --- |
| | Reforming the Nomination Process |

104
(7)

| | |
| --- | --- |
| | Democratic Rules, 1968-1980 |

104
(3)

| | |
| --- | --- |
| | Box 4-1. The Iowa Caucus: How It Works |

107
(1)

| | |
| --- | --- |
| | Democratic Rules, 1981-Present |

108
(2)
110
(1)

| | |
| --- | --- |
| | The Legality of Party Rules |

111
(3)

| | |
| --- | --- |
| | The Impact of the Rules Changes |

114
(4)
114
(1)
115
(1)

| | |
| --- | --- |
| | Party Organization and Leadership |

116
(1)
117
(1)

| | |
| --- | --- |
| | Campaigning for Delegates |

118
(30)

| | |
| --- | --- |
| | Basic Strategic Guidelines |

118
(10)

| | |
| --- | --- |
| | Box 4-2. The Air Wars of 2000: The Nominations |

128
(8)

| | |
| --- | --- |
| | The Non-Front-Runner Strategy: Stepping-Stones to Prominence |

136
(1)

| | |
| --- | --- |
| | Box 4-3: Non-Front-Runner Strategies in 2000 |

137
(5)

| | |
| --- | --- |
| | Other Non-Front-Runner Approaches: Using the Campaign as a Pulpit |

142
(1)

| | |
| --- | --- |
| | The Front-Runner Strategy: Amassing Delegates |

143
(1)

| | |
| --- | --- |
| | Box 4-4: Front-Runner Strategies in 2000 |

144
(4)
148
(1)
149
(2)
151
(1)
151
(1)
152
(7)

| | |
| --- | --- |
| | 5 Spring Interregnum: Consolidating Victory and Posturing for the Election |

159
(34)

| | |
| --- | --- |
| | The Noncompetitive Phase of the Nomination Campaign |

159
(5)
159
(2)

| | |
| --- | --- |
| | Repositioning and Reprioritizing the Issues |

161
(1)
162
(1)

| | |
| --- | --- |
| | The Prelude to the Conventions |

162
(2)

| | |
| --- | --- |
| | National Nominating Conventions |

164
(18)
164
(2)
166
(4)

| | |
| --- | --- |
| | Intra- and Interparty Disputes |

170
(2)

| | |
| --- | --- |
| | Convention Strategies and Tactics |

172
(1)

| | |
| --- | --- |
| | Box 5-1: Contrasts in the 2000 Republican and Democratic Party Platforms |

173
(1)

| | |
| --- | --- |
| | The Mediated Convention: Theater and News |

174
(4)

| | |
| --- | --- |
| | Box 5-2: Minor Party Conventions |

178
(1)

| | |
| --- | --- |
| | Assessing the Convention's Impact |

179
(3)

| | |
| --- | --- |
| | Characteristics of the Nominees |

182
(2)
184
(2)
186
(1)
186
(1)
187
(1)
187
(6)
PART III THE PRESIDENTIAL CAMPAIGN

| | |
| --- | --- |
| | 6 Organization, Strategy, and Tactics |

193
(32)
193
(4)
197
(4)
197
(3)

| | |
| --- | --- |
| | Transitioning to Government |

200
(1)
201
(11)
202
(2)

| | |
| --- | --- |
| | Creating a Leadership Image |

204
(3)
207
(1)

| | |
| --- | --- |
| | Building a Winning Geographic Coalition |

208
(1)

| | |
| --- | --- |
| | Box 6-1: An Incumbency Balance Sheet |

209
(3)
212
(5)
212
(1)

| | |
| --- | --- |
| | Orchestrating the Campaign |

213
(2)
215
(1)
216
(1)
216
(1)
217
(2)
219
(1)
220
(1)
220
(1)
221
(4)
225
(44)
225
(3)

| | |
| --- | --- |
| | Traditional Coverage: Hard News |

228
(7)
230
(2)
232
(2)
234
(1)

| | |
| --- | --- |
| | Nontraditional Coverage: Soft News |

235
(2)
237
(8)
240
(1)
241
(1)
242
(3)
245
(12)
246
(3)
249
(1)
249
(4)

| | |
| --- | --- |
| | Box 7-1: The Air Wars of 2000: Advertising Strategies |

253
(4)

| | |
| --- | --- |
| | The Cumulative Impact of the Media |

257
(1)
257
(2)
259
(1)
260
(1)
260
(2)
262
(7)
PART IV THE ELECTION

| | |
| --- | --- |
| | 8 Understanding Presidential Elections |

269
(37)
269
(1)

| | |
| --- | --- |
| | Predicting Presidential Elections |

270
(8)
270
(2)
272
(4)
276
(2)

| | |
| --- | --- |
| | Interpreting the Election |

278
(13)

| | |
| --- | --- |
| | Models of Voting Behavior |

279
(1)

| | |
| --- | --- |
| | 1952-1956: The Impact of Personality |

280
(1)

| | |
| --- | --- |
| | 1960-1972: The Increasing Importance of Issues |

281
(1)

| | |
| --- | --- |
| | 1976-1996: The Evaluation of Performance |

282
(7)

| | |
| --- | --- |
| | 2000: The Anticipation of Future Performance |

289
(2)

| | |
| --- | --- |
| | Converting Electoral Choice into Public Policy |

291
(7)

| | |
| --- | --- |
| | The President's Imprecise Mandate |

291
(2)

| | |
| --- | --- |
| | Party Platforms, Campaign Pledges, and the New Agenda |

293
(1)

| | |
| --- | --- |
| | Expectations and Performance |

293
(1)

| | |
| --- | --- |
| | The Electoral Coalition and Governing |

294
(1)

| | |
| --- | --- |
| | Personality Politics and Presidential Leadership |

295
(3)
298
(2)
300
(1)
300
(1)
301
(1)
302
(4)

| | |
| --- | --- |
| | 9 Reforming the Electoral System |

306
(30)
306
(1)
307
(10)
307
(5)
312
(3)
315
(2)

| | |
| --- | --- |
| | Enhancing Electoral Choice |

317
(11)
317
(3)
320
(1)
321
(7)
328
(2)
330
(1)
331
(1)
331
(1)
332
PARTV APPENDIXES

| | |
| --- | --- |
| | Appendix A: Results of Presidential Elections, 1900-2000 |

336
(2)

| | |
| --- | --- |
| | Appendix B: 2000 Electoral and Popular Vote Summary |

338
(2)

| | |
| --- | --- |
| | Appendix C: 2000 Electoral Vote Distribution |

340
(1)

| | |
| --- | --- |
| | Appendix D: Tentative Democratic Caucus and Primary Schedule, January-March 2004 |

341
(1)

| | |
| --- | --- |
| | Appendix E: Republican and Democratic Party Conventions and Nominees, 1900-2004 |

342
(3)
Index
345