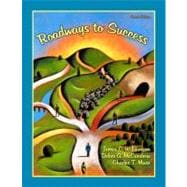 List Price: $61.60
Usually Ships in 3-5 Business Days
Currently Available, Usually Ships in 24-48 Hours
Questions About This Book?
What version or edition is this?
This is the 4th edition with a publication date of 1/1/2007.
What is included with this book?
The New copy of this book will include any supplemental materials advertised. Please check the title of the book to determine if it should include any CDs, lab manuals, study guides, etc.
The Used copy of this book is not guaranteed to inclue any supplemental materials. Typically, only the book itself is included.
Summary
Roadways to Success, 4 th Edition,moves study skills to a new level - first it uncovers the skills essential to better classroom performance, and then reveals how to use them to positively impact oners"s own academic and career success.KET TOPICS: Students learn how to understand what the professor wants, identify time-management strengths, overcome obstacles to listening, use successful studying techniques, tackle test anxiety, and more. They also discover how health and wellness can improve the chance for academic success, as well as understand why research and planning helps make career decisions easier, and ultimately better. This revision includes new critical thinking exercises, an integrated case study, and a new chapter on diversity. It offers solid coverage of technology, strong applications and new ways for college students to reach their academic potential. College orientation and student success courses.
Table of Contents
Preface
xiii
Discover the Companion Website
xv
Case Study
xvii

| | |
| --- | --- |
| | Stopping to Ask for Directions |

1
(26)

| | |
| --- | --- |
| | Connecting with Your Campus Resources |

| | |
| --- | --- |
| | The Importance of Resources |

2
(1)

| | |
| --- | --- |
| | Milestones: Where Are You Now? |

3
(1)

| | |
| --- | --- |
| | Tangible vs. Intangible Resources |

3
(1)

| | |
| --- | --- |
| | The Owner's Manual: Your College Catalog |

4
(2)
6
(1)

| | |
| --- | --- |
| | Box: Library Scavenger Hunt |

7
(1)

| | |
| --- | --- |
| | Computer Resources: A Trip Along the Information Superhighway |

7
(1)

| | |
| --- | --- |
| | Alternative Routes: Distance Education and Other Nontraditional Formats |

8
(1)

| | |
| --- | --- |
| | Making a Pit Stop: Learning Resource Centers |

8
(1)

| | |
| --- | --- |
| | Traveling Companions: Your Friends |

9
(1)
9
(1)
10
(1)

| | |
| --- | --- |
| | Box: Student Eligibility for Federal Financial Aid |

10
(2)

| | |
| --- | --- |
| | Roadways to Financial Aid |

12
(11)
13
(1)
13
(1)

| | |
| --- | --- |
| | Academic Freedom and What It Means to You |

14
(2)

| | |
| --- | --- |
| | Understanding What the Professor Wants |

16
(1)

| | |
| --- | --- |
| | What Makes a Good Student? |

16
(1)

| | |
| --- | --- |
| | What Makes a Good Professor? |

17
(1)
18
(1)

| | |
| --- | --- |
| | Reading the Professor's Schedule |

19
(1)
20
(1)

| | |
| --- | --- |
| | Milestones: Now That You are Here |

21
(1)

| | |
| --- | --- |
| | Exercise 1.1 Resources Available to Me |

22
(1)
23
(4)
23
(1)
24
(1)
24
(1)
25
(2)

| | |
| --- | --- |
| | Planning to Reach Your Destination on Time |

27
(30)

| | |
| --- | --- |
| | Milestones: Where are You Now? |

29
(1)

| | |
| --- | --- |
| | College Success Strategies |

30
(1)
30
(1)

| | |
| --- | --- |
| | Exercise 2.1 The Wheel---Daily Time Analysis |

31
(1)

| | |
| --- | --- |
| | Successful Time Management |

32
(1)

| | |
| --- | --- |
| | Three Keys to Effective Self-Management |

33
(1)

| | |
| --- | --- |
| | Change and Choices---Is Your Life Balanced? |

34
(1)
34
(1)

| | |
| --- | --- |
| | If I Were Young, I Would Form Good Habits |

34
(1)
35
(1)

| | |
| --- | --- |
| | Exercise 2.2 Weekly Time Analysis |

36
(2)

| | |
| --- | --- |
| | Identifying Time-Management Strengths and Weaknesses |

38
(1)

| | |
| --- | --- |
| | Exercise 2.3 Identifying Time-Management Strengths and Weaknesses |

39
(1)

| | |
| --- | --- |
| | A Time-Management System: A Planner for Student Success |

40
(1)
41
(1)
41
(3)

| | |
| --- | --- |
| | Priorities and To-Do Lists |

44
(1)
45
(1)
46
(2)

| | |
| --- | --- |
| | Your Study Plan and Daily Prioritized To-Do List |

48
(1)

| | |
| --- | --- |
| | It's All About Priorities! |

48
(1)
48
(1)

| | |
| --- | --- |
| | Procrastination: The Enemy of the Student |

49
(2)

| | |
| --- | --- |
| | Milestones: Now That You are Here |

51
(1)

| | |
| --- | --- |
| | Roadways to Effective Time Management |

52
(1)
53
(4)
53
(1)
54
(1)
55
(1)
55
(2)

| | |
| --- | --- |
| | Fine---Tuning Your Vehicle |

57
(24)

| | |
| --- | --- |
| | Recognizing Your Potential and Building Self-Esteem |

| | |
| --- | --- |
| | Milestones: Where are You Now? |

59
(1)
60
(2)
62
(1)

| | |
| --- | --- |
| | Discovering and Achieving Your Potential |

63
(3)
66
(1)

| | |
| --- | --- |
| | Exercise the Values Auction |

66
(2)
68
(1)
68
(1)

| | |
| --- | --- |
| | Why Is Self-Esteem Important? |

68
(1)

| | |
| --- | --- |
| | Developing Positive Self-Esteem |

69
(4)

| | |
| --- | --- |
| | Roadways to Increasing Your Self-Esteem |

73
(4)

| | |
| --- | --- |
| | Milestones: Now That You are Here |

77
(1)
77
(4)
78
(1)
78
(1)
79
(2)
81
(24)

| | |
| --- | --- |
| | Goal Setting and Motivation |

| | |
| --- | --- |
| | Milestones: Where Are You Now? |

83
(1)

| | |
| --- | --- |
| | What Do These People Have in Common? |

83
(1)
84
(3)
87
(1)
88
(1)
89
(1)
89
(1)

| | |
| --- | --- |
| | Goal Setting: Example One |

90
(1)

| | |
| --- | --- |
| | Goal Setting: Example Two |

90
(1)
91
(1)

| | |
| --- | --- |
| | Roadblocks to Success: Barriers to Achieving Your Goals |

92
(1)

| | |
| --- | --- |
| | Box: Campus and Community Resources |

93
(1)

| | |
| --- | --- |
| | Traveling the Road on Your Own . . . Motivation |

94
(1)
94
(1)

| | |
| --- | --- |
| | Why Is Motivation Important? |

94
(1)

| | |
| --- | --- |
| | Box: Internal vs. External Goals and Motivation |

95
(1)

| | |
| --- | --- |
| | Exercise 4.1 Goal Setting |

96
(2)

| | |
| --- | --- |
| | Exercise 4.2 Goal Setting Sheet |

98
(1)

| | |
| --- | --- |
| | Milestones: Now That You are Here |

99
(1)

| | |
| --- | --- |
| | Roadways to Reaching Your Goals |

100
(1)
101
(4)
101
(1)
102
(1)
103
(1)
103
(2)

| | |
| --- | --- |
| | Sights, Sounds, and Sensations |

105
(20)

| | |
| --- | --- |
| | Information Processing and Learning Styles |

| | |
| --- | --- |
| | Milestones: Where are You Now? |

107
(1)

| | |
| --- | --- |
| | Information Processing Theory |

107
(2)

| | |
| --- | --- |
| | Exercise 5.1 Information Processing Inventory |

109
(1)

| | |
| --- | --- |
| | Characteristics of Analytical and Global Thinkers |

110
(1)
110
(1)

| | |
| --- | --- |
| | Learning Preference Theory |

111
(2)
113
(1)

| | |
| --- | --- |
| | Exercise 5.2 Learning Preference Inventory |

114
(1)
115
(1)
116
(1)
116
(1)
116
(3)

| | |
| --- | --- |
| | Milestones: Now That You are Here |

119
(1)

| | |
| --- | --- |
| | Roadways to Learning and Processing Information |

120
(1)
121
(4)
121
(1)
122
(1)
122
(1)
123
(2)
125
(26)

| | |
| --- | --- |
| | Milestones: Where are You Now? |

127
(1)

| | |
| --- | --- |
| | To Be a Captain, You First Have to Be a Sailor |

128
(1)

| | |
| --- | --- |
| | The Differences Between Listening and Hearing |

128
(3)

| | |
| --- | --- |
| | Practical Definitions of Listening |

131
(2)
133
(1)
134
(1)

| | |
| --- | --- |
| | Box: Tips for Overcoming Prejudging |

134
(1)
135
(1)

| | |
| --- | --- |
| | Box: Tips for Overcoming the Urge to Talk Too Much |

135
(1)

| | |
| --- | --- |
| | Obstacle Three: Bringing Your Emotions to the Table |

135
(1)

| | |
| --- | --- |
| | Box: Tips for Controlling Emotions that Interfere with Listening |

136
(1)

| | |
| --- | --- |
| | How Do I Get Others to Listen to Me? |

137
(1)

| | |
| --- | --- |
| | Listening for Key Words, Phrases, and Hints |

137
(1)

| | |
| --- | --- |
| | Box: The Top 10 Reasons for Actively Listening |

138
(1)

| | |
| --- | --- |
| | Test Your Listening Skills |

139
(1)

| | |
| --- | --- |
| | Exercise 6.1 Circles and Lines |

139
(1)
140
(1)

| | |
| --- | --- |
| | Exercise 6.3 The Accident |

140
(1)

| | |
| --- | --- |
| | Exercise 6.4 Visual Listening |

141
(1)
141
(1)

| | |
| --- | --- |
| | Exercise 6.6 I Can Name That Tune |

142
(1)

| | |
| --- | --- |
| | Roadways to Active Listening |

143
(4)
144
(1)
144
(1)
145
(1)
146
(1)
146
(1)

| | |
| --- | --- |
| | Milestones: Now That You are Here |

147
(1)
147
(4)
148
(1)
148
(1)
148
(1)
149
(2)
151
(20)

| | |
| --- | --- |
| | The Process of Note Taking |

| | |
| --- | --- |
| | Milestones: Where are You Now? |

153
(1)
153
(1)

| | |
| --- | --- |
| | Do I Need to Write That Down? |

154
(1)
154
(2)

| | |
| --- | --- |
| | Now We're Ready to Begin the Building Process |

156
(1)
156
(3)

| | |
| --- | --- |
| | Putting It All Together: Note-Taking Techniques |

159
(1)
159
(1)
160
(1)
161
(4)

| | |
| --- | --- |
| | Milestones: Now That You are Here |

165
(1)

| | |
| --- | --- |
| | Roadways to Effective Note Taking |

166
(1)
167
(4)
167
(1)
168
(1)
168
(1)
169
(2)
171
(26)

| | |
| --- | --- |
| | Homework? Studying? Who Needs It? |

172
(1)

| | |
| --- | --- |
| | Milestones: Where Are You Now? |

173
(1)
173
(1)

| | |
| --- | --- |
| | Techniques for Successful Studying |

173
(1)
173
(1)

| | |
| --- | --- |
| | What Note-Taking System Do You Use? |

174
(1)
174
(1)
174
(1)
175
(1)
175
(1)

| | |
| --- | --- |
| | Roadways to Effective Studying |

176
(1)
176
(2)

| | |
| --- | --- |
| | Reading and Using Textbooks |

178
(2)
180
(2)

| | |
| --- | --- |
| | Exercise 8.1 Practicing SQ3R |

182
(6)

| | |
| --- | --- |
| | Reviewing Class and Textbook Notes |

188
(1)
189
(1)

| | |
| --- | --- |
| | Identifying Tips for Studying Math Effectively |

190
(1)
190
(2)

| | |
| --- | --- |
| | Roadways to Studying Effectively |

192
(1)

| | |
| --- | --- |
| | Milestones: Now that You are Here |

193
(1)
193
(4)
194
(1)
194
(1)
195
(1)
195
(2)
197
(18)

| | |
| --- | --- |
| | Milestones: Where are You Now? |

199
(1)

| | |
| --- | --- |
| | Why Do I Have to Take a Test? |

199
(1)
200
(2)

| | |
| --- | --- |
| | Roadways to Reducing Test Anxiety |

202
(2)
203
(1)
203
(1)
203
(1)
203
(1)

| | |
| --- | --- |
| | Roadways to Effective Test Taking |

204
(7)
205
(1)

| | |
| --- | --- |
| | General Test-Taking Techniques |

205
(1)

| | |
| --- | --- |
| | Strategies for Answering Matching Questions |

206
(1)

| | |
| --- | --- |
| | Strategies for Answering True-False Questions |

206
(1)

| | |
| --- | --- |
| | Strategies for Answering Multiple-Choice Questions |

207
(1)

| | |
| --- | --- |
| | Strategies for Answering Short-Answer Questions |

207
(1)

| | |
| --- | --- |
| | Strategies for Answering Essay Questions |

208
(3)

| | |
| --- | --- |
| | Milestones: Now That You are Here |

211
(1)
211
(4)
212
(1)
212
(1)
213
(1)
213
(2)
215
(22)

| | |
| --- | --- |
| | Health and Wellness---Mind, Body, Spirit |

| | |
| --- | --- |
| | Milestones: Where are You Now? |

217
(1)
218
(1)

| | |
| --- | --- |
| | Identifying Health and Wellness Strengths and Weaknesses |

218
(1)

| | |
| --- | --- |
| | Exercise 10.1 Identifying Health and Wellness Strengths and Weaknesses |

219
(2)

| | |
| --- | --- |
| | Components of a Healthy Lifestyle |

221
(1)
221
(3)

| | |
| --- | --- |
| | Exercise 10.2 Create Your Own Healthy Eating Pyramid |

224
(1)

| | |
| --- | --- |
| | Exercise 10.3 Planning Daily Meals |

224
(1)
225
(1)
226
(1)
227
(1)
228
(1)
228
(1)
229
(1)
230
(1)

| | |
| --- | --- |
| | A Wellness Plan: Putting It All Together |

230
(1)

| | |
| --- | --- |
| | Milestones: Now That You are Here |

231
(1)

| | |
| --- | --- |
| | Roadways to Health and Wellness |

232
(1)
233
(4)
233
(1)
234
(1)
234
(1)
235
(2)

| | |
| --- | --- |
| | Reaching Your Destination |

237
(22)

| | |
| --- | --- |
| | What Do You Want to Be When You Grow Up? |

239
(1)

| | |
| --- | --- |
| | Milestones: Where are You Now? |

240
(1)
240
(2)

| | |
| --- | --- |
| | Do You Want to Do Something or Be Something? |

242
(1)
242
(1)

| | |
| --- | --- |
| | Seven Steps to Career Decision Making |

242
(2)
244
(1)

| | |
| --- | --- |
| | What Is a Career Counselor? |

245
(1)

| | |
| --- | --- |
| | Once You Know Where You Are Going, How Do You Get There? |

246
(1)

| | |
| --- | --- |
| | Roadways to Career Decision Making |

247
(8)

| | |
| --- | --- |
| | Develop a Personal Success Plan |

249
(1)

| | |
| --- | --- |
| | Box: Success Plan Outline |

249
(1)

| | |
| --- | --- |
| | My Personal Success Plan: Career Research |

249
(1)

| | |
| --- | --- |
| | Road Plan Decided? Where Do I Go from Here? |

250
(1)
250
(1)

| | |
| --- | --- |
| | Preparing for the Interview |

251
(2)

| | |
| --- | --- |
| | Milestones: Now that You are Here |

253
(2)
255
(4)
255
(1)
256
(1)
256
(1)
257
(2)
259
(22)

| | |
| --- | --- |
| | Milestones: Where are You Now? |

261
(1)

| | |
| --- | --- |
| | Principles of Budgeting Your Money |

261
(1)

| | |
| --- | --- |
| | Developing an Annual Financial Plan |

262
(2)
264
(3)

| | |
| --- | --- |
| | Exercise 12.1 Complete Your Monthly Budget |

267
(1)

| | |
| --- | --- |
| | Exercise 12.2 Complete Your Annual Financial Plan |

268
(1)

| | |
| --- | --- |
| | Reducing Expenses: Needs vs. Wants |

269
(1)
269
(1)
270
(1)
271
(2)

| | |
| --- | --- |
| | Credit and Credit Reports |

273
(1)

| | |
| --- | --- |
| | Milestones: Now That You are Here |

274
(1)

| | |
| --- | --- |
| | Roadways to Money Management |

275
(2)
277
(4)
277
(1)
278
(1)
278
(1)
279
(2)

| | |
| --- | --- |
| | The People You Meet Along the Way |

281
(12)

| | |
| --- | --- |
| | The Importance of Diversity |

283
(1)

| | |
| --- | --- |
| | Milestones: Where are You Now? |

283
(1)
283
(1)

| | |
| --- | --- |
| | Primary and Secondary Dimensions of Diversity |

284
(1)

| | |
| --- | --- |
| | Exercise 13.1 Exploring Diversity |

285
(1)
286
(1)
287
(1)

| | |
| --- | --- |
| | Exercise 13.2 Exploring Discrimination |

287
(1)
288
(1)
289
(1)

| | |
| --- | --- |
| | Milestones: Now That You are Here |

290
(1)
290
(3)
291
(1)
291
(2)
Glossary
293
(10)
Bibliography
303
(2)
Index
305