Note: Supplemental materials are not guaranteed with Rental or Used book purchases.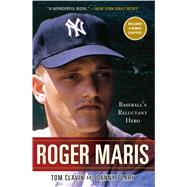 Questions About This Book?
What version or edition is this?
This is the Reprint edition with a publication date of 5/10/2011.
What is included with this book?
The New copy of this book will include any supplemental materials advertised. Please check the title of the book to determine if it should include any CDs, lab manuals, study guides, etc.
Summary
The definitive biography of the baseball legend who broke Babe Ruth's single-season home-run record - the natural way - and withstood a firestorm of media criticism to become one of his era's preeminent players. ROGER MARIS may be the greatest ballplayer no one really knows. In 1961, the soft-spoken man from the frozen plains of North Dakota enjoyed one of the most amazing seasons in baseball history, when he outslugged his teammate Mickey Mantle to become the game's natural home-run king. It was Mantle himself who said, "Roger was as good a man and as good a ballplayer as there ever was." Yet Maris was vilified by fans and the press and has never received his due from biographers - until now. Tom Clavin and Danny Peary trace the drama-tic arc of Maris's life, from his boyhood in Fargo through his early pro career in the Cleveland Indians farm program, to his World Series championship years in New York and beyond. At the center is the exciting story of the 1961 season and the ordeal Maris endured as an outsider in Yankee pinstripes, unloved by fans who compared him unfavorably to their heroes Ruth and Mantle, relentlessly attacked by an aggressive press corps who found him cold and inaccessible, and treated miserably by the organization. After the tremendous challenge of breaking Ruth's record was behind him, Maris ultimately regained his love of baseball as a member of the world champion St. Louis Cardinals. And over time, he gained redemption in the eyes of the Yankee faithful. With research drawn from more than 130 interviews with Maris's teammates, opponents, family, and friends, as well as 16 pages of photos, some of which have never before been seen, this timely and poignant biography sheds light on an iconic figure from baseball's golden era - and establishes the importance of his role in the game's history.
Author Biography
Tom Clavin is the author or coauthor of fourteen books and has covered sports, business, and entertainment for The New York Times, Men's Journal, Parade, and other publications. Danny Peary is a sports and pop culture historian who has published twenty-one books. His articles and interviews have appeared in such publications as TV Guide, The New York Times, The Boston Globe, and Country Weekly.
Table of Contents
Prologue: October 1, 1961
p. 1
The Marases and Mariches
p. 5
Leaving Minnesota
p. 16
Family Turmoil
p. 24
Settling in Fargo
p. 29
A Schoolboy Sensation
p. 45
A Pro
p. 51
Making a Name for Himself
p. 60
Defiance
p. 67
A Title and a Wedding Ring
p. 74
The Rookie
p. 83
Traded
p. 93
At Home in Kansas City
p. 99
The All-Star
p. 108
The New Yankee
p. 117
An Instant Star
p. 123
A Pennant
p. 138
The MVP
p. 144
The M&M Boys
p. 151
Challenging Ruth
p. 159
The Asterisk
p. 166
The Unrelenting Press
p. 176
Down the Stretch
p. 192
Babe Ruth's Ghost
p. 207
Making History
p. 220
World Champions
p. 228
The Burden of Celebrity
p. 234
The Unappreciated Superstar
p. 244
A Second Ring
p. 252
The Villain
p. 258
Breaking Down
p. 265
The Yankees' Last Hurrah
p. 273
The Betrayal
p. 287
Rock Bottom
p. 298
Redemption in St.Louis
p. 309
The Final Season
p. 331
Family Man
p. 347
Number 9
p. 361
The Final Out
p. 372
The Legacy
p. 382
Postscript
p. 395
Acknowledgments
p. 403
Appendix: 61 in 1961; Career Stats
p. 407
Selected Bibliography
p. 411
Index
p. 415
Table of Contents provided by Ingram. All Rights Reserved.
Excerpts
PROLOGUEOCTOBER 1, 1961
THE SAVVIEST PHOTOGRAPHERS GOT the two money shots.
The first, taken from behind and near the Yankee dugout, was of Roger Maris making solid contact over the plate on a 2-0 fastball by Tracy Stallard. The left-handed pull hitter is exhibiting his much praised swing with extended bat and arms parallel to the ground, his left hand turning over, his right leg straight and left leg flexed, his right foot pointing toward third base and his left one perpendicular to the ground, his muscles in his face, neck, and upper arms tense, and his hips rotating.
The second picture, taken from the front, was of Maris one breath later. With, surprisingly, still-seated fans behind him, he is completing his pivot, releasing the bat with his left hand, and watching with hopeful eyes the flight of his historic home run into Yankee Stadium's packed right-field stands.
But even the award winners among them missed something quite extraordinary that took place seconds later. Fortunately, one of the greatest, if most neglected, visual metaphors in sports history would be preserved on celluloid.
Having completed what his bedridden Yankee teammate Mickey Mantle always called the "greatest sports feat I ever saw," the new single-season home-run champion dropped his bat and ran down the baseline. He rounded first at the same time nineteen-year-old Sal Durante held up the 61st home-run ball in his right hand; another ecstatic young male fan leaped onto the field; and the clearly dejected Red Sox pitcher concocted an upbeat postgame response to the media ("I'll now make some money on the banquet circuit!").
As he neared second base, Maris suddenly escaped dark shadows and moved into the bright, warm sunlight. Just like that, he had finally found a slice of heaven after a long season he'd sum up as "sheer hell."
In Roger Maris's version of hell, he was the prey in a daily media feeding frenzy, lost his privacy, shed some hair, received hate mail by the bundle, experienced vicious heckling from even home fans, and, having arrived in New York from Kansas City only twenty-two months before, was treated by the Yankees organization like an outsider, an ugly duckling in a pond of swans. His blow on the last day of the season was a telling response to all that nonsense.
Maris ran as he always did after a home run—head down and at a measured pace, exhibiting nothing offensively ostentatious or celebratory, nothing to indicate he was circling the bases one time more in a season than anyone else in history. He was pounded on the back by joyous third-base coach Frank Crosetti as he came down the homestretch. Crossing home plate, he was greeted by on-deck batter Yogi Berra, then batboy Frank Prudenti, and, finally, the anonymous Zelig-like fan. Then he made his way into the dugout—at least he tried to. Several Yankees formed a barricade and turned Maris around and pushed him upward so he could acknowledge the standing ovation.
He reluctantly inched back up the steps, stretching his neck as if he were a turtle warily emerging from its shell. He dutifully waved his cap and gave his teammates a pleading look, hoping they would agree that he had been out there too long already. They urged him to stay put and allow the fans to shower him with the adulation that had been missing all year. So he waved his hat some more and smiled sheepishly.
The television camera zoomed in, and everyone could see that during his sunlit jaunt around the bases, he had, amazingly, been tranformed. With the burden of unreasonable expectations suddenly lifted and the knowledge that not one more dopey reporter would ask, "Are you going to break Babe Ruth's record, Rog?" the strain in his face and haunted look in his eyes had vanished. He no longer looked double his twenty-seven years and on the verge of a meltdown.
Baseball fans would, in their mind's eye, freeze-frame forever this image of the young, cheery innocent with the trademark blond crewcut who had just claimed sports' most revered record. For that one moment Maris believed all the bad stuff was behind him. For that one brief moment, he felt free. In reality, it was the calm before an even more vicious storm. He couldn't know that the press would not back off and the fickle, media-manipulated fans who had rooted against his breaking the record in 1961 would boo him in 1962 for not breaking it again.
Having come from a small town where privacy was cherished and celebrity was nonexistent, Maris was mystified that the media and the fans actually wanted to know anything about him. As Jim Murray of the Los Angeles Times observed, "Roger Maris was about as well equipped for fame as a forest ranger." It was true to form that he revealed far less about himself in Roger Maris At Bat, the autobiographical book he wrote with veteran reporter Jim Ogle after the '61 season, than in Slugger in Right, an obscure, semiautobiographical novel they wrote the following year about a troubled young Yankee right fielder named Billy Mack.
By all accounts, through 1961 Maris was considerate of reporters who needed copy and was regarded by teammates and opponents alike as one of the most quiet, shy, and decent people they had ever met. So it was all the more unjust that he would have the dubious distinction of being the first ballplayer that a large segment of the press went after, almost as savagely as the white press had attacked African-American heavyweight boxing champion Jack Johnson half a century before. Unprotected by the Yankees, he was the guinea pig for a new breed of hip, no-holds-barred reporters who wanted to flex their muscles and show they had the power to destroy a star player's reputation and his psyche.
That he accepted the brutally negative and often untruthful things written about him in 1961 and later years, rather than trying to make peace with the press in exchange for favorable coverage, eventually stripped him of his enthusiasm for baseball and cost him a legitimate shot at being selected to the Hall of Fame. He was too stubborn, too self-destructive, and too true to himself—and a bit too self-righteous—to compromise when he believed he was wronged. "When I think I am right," he declared in Roger Maris At Bat, "there is no man who is going to tell me that I am wrong unless he can PROVE IT to me. As long as I know I am right I'm going to put up an argument regardless of the consequences."
"The fact is," said his wife, Pat Maris, "that his combination of shyness and outspokenness confuses people who do not know him very well."
How did Roger Maris get that way? Surely he was the product of both family and the part of the country where he was raised. Yet even there he stood apart.
© 2010 Tom Clavin and Danny Peary