Note: Supplemental materials are not guaranteed with Rental or Used book purchases.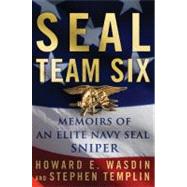 Summary
When the Navy sends their elite, they send the SEALs. When the SEALs send their elite, they send SEAL Team Six SEAL Team Six is a secret unit tasked with counterterrorism, hostage rescue, and counterinsurgency. In this dramatic, behind-the-scenes chronicle, Howard Wasdin takes readers deep inside the world of Navy SEALS and Special Forces snipers, beginning with the grueling selection process of Basic Underwater Demolition/SEAL (BUD/S)the toughest and longest military training in the world. After graduating, Wasdin faced new challenges. First there was combat in Operation Desert Storm as a member of SEAL Team Two. Then the Green Course: the selection process to join the legendary SEAL Team Six, with a curriculum that included practiced land warfare to unarmed combat. More than learning how to pick a lock, they learned how to blow the door off its hinges. Finally as a member of SEAL Team Six he graduated from the most storied and challenging sniper program in the country: The Marine's Scout Sniper School. Eventually, of the 18 snipers in SEAL Team Six, Wasdin became the bestwhich meant one of the best snipers on the planet. Less than half a year after sniper school, he was fighting for his life. The mission: capture or kill Somalian warlord Mohamed Farrah Aidid. From rooftops, helicopters and alleys, Wasdin hunted Aidid and killed his men whenever possible. But everything went quickly to hell when his small band of soldiers found themselves fighting for their lives, cut off from help, and desperately trying to rescue downed comrades during a routine mission. The Battle of Mogadishu, as it become known, left 18 American soldiers dead and 73 wounded. Howard Wasdin had both of his legs nearly blown off while engaging the enemy. His dramatic combat tales combined with inside details of becoming one of the world's deadliest snipers make this one of the most explosive military memoirs in years.
Author Biography
DR. HOWARD E. WASDIN graduated with BUD/S Class 143. After the Battle of Mogadishu, where he was awarded the Silver Star, Wasdin medically retired from the Navy in November, 1995, after 12 years of service. He lives in Georgia.
STEPHEN TEMPLIN completed Hell Week, qualified as a pistol and rifle expert, and blew up things during Basic Underwater Demolition/SEAL (BUD/S) training. He is now an associate professor at Meio University in Japan.
Table of Contents
Author's Note
p. vii
Glossary
p. ix
Reach Out and Touch Someone
p. 3
One Shot, One Sill?
p. 9
Hell Is for Children
p. 25
Russian Sub and Green Hero
p. 41
The Only Easy Day Was Yesterday
p. 59
SEAL Team Two
p. 91
Desert Storm
p. 119
SEAL Team Six
p. 149
Born-Again Sniper
p. 173
CIA Safe House-Hunting for Aidid
p. 177
Capturing Aidid's Evil Genius
p. 213
Eyes over Mogadishu Mission
p. 227
Battle of Mogadishu
p. 239
From the Ashes
p. 259
Ambassador Death Threats
p. 281
Fish out of Water
p. 289
Healing
p. 301
Epilogue
p. 307
Special Operations Warrior Foundation
p. 309
Acknowledgments
p. 313
References
p. 317
Index
p. 319
Table of Contents provided by Ingram. All Rights Reserved.
Excerpts
1.
 
Reach Out and Touch Someone


When the U.S. Navy sends their elite, they send the SEALs. When the SEALs send their elite, they send SEAL Team Six, the navy's equivalent to the army's Delta Force—tasked with counterterrorism and counterinsurgency, occasionally working with the CIA. This is the first time a SEAL Team Six sniper's story has been exposed. My story.
Snipers avoid exposure. Although we prefer to act rather than be acted upon, some forces are beyond our control. We rely on our strengths to exploit the enemy's vulnerabilities; however, during the war in the Persian Gulf I became vulnerable as the lone person on the fantail of an enemy ship filled with a crew working for Saddam Hussein. On yet another occasion, despite being a master of cover and concealment, I lay naked on an aircraft runway in a Third World country with bullet holes in both legs, the right leg nearly blown off by an AK-47 bullet. Sometimes we must face what we try to avoid.
*   *   *
In the morning darkness of September 18, 1993, in Mogadishu, Somalia, Casanova and I crept over the ledge of a retaining wall and climbed to the top of a six-story tower. Even at this early hour there were already people moving around. Men, women, and children relieved themselves in the streets. I smelled the morning fires being lit, fueled by dried animal dung and whatever else people could find to burn. The fires heated any food the Somalis had managed to obtain. Warlord Aidid knew fully the power of controlling the food supply. Every time I saw a starving child, I blamed Aidid for his evil power play that facilitated this devastation of life.
The tower we were on was located in the middle of the Pakistani compound. The Pakistanis were professional and treated us with great respect. When it was teatime, the boy in charge of serving always brought us a cup. I had even developed a taste for the fresh goat milk they used in the tea. The sounds and scents of the goatherd in the compound reached my senses as Casanova and I crawled onto the outer lip at the top of the tower. There we lay prone, watching a large garage, a vehicle body shop that had no roof. Surrounding the garage was a city of despair. Somalis trudged along with their heads and shoulders lowered. Helplessness dimmed their faces, and starvation pulled the skin tight across their bones. Because this was a "better" part of town, multilevel buildings stood in fairly good repair. There were concrete block houses instead of the tin and wooden lean-to sheds that dominated most of the city and countryside. Nevertheless, the smell of human waste and death—mixed with hopelessness—filled the air. Yes, hopelessness has a smell. People use the term "developing countries," but that is bullcrap. What developed in Somalia was things such as hunger and fighting. I think "developing countries" is just a term used to make the people who coined it feel better. No matter what you call them, starvation and war are two of the worst events imaginable.
I calculated the exact distances to certain buildings. There are two primary considerations when making a sniper shot, windage and elevation. Because there was no significant wind that could throw my shot left or right, I didn't have to compensate for it. Elevation is the variable considered for range/distance to the target. Since most of my potential targets were between 200 yards (garage) and 650 yards (intersection beyond the target garage), I dialed my scope in at 500 yards. This way I could just hold my rifle higher or lower depending on range. When the shooting began, there would be no time to dial in range corrections on my scope between shots.
We started our surveillance at 0600. While we waited for our agent to give us the signal, I played different scenarios over in my mind: one enemy popping out at one location, then another popping up at another location, and so on. I would acquire, aim, and even do a simulated trigger pull, going through my rehearsed breathing and follow-through routine while picturing the actual engagement. Then I simulated reloading and getting back into my Leupold 10-power scope, continuing to scan for more booger-eaters. I had done this dry firing and actual firing thousands of times—wet, dry, muddy, snowbound, from a dug-in hole in the ground, from an urban sniper hide through a partially open window, and nearly every which way imaginable. The words they had drilled into our heads since we began SEAL training were true, "The more you sweat in peacetime, the less you bleed in war." This particular day, I was charged with making sure none of my Delta Force buddies sprang a leak as I covered their insertion into the garage. My buddies' not bleeding in war was every bit as important as my not bleeding.
Our target for this mission was Osman Ali Atto—Warlord Aidid's main financier. Although Casanova and I would've been able to recognize the target from our previous surveillance, we were required to have confirmation of his identity from the CIA asset before we gave the launch command.
The irony wasn't lost on me that we were capturing Atto instead of killing him—despite the fact that he and his boss had killed hundreds of thousands of Somalis. I felt that if we could kill Atto and Aidid, we could stop the fighting, get the food to the people quickly, and go home in one piece.
It wasn't until around 0815 that our asset finally gave the predetermined signal. He was doing this because the CIA paid him well. I had learned firsthand while working with the CIA how payoffs could sway loyalty.
When we saw the signal, Casanova and I launched the "full package." Little Bird and Black Hawk helicopters filled the sky. During this time, the Delta operators literally had their butts hanging out—the urban environment provided too much cover, too much concealment, and too many escape routes for the enemy. All a hostile had to do was shoot a few rounds at a helo or Humvee, jump back inside a building, and put his weapon down. Even if he reappeared, he was not considered hostile without a weapon. Things happened fast, and the environment was unforgiving.
Delta Force operators fast-roped down inside the garage, Rangers fast-roped around the garage, and Little Birds flew overhead with Delta snipers giving the assault force protection. Atto's people scattered like rats. Soon, enemy militia appeared in the neighborhood shooting up at the helicopters.
Normally, snipers operate in a spotter-sniper relationship. The spotter identifies, ranges the targets, and relays them to the sniper for execution. There would be no time for that on this op—we were engaged in urban warfare. In this environment, an enemy could appear from anywhere. Even worse, the enemy dressed the same as a civilian. We had to wait and see his intention. Even if he appeared with a gun, there was a chance he was part of a clan on our side. We had to wait until the person pointed the weapon in the direction of our guys. Then we would ensure the enemy ceased to exist. There would be no time for makeup or second shots. Both Casanova and I wielded .300 Win Mag sniper rifles.
Through my Leupold 10-power scope, I saw a militiaman 500 yards away firing through an open window at the helos. I made a mental note to keep my heart rate down and centered the crosshairs on him as my muscle memory took over—stock firmly into the shoulder, cheek positioned behind the scope, eye focused on the center of the crosshairs rather than the enemy, and steady trigger squeezing (even though it was only a light, 2-pound pull). I felt the gratifying recoil of my rifle. The round hit him in the side of the chest, entering his left and exiting his right. He convulsed and buckled, falling backward into the building—permanently. I quickly got back into my scope and scanned. Game on now.All other thoughts departed my mind. I was at one with my Win Mag, scanning my sector. Casanova scanned his sector, too.
Another militiaman carrying an AK-47 came out a fire escape door on the side of a building 300 yards away from me and aimed his rifle at the Delta operators assaulting the garage. From his position, I'm sure he thought he was safe from the assaulters, and he probably was. He was not safe from me—300 yards wasn't even a challenge. I shot him through his left side, and the round exited his right. He slumped down onto the fire escape landing, never knowing what hit him. His AK-47 lay silent next to him. Someone tried to reach out and retrieve the weapon—one round from my Win Mag put a stop to that. Each time I made a shot, I immediately forgot about that target and scanned for another.
Chaos erupted inside and outside of the garage. People ran everywhere. Little Birds and Black Hawks filled the skies with deafening rotor blasts. I was in my own little world, though. Nothing existed outside my scope and my mission. Let the Unit guys handle their business in the garage. My business was reaching out and touching the enemy.
This wasn't the first time I'd killed for my country. It wouldn't be the last.
A few minutes passed as I continued scanning. More than 800 yards away, a guy popped up with an RPG launcher on his shoulder, preparing to fire at the helicopters. If I took him out, it would be the longest killing shot of my career. If I failed …

 
Copyright © 2011 by Howard E. Wasdin and Stephen Templin