Note: Supplemental materials are not guaranteed with Rental or Used book purchases.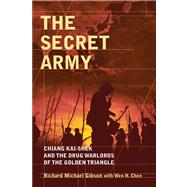 Questions About This Book?
What version or edition is this?
This is the 1st edition with a publication date of 10/18/2011.
What is included with this book?
The New copy of this book will include any supplemental materials advertised. Please check the title of the book to determine if it should include any CDs, lab manuals, study guides, etc.
Summary
Driven from Yunnan at the close of China#x19;s civil war, Chiang Kai-shek#x19;s Nationalist Chinese armies forcibly occupied much of northeastern Burma in early 1950.#xA0; With support from the American CIA and Thailand#x19;s military government, General Li Mi led those armies into Yunnan the next year.#xA0; They were pushed back into Burma.#xA0; Thereafter, Li Mi built a major base and settled in Burma#x19;s Shan State.#xA0; His meddling in Burma#x19;s ethnic insurgencies destabilized that new nation.#xA0; Moreover, recruiting unsavory armed border groups, Li Mi#x19;s army, known as the Kuomintang, or KMT, soon dominated the Golden Triangle opium trade.#xA0; Only when pressured by Washington and the United Nations did Taipei remove several thousand of its troops in 1953-54.#xA0; Several thousand chose to remain. In the late 1950s, amidst popular discontent on the Mainland, reinforcements from Taiwan prepared its army in Burma for another invasion of Yunnan.#xA0; That plan was derailed in late 1960 when, at Rangoon#x19;s invitation, the PLA entered Burma and drove the KMT into Thailand and Laos.#xA0; An international outcry over Taiwan#x19;s no-longer-secret army and intense US pressure forced Chiang to remove all but 3,000-4,000 troops.#xA0; Several hundred remained to fight as mercenaries for the Lao government but most that did not evacuate continued their drug trafficking from bases on the Thai-Burma border Separately, Taiwan#x19;s Intelligence Bureau of the Ministry of National Defense (IBMND) built a large intelligence-gathering and paramilitary force in Northeast Burma.#xA0; Allied with anti-Rangoon insurgent drug trafficking groups, the IBMND fought both the Burmese government and Burma#x19;s communist insurgents while launching ineffectual forays into Yunnan.#xA0; Mostly, however, it trafficked in drugs. Beginning in the 1970s, aging KMT units helped the Thai defeat communist guerrillas in North Thailand.#xA0; In return, most of the Nationalist Chinese remnants were given right of residence and, eventually, citizenship.#xA0; With international assistance, Thailand#x19;s new residents and their children prospered, largely weaning themselves from the narcotics trade in favor of agriculture and other lawful livelihoods.#xA0; Today#x19;s KMT villages in North Thailand are prosperous settlements with little of the drug trafficking for which their inhabitants were once notorious.
Table of Contents
Introduction: Two Young Chinese Soldiers
p. vii
Glossary of Key Players
p. xiii
List of Abbreviations
p. xvii
Retreat from Yunnan
p. 1
Sorting Things Out in Tachilek
p. 15
Lieutenant General Li Mi
p. 29
Li Mi and His American Friends
p. 45
Li Mi's Yunnan Anticommunist National Salvation Army
p. 57
Attacking Yunnan
p. 69
Washington Opts Out
p. 87
Li Mi's Army Settles into Burma
p. 97
Washington Cuts Its Losses
p. 113
Southern Strategy and Karen Allies
p. 121
The Road to the United Nations
p. 131
The United Nations vs. KMT Duplicity
p. 139
First Evacuation from Burma
p. 153
Liu Yuan-lin's Yunnan Anticommunist Volunteer Army
p. 165
A Resurgent KMT
p. 181
Operation Mekong: Sino- Burmese Forces Rout the KMT
p. 191
Air Battle Over Burma and American Weapons
p. 205
The Second KMT Evacuation
p. 213
Removing KMT Remnants from Laos
p. 225
Nationalist Chinese Armies in Thailand
p. 235
Thailand's Troublesome Guests
p. 251
Intelligence Bureau of the Ministry of National Defense
p. 265
Resettlement in Thailand
p. 281
Soldiering on for Thailand
p. 293
Postscript
p. 305
Bibliography
p. 309
Index
p. 329
Table of Contents provided by Ingram. All Rights Reserved.