Note: Supplemental materials are not guaranteed with Rental or Used book purchases.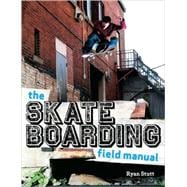 The Skateboarding Field Manual
ISBN13:
9781554074679
by
Stutt, Ryan
Summary
An illustrated guide to skateboarding skills and techniques.Skateboarding is more than a sport; it is a passion and way of life driven by those who love to push the limits of gravity and inertia while bending the notions of social acceptability. The Skateboarding Field Manual addresses both the intricacies of the sport and the intangibles of its culture. Skateboard enthusiast and journalist Ryan Stutt provides outstanding advice, which ranges from how to stand on your board and how to fall without causing injuries to how to perform grinds, slides and flips.This comprehensive reference is simply the very best manual on the sport of skateboarding. There are 33 maneuvers and tricks for beginners to intermediates, all illustrated with over 350 custom color photographs by skateboarding photographer Harry Gils.Other features include:A 12-page primer on skate culture, including history, deck art, skateboarding in the media and the importance of homemade skate videos and photos. A beginner's guide to parts, safety equipment and skatepark etiquette. Instructions on the basic techniques of pushing, turning, dropping-in, ollies and nollies. Advice on flips, grinds and slides for rails, ramps and ledges, including the varial flip, the nose grind and the board slide.The Skateboarding Field Manual is the essential guide for anyone looking to master the art of skateboarding and to understand its unique culture
Table of Contents
Introduction
Skateboarding 101
Hard Goods
Soft Goods
Putting Your Board Together
The Evolution of Four Wheels on Wood
Skate Media Primer
Spots and Obstacles
Skate Park Etiquette
Skateboarding Hierarchy
Welcome to Skateboarding
Flat Ground Basics
Stance
Pushing
Stopping
Kicking the Board Up
Falling
Tic Tac
Turning
Ollie
Nollie
Manual
Transition Basics
Dropping In
Pumping
Kick Turn on Transition
Nose and Tail Stalls
Axle Stall
Rock 'n Rolls
Tricks on Transition
Flip Tricks
Kick Flip
Heel Flip
Pop Shove-It
Varial Flip
360 Flip
Grinds
50-50 Grind
5-0 Grind
Nose Grind
Smith Grind
Feeble Grind
Crooked Grind
Slides
Boardslide
Lipslide
Tailslide
Noseslide
Glossary
Credits
Index
Table of Contents provided by Publisher. All Rights Reserved.
Excerpts
IntroductionI am by no means the best skateboard in the world. In fact, I'm probably among the worst in the world. People who know me will probably laugh themselves stupid when they hear I wrote a book containing skateboarding instruction.But hey, just because you're a pro at something doesn't necessarily mean you can teach it. Imparting instruction isn't about doing, thankfully; it is about getting the right information and explaining it simply enough that people can figure it out for themselves.And since I'm nowhere near being a professional skateboarder, I hit up my friends when putting this book together. A lot of them. I consulted skateboarders of every stripe and skill level I could - and each lent their expertise to this thing. The end result is the culmination of a lot of experiences, not just mine.That said, I think you'll find that these skateboarding instructions are the most straightforward out there, bar none. Trust me, I checked.Now, there's hundreds upon hundreds of tricks and variations of tricks in skateboarding, so there's no way I could possibly cram every single one into this book - I'd need waaaaay more space than I've got here, believe me. So this guide is a primer of sorts - the basic tricks to give you a foundation to build on.Instruction aside, I also wanted to give you a taste of what skateboarding's really about - not just the mechanics of it, but what the subculture is about.I'm going to give you an overview of the skate world (its history, industry, etc) so you don't spend your first year saying dumb things and annoying those around you. Consider this book as you would your big brother - someone who's going to make sure you're off to a good start and not totally embarrassing yourself.Why? Because skateboarders look out for one another - you'll learn that lesson pretty quick - there's something about skating that binds people together once they've spent a couple years pushing themselves around on a piece of wood. It's like a fraternity, but without the stupid sweaters and secret handshakes.In 10 years, maybe you won't skate anymore. But one this is for certain, once a skateboarder, always a skateboarder. -Ryan Stutt