Note: Supplemental materials are not guaranteed with Rental or Used book purchases.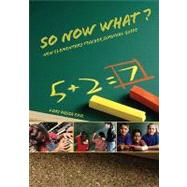 So Now What? New Elementary Teacher Survival Guide
ISBN13:
9780558371999
by
Dassa, Lori, Ed.D
Pearson Learning Solutions
Questions About This Book?
What version or edition is this?
This is the 1st edition with a publication date of 8/13/2009.
What is included with this book?
The New copy of this book will include any supplemental materials advertised. Please check the title of the book to determine if it should include any CDs, lab manuals, study guides, etc.
Summary
So many new teachers and pre-service teachers enter the field filled with passion and excitement only to become overwhelmed and frustrated. They are thrown into the field without the knowledge of the "hidden curriculum" that faces them on a daily basis. This book was written with those passionate educators in mind.So Now What? is a real guide that will help first-year teachers through their first year of school and allow them to keep that passion and build it toward becoming a successful veteran teacher. So Now What? will also help the districts save money - because it can help with new teacher retention. Districts spend so much money on new teachers who inevitably leave the field before they complete their first three years. This book can help reduce those numbers because it shares the real secrets of getting through the first year of school, sucessfully - written by a young teacher who has been through it all!
Table of Contents
Unit 1 Finding a Job
Home is Where the Heart is . . . . . . . . . . . . . . . . . . . . . . . . . . . . . . . . . . . . . . . . . . . .1
Æ Finding a Home . . . . . . . . . . . . . . . . . . . . . . . . . . . . . . . . . . . . . . . . . . . .1
Æ Making a Selection . . . . . . . . . . . . . . . . . . . . . . . . . . . . . . . . . . . . . . . . . .2
Æ Hitting the Pavement . . . . . . . . . . . . . . . . . . . . . . . . . . . . . . . . . . . . . . . .3
Æ Go Day . . . . . . . . . . . . . . . . . . . . . . . . . . . . . . . . . . . . . . . . . . . . . . . . . . . . . . . .3
Æ Questions . . . . . . . . . . . . . . . . . . . . . . . . . . . . . . . . . . . . . . . . . . . . . . . . . .3
Æ Your Questions . . . . . . . . . . . . . . . . . . . . . . . . . . . . . . . . . . . . . . . . . . . . .4
Æ After the Interview . . . . . . . . . . . . . . . . . . . . . . . . . . . . . . . . . . . . . . . . . .5
Æ For the Future . . . . . . . . . . . . . . . . . . . . . . . . . . . . . . . . . . . . . . . . . . . . . .5
Æ And the Principal Says . . . . . . . . . . . . . . . . . . . . . . . . . . . . . . . . . . . . . . . . . . .6
Unit 2 Classroom Design
Arrange and Rearrange . . . . . . . . . . . . . . . . . . . . . . . . . . . . . . . . . . . . . . . . . . . . . . . .8
Æ Being the Furniture Designer . . . . . . . . . . . . . . . . . . . . . . . . . . . . . . . . . .9
Æ Be the Interior Decorator . . . . . . . . . . . . . . . . . . . . . . . . . . . . . . . . . . . .12
Æ Post the Rules/Procedures . . . . . . . . . . . . . . . . . . . . . . . . . . . . . . . . . . . .13
Æ Teacher and Librarian Too . . . . . . . . . . . . . . . . . . . . . . . . . . . . . . . . . . .14
Æ Create an Australia? . . . . . . . . . . . . . . . . . . . . . . . . . . . . . . . . . . . . . . . . .16
Æ Technology . . . . . . . . . . . . . . . . . . . . . . . . . . . . . . . . . . . . . . . . . . . . . . .17
Æ The Desk . . . . . . . . . . . . . . . . . . . . . . . . . . . . . . . . . . . . . . . . . . . . . . . . .18
Unit 3 The TEAM
Places to Go, People to See . . . . . . . . . . . . . . . . . . . . . . . . . . . . . . . . . . . . . . . . . . . .20
Æ There's No "I" in Team . . . . . . . . . . . . . . . . . . . . . . . . . . . . . . . . . . . . . .20
Æ The School Building . . . . . . . . . . . . . . . . . . . . . . . . . . . . . . . . . . . . . . . .20
Æ Home Away From Home . . . . . . . . . . . . . . . . . . . . . . . . . . . . . . . . . . . .22
Æ Give me a T. Give me an E. Give me an A. Give me a M . . . . . . . . . . . .23
Æ B.F.F. (Best Friends Forever) Outside Your Team . . . . . . . . . . . . . . . . . .24
Æ No Question is a Dumb Question Except… . . . . . . . . . . . . . . . . . . . . . .25
Unit 4 Management
Smile or No Smile? That is the Question . . . . . . . . . . . . . . . . . . . . . . . . . . . . . . . .27
Æ The Royal Family . . . . . . . . . . . . . . . . . . . . . . . . . . . . . . . . . . . . . . . . . .27
Æ Climate…Take Away the Chill . . . . . . . . . . . . . . . . . . . . . . . . . . . . . . . .29
Æ Rules to Live By . . . . . . . . . . . . . . . . . . . . . . . . . . . . . . . . . . . . . . . . . . .29
Æ My Job Is … . . . . . . . . . . . . . . . . . . . . . . . . . . . . . . . . . . . . . . . . . . . . . .31
Æ Schedules . . . . . . . . . . . . . . . . . . . . . . . . . . . . . . . . . . . . . . . . . . . . . . . . .32
Æ Preventing a Problem Before it Starts . . . . . . . . . . . . . . . . . . . . . . . . . . .34
Unit 5 The First Day
Hello, My Name Is… . . . . . . . . . . . . . . . . . . . . . . . . . . . . . . . . . . . . . . . . . . . . . . . .36
Æ So Long, Farewell… . . . . . . . . . . . . . . . . . . . . . . . . . . . . . . . . . . . . . . . .36
Æ Dress for Success . . . . . . . . . . . . . . . . . . . . . . . . . . . . . . . . . . . . . . . . . . .37
Æ Show Them That You Care . . . . . . . . . . . . . . . . . . . . . . . . . . . . . . . . . . .38
Æ Musical Chairs . . . . . . . . . . . . . . . . . . . . . . . . . . . . . . . . . . . . . . . . . . . . .39
Æ Initiating Activity . . . . . . . . . . . . . . . . . . . . . . . . . . . . . . . . . . . . . . . . . .39
Æ Nice To Meet You . . . . . . . . . . . . . . . . . . . . . . . . . . . . . . . . . . . . . . . . . .41
Æ Proceed With Caution . . . . . . . . . . . . . . . . . . . . . . . . . . . . . . . . . . . . . . .43
Æ Take the Tour . . . . . . . . . . . . . . . . . . . . . . . . . . . . . . . . . . . . . . . . . . . . .44
Æ Schedules, Schedules, Schedules . . . . . . . . . . . . . . . . . . . . . . . . . . . . . . .44
Æ Back to Dismissal? . . . . . . . . . . . . . . . . . . . . . . . . . . . . . . . . . . . . . . . . . .45
Æ Come Back Tomorrow . . . . . . . . . . . . . . . . . . . . . . . . . . . . . . . . . . . . . . .46
Unit 6 Planning
What Am I Supposed to Teach? . . . . . . . . . . . . . . . . . . . . . . . . . . . . . . . . . . . . . . . .47
Æ The Importance of Planning . . . . . . . . . . . . . . . . . . . . . . . . . . . . . . . . . .47
Æ What Do I Teach? . . . . . . . . . . . . . . . . . . . . . . . . . . . . . . . . . . . . . . . . . .47
Æ Year Long Plan . . . . . . . . . . . . . . . . . . . . . . . . . . . . . . . . . . . . . . . . . . . .49
Æ Unit Planning . . . . . . . . . . . . . . . . . . . . . . . . . . . . . . . . . . . . . . . . . . . . .50
Æ Process Versus Product . . . . . . . . . . . . . . . . . . . . . . . . . . . . . . . . . . . . . .52
Æ Out of the Box . . . . . . . . . . . . . . . . . . . . . . . . . . . . . . . . . . . . . . . . . . . . .52
Æ What Else? . . . . . . . . . . . . . . . . . . . . . . . . . . . . . . . . . . . . . . . . . . . . . . .54
Æ Diversity & Differentiated Instruction . . . . . . . . . . . . . . . . . . . . . . . . . .56
Æ Bloom & Gardner . . . . . . . . . . . . . . . . . . . . . . . . . . . . . . . . . . . . . . . . . .57
Æ Cooperative Learning . . . . . . . . . . . . . . . . . . . . . . . . . . . . . . . . . . . . . . .60
Æ Expectation for Learning . . . . . . . . . . . . . . . . . . . . . . . . . . . . . . . . . . . . .61
Æ Self Reflection . . . . . . . . . . . . . . . . . . . . . . . . . . . . . . . . . . . . . . . . . . . . .61
Æ Substitute Plans . . . . . . . . . . . . . . . . . . . . . . . . . . . . . . . . . . . . . . . . . . . .61
Unit 7 Centers
The Center of My Universe . . . . . . . . . . . . . . . . . . . . . . . . . . . . . . . . . . . . . . . . . . .63
Æ Radical Rotations . . . . . . . . . . . . . . . . . . . . . . . . . . . . . . . . . . . . . . . . . .63
Æ What is a Center? . . . . . . . . . . . . . . . . . . . . . . . . . . . . . . . . . . . . . . . . . .63
Æ Let's Try Different . . . . . . . . . . . . . . . . . . . . . . . . . . . . . . . . . . . . . . . . . .64
Æ Making a Fit . . . . . . . . . . . . . . . . . . . . . . . . . . . . . . . . . . . . . . . . . . . . . .65
Æ Creating Centers . . . . . . . . . . . . . . . . . . . . . . . . . . . . . . . . . . . . . . . . . . .65
Æ Back to Radical Rotations . . . . . . . . . . . . . . . . . . . . . . . . . . . . . . . . . . . .67
Æ Let's Get Visual . . . . . . . . . . . . . . . . . . . . . . . . . . . . . . . . . . . . . . . . . . . .67
Æ Color Coding . . . . . . . . . . . . . . . . . . . . . . . . . . . . . . . . . . . . . . . . . . . . . .68
Æ Alternative Rotations . . . . . . . . . . . . . . . . . . . . . . . . . . . . . . . . . . . . . . . .69
Æ Label, Label, Label . . . . . . . . . . . . . . . . . . . . . . . . . . . . . . . . . . . . . . . . .71
Æ Center Rules . . . . . . . . . . . . . . . . . . . . . . . . . . . . . . . . . . . . . . . . . . . . . .71
Æ Materials . . . . . . . . . . . . . . . . . . . . . . . . . . . . . . . . . . . . . . . . . . . . . . . . .72
Æ Time is of the Essence . . . . . . . . . . . . . . . . . . . . . . . . . . . . . . . . . . . . . . .73
Æ Over and Over . . . . . . . . . . . . . . . . . . . . . . . . . . . . . . . . . . . . . . . . . . . . .73
Æ Practice, Practice, Practice . . . . . . . . . . . . . . . . . . . . . . . . . . . . . . . . . . . .74
Æ Monitoring Progress . . . . . . . . . . . . . . . . . . . . . . . . . . . . . . . . . . . . . . . .74
Æ Keep it Fresh . . . . . . . . . . . . . . . . . . . . . . . . . . . . . . . . . . . . . . . . . . . . . .75
Unit 8 Assessment
I'm Watching You . . . . . . . . . . . . . . . . . . . . . . . . . . . . . . . . . . . . . . . . . . . . . . . . . . . .76
Æ What is Assessment . . . . . . . . . . . . . . . . . . . . . . . . . . . . . . . . . . . . . . . . .76
Æ The Objective and Assessment Link . . . . . . . . . . . . . . . . . . . . . . . . . . . .76
Æ Assessment…Let's Break it Down . . . . . . . . . . . . . . . . . . . . . . . . . . . . .77
Æ Types of Assessment . . . . . . . . . . . . . . . . . . . . . . . . . . . . . . . . . . . . . . . .77
Æ Alternative Assessment . . . . . . . . . . . . . . . . . . . . . . . . . . . . . . . . . . . . . .79
Æ Affective Assessment . . . . . . . . . . . . . . . . . . . . . . . . . . . . . . . . . . . . . . . .80
Æ Standardized Testing . . . . . . . . . . . . . . . . . . . . . . . . . . . . . . . . . . . . . . . .81
Æ Teaching TO the Test . . . . . . . . . . . . . . . . . . . . . . . . . . . . . . . . . . . . . . .81
Æ Teaching FOR the Test . . . . . . . . . . . . . . . . . . . . . . . . . . . . . . . . . . . . . .82
Unit 9 Paperwork
Piled High with Paperwork . . . . . . . . . . . . . . . . . . . . . . . . . . . . . . . . . . . . . . . . . . .83
Æ Attendance and Lunch Count . . . . . . . . . . . . . . . . . . . . . . . . . . . . . . . . .83
Æ Newsletter . . . . . . . . . . . . . . . . . . . . . . . . . . . . . . . . . . . . . . . . . . . . . . . .84
Æ Classwork and Homework . . . . . . . . . . . . . . . . . . . . . . . . . . . . . . . . . . .86
Æ School-wide Papers . . . . . . . . . . . . . . . . . . . . . . . . . . . . . . . . . . . . . . . . .88
Æ Forms . . . . . . . . . . . . . . . . . . . . . . . . . . . . . . . . . . . . . . . . . . . . . . . . . . . .88
Æ Student Records . . . . . . . . . . . . . . . . . . . . . . . . . . . . . . . . . . . . . . . . . . .88
Æ Graded Papers . . . . . . . . . . . . . . . . . . . . . . . . . . . . . . . . . . . . . . . . . . . . .89
Æ Meet the Parents . . . . . . . . . . . . . . . . . . . . . . . . . . . . . . . . . . . . . . . . . . .90
Æ Still More Paperwork . . . . . . . . . . . . . . . . . . . . . . . . . . . . . . . . . . . . . . .91
Unit 10 Final Thoughts
Time to Do it Over Again . . . . . . . . . . . . . . . . . . . . . . . . . . . . . . . . . . . . . . . . . . . . .92
References . . . . . . . . . . . . . . . . . . . . . . . . . . . . . . . . . . . . . . . . . . . . . . . . . . . . . . . . . .93