Note: Supplemental materials are not guaranteed with Rental or Used book purchases.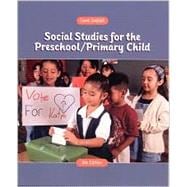 Social Studies for the Preschool/Primary Child
ISBN13:
9780130216526
by
Seefeldt, Carol
Related Products
Summary
For a course in early childhood social studies. Based on a solid theories and research regarding child growth, development, and learning, this text presents a multitude of practical ideas, suggestions, and guides for introducing young children to social studies content. Play and activity are integrated throughout the book, which reflects the author's philosophy that play serves not only as the integration of social studies curriculum, but also functions as the basic mode of children's learning. The text is specifically designed for teachers of pre-kindergarten, kindergarten, and primary grade children.
Table of Contents
PART 1 PLANNING FOR THE SOCIAL STUDIES
1
(122)

| | |
| --- | --- |
| | These are the Social Studies |

3
(20)

| | |
| --- | --- |
| | Past Approaches to the Social Studies |

5
(9)
5
(3)
8
(2)
10
(1)

| | |
| --- | --- |
| | Social Forces and Theories Affected the Curriculum |

10
(4)
14
(4)
14
(1)
14
(1)
15
(2)

| | |
| --- | --- |
| | Skills, Attitudes, and Knowledge |

17
(1)
18
(1)
18
(1)
19
(1)
20
(3)
23
(36)
24
(4)
25
(1)

| | |
| --- | --- |
| | Children Have Similar Needs |

25
(1)

| | |
| --- | --- |
| | Children Are Active Learners |

25
(1)

| | |
| --- | --- |
| | Children Pass Through the Same Stages of Thought |

25
(1)
26
(2)
28
(3)
31
(1)

| | |
| --- | --- |
| | Knowledge of the Community |

32
(1)

| | |
| --- | --- |
| | The Child's Physical World |

32
(1)

| | |
| --- | --- |
| | Cultural Knowledge and Values |

33
(1)

| | |
| --- | --- |
| | Knowledge of the Social Studies |

34
(1)

| | |
| --- | --- |
| | Short- and Long-Term Planning |

34
(5)
35
(1)

| | |
| --- | --- |
| | Planning for the Spontaneous |

36
(1)
37
(1)
38
(1)
39
(9)
40
(1)
40
(1)

| | |
| --- | --- |
| | Long-Term Units, Projects, and Thematic Learning |

41
(2)

| | |
| --- | --- |
| | Planning Units, Projects, or Thematic Learning |

43
(5)

| | |
| --- | --- |
| | Evaluating the Unit, Project, or Thematic Learning |

48
(1)
48
(1)
49
(3)
50
(1)
51
(1)
52
(1)
52
(1)
52
(1)
53
(1)
53
(1)
54
(1)
55
(4)
59
(24)
61
(3)

| | |
| --- | --- |
| | How Children Learn of Others |

64
(8)
65
(1)

| | |
| --- | --- |
| | Interconnectedness and Interdependency |

66
(1)
67
(1)
67
(1)
68
(1)
69
(1)
69
(1)
70
(2)

| | |
| --- | --- |
| | Resources for Learning About Others |

72
(1)

| | |
| --- | --- |
| | Teaching Peace---Understanding War |

73
(5)
74
(1)

| | |
| --- | --- |
| | Understanding Violence and War |

75
(3)
78
(1)
78
(1)
78
(2)
80
(3)
83
(40)
84
(1)
85
(3)
85
(2)
87
(1)
88
(1)
89
(24)

| | |
| --- | --- |
| | Deciding on Centers of Interest |

90
(1)

| | |
| --- | --- |
| | Introducing Centers of Interest |

90
(1)

| | |
| --- | --- |
| | Types of Centers of Interest |

91
(12)

| | |
| --- | --- |
| | Vicarious Materials in the Classroom |

103
(10)

| | |
| --- | --- |
| | Resources Within the Community: Field Trips |

113
(5)
114
(1)
115
(3)
118
(1)
119
(1)
119
(1)
120
(3)
PART 2 THE PROCESSES OF SOCIAL STUDIES
123
(86)
125
(32)
127
(1)

| | |
| --- | --- |
| | Theories of Socialization |

127
(5)
127
(1)
128
(1)
129
(1)

| | |
| --- | --- |
| | Social-Cognitive Theories |

130
(2)

| | |
| --- | --- |
| | Factors Affecting Social Development |

132
(8)
132
(1)
133
(1)
134
(1)
135
(5)
140
(13)
140
(1)
140
(6)
146
(4)
150
(1)

| | |
| --- | --- |
| | Making and Having Friends |

151
(2)
153
(1)
154
(1)
154
(1)
154
(3)
157
(26)

| | |
| --- | --- |
| | How Children Learn Attitudes and Values |

159
(3)

| | |
| --- | --- |
| | Values and Attitudes Are Modeled |

159
(1)

| | |
| --- | --- |
| | Values and Attitudes Are Reinforced |

160
(1)

| | |
| --- | --- |
| | Values and Attitudes Are Learned |

161
(1)
162
(4)
162
(1)
163
(1)
164
(2)

| | |
| --- | --- |
| | What Values Should Be Taught? |

166
(7)
167
(4)

| | |
| --- | --- |
| | Participation in a Democratic Society |

171
(2)

| | |
| --- | --- |
| | Teaching Political Concepts |

173
(6)
173
(1)

| | |
| --- | --- |
| | Political Attitudes and the Pledge of Allegiance |

174
(1)
175
(1)
176
(3)
179
(1)
179
(1)
180
(1)
180
(3)

| | |
| --- | --- |
| | Thinking and Concept Formation |

183
(26)

| | |
| --- | --- |
| | Planning Thinking Experiences |

185
(2)
185
(1)

| | |
| --- | --- |
| | Experiences Involving Others |

186
(1)

| | |
| --- | --- |
| | Experiences Requiring Language |

186
(1)

| | |
| --- | --- |
| | Fostering Thinking Processes |

187
(12)

| | |
| --- | --- |
| | Questioning and Sensing Problems |

187
(1)

| | |
| --- | --- |
| | Locating Information: Field Trips |

188
(2)

| | |
| --- | --- |
| | Organizing and Interpreting Information |

190
(5)

| | |
| --- | --- |
| | Seeing Relationships and Beginning to Generalize |

195
(2)

| | |
| --- | --- |
| | Interpreting, Reflecting, and Reaching Conclusions |

197
(2)
199
(3)
200
(1)
200
(2)

| | |
| --- | --- |
| | Nurturing Concept Formation |

202
(3)
202
(2)

| | |
| --- | --- |
| | Guidelines for Concept Formation |

204
(1)
205
(1)
206
(1)
207
(1)
207
(2)
PART 3 THE CONTENT OF THE SOCIAL STUDIES
209
(87)
211
(30)
213
(1)
214
(5)

| | |
| --- | --- |
| | Development of Time Concepts |

214
(2)
216
(1)
217
(1)
218
(1)
219
(4)
219
(1)
220
(1)
220
(1)
221
(2)

| | |
| --- | --- |
| | The Continuity of Human Life |

223
(9)
224
(1)

| | |
| --- | --- |
| | Intergenerational Contacts |

225
(2)
227
(5)
232
(3)
232
(1)
232
(2)
234
(1)
235
(1)
236
(1)
236
(1)
237
(1)
238
(3)
241
(36)
243
(1)

| | |
| --- | --- |
| | The Earth Is the Place Where We Live |

244
(12)

| | |
| --- | --- |
| | Environment Where We Live |

245
(1)
246
(3)

| | |
| --- | --- |
| | Caring for Our Earth---The Place Where We Live |

249
(4)

| | |
| --- | --- |
| | A Nearly Round Sphere in a Solar System |

253
(3)
256
(12)
257
(1)
258
(3)
261
(1)
262
(6)

| | |
| --- | --- |
| | Relationships Within Places |

268
(4)
270
(1)
271
(1)
272
(1)
272
(1)
273
(1)
274
(3)
277
(19)

| | |
| --- | --- |
| | Development of Economic Concepts |

279
(2)
281
(4)
281
(1)
281
(3)
284
(1)
285
(6)
285
(4)
289
(1)

| | |
| --- | --- |
| | Production of Goods and Provision of Services |

290
(1)
291
(3)
292
(1)
293
(1)
294
(1)
295
(1)
295
(1)

| | |
| --- | --- |
| | Books for Teachers and Parents |

296
(1)
References
296
(3)
Index
299