Note: Supplemental materials are not guaranteed with Rental or Used book purchases.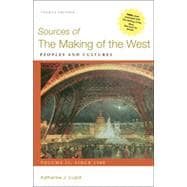 Sources of The Making of the West, Volume II: Since 1500 Peoples and Cultures
ISBN13:
9780312576127
by
Lualdi, Katharine J.
Questions About This Book?
Why should I rent this book?
Renting is easy, fast, and cheap! Renting from eCampus.com can save you hundreds of dollars compared to the cost of new or used books each semester. At the end of the semester, simply ship the book back to us with a free UPS shipping label! No need to worry about selling it back.
How do rental returns work?
Returning books is as easy as possible. As your rental due date approaches, we will email you several courtesy reminders. When you are ready to return, you can print a free UPS shipping label from our website at any time. Then, just return the book to your UPS driver or any staffed UPS location. You can even use the same box we shipped it in!
What version or edition is this?
This is the 4th edition with a publication date of 1/12/2012.
What is included with this book?
The New copy of this book will include any supplemental materials advertised. Please check the title of the book to determine if it should include any CDs, lab manuals, study guides, etc.
The Used copy of this book is not guaranteed to include any supplemental materials. Typically, only the book itself is included.
The Rental copy of this book is not guaranteed to include any supplemental materials. You may receive a brand new copy, but typically, only the book itself.
The eBook copy of this book is not guaranteed to include any supplemental materials. Typically only the book itself is included.
Summary
Sources of The Making of the Westprovides written and visual documents closely aligned with each chapter of The Making of the West. This two-volume collection reinforces the major political, economic, social, and cultural developments in the textbook by allowing students to engage directly with the voices of those who experienced them. Over thirty new documents and visual sources highlight the diversity of historical voices including both notable figures and ordinary individuals that shaped each period. To aid students in approaching and interpreting documents, each chapter contains an introduction, document headnotes, and questions for discussion.
Author Biography
Katharine J. Lualdi (Ph.D., University of Pennsylvania) is coeditor of Penitence in the Age of Reformations (Ashgate, 2000) and Handbook for Curates: A Late Medieval Manual of Pastoral Care (The Catholic University of America Press, forthcoming). She has also authored numerous articles and book chapters on sixteenth-century French Catholicism. She teaches history and religion at the University of Southern Maine.
Table of Contents
Preface
p. v
Introduction: Working with Historical Sources
p. 1
Global Encounters and the Shock of the Reformation, 1492-1560
p. 15
Worlds Collide: Bernal Diaz del Castillo, The True History of the Conquest of New Spain (c. 1567)
p. 15
Illustrating a Native Perspective: Lienzo de Tlaxcala (c. 1560)
p. 20
Defending Native Humanity: Bartolomé de Las Casas, In Defense of the Indians (c. 1548-1550)
p. 21
Scripture and Salvation: Martin Luther, Freedom of a Christian (1520)
p. 24
Reforming Christianity: John Calvin, Articles Concerning Predestination (c. 1560) and The Necessity of Reforming the Church (1543)
p. 26
Responding to Reformation: St. Ignatius of Loyola, A New Kind of Catholicism (1546, 1549, 1553)
p. 28
Wars of Religion and Clash of Worldviews, 1560-1648
p. 33
Legislating Tolerance: Henry IV, Edict of Nantes (1598)
p. 33
Barbarians All: Michel de Montaigne, Of Cannibals (1580s)
p. 37
Defending Religious Liberty: Apology of the Bohemian Estates (May 25, 1618)
p. 39
The Scientific Challenge: Galileo, Letter to the Grand Duchess Christina (1615)
p. 43
The Persecution of Witches: The Trial of Suzanne Gaudry (1652)
p. 47
Absolutism, Constitutionalism, and the Search for Order, 1640-1715
p. 54
Mercantilism in the Colonies: Jean-Baptiste Colbert, Instructions (1667,1668) and A Royal Ordinance (1669)
p. 54
Regime Change: The Trial of Charles I (January 1649)
p. 58
Civil War and Social Contract: Thomas Hobbes, Leviathan (1651)
p. 63
The Consent of the Governed: John Locke, The Second Treatise of Government (1690)
p. 68
Opposing Serfdom: Ludwig Fabritius, The Revolt of Stenka Razin (1670)
p. 72
The Atlantic System and Its Consequences, 1700-1750
p. 75
Captivity and Enslavement: Olaudah Equiano, The Interesting Narrative of the Life of Olaudah Equiano Written by Himself (1789)
p. 75
A "Sober and Wholesome Drink": A Brief Description of the Excellent Vertues of That Sober and Wholesome Drink, Called Coffee (1674)
p. 78
Westernizing Russian Culture: Peter I, Decrees and Statutes (1701-1723)
p. 82
Early Enlightenment: Voltaire, Letters Concerning the English Nation (1733)
p. 85
Questioning Women's Submission: Mary Astell, Reflections upon Marriage (1706)
p. 89
The Promise of Enlightenment, 1750-1789
p. 95
Rethinking Modern Civilization: Jean-Jacques Rousseau, Discourse on the Origin and Foundations of Inequality among Men (1753)
p. 95
An Enlightened Worker: Jacques-Louis Ménétra, Journal of My Life (1764-1802)
p. 101
Reforming the Law: Cesare Beccaria, On Crimes and Punishments (1764)
p. 103
Reforming Commerce: Adam Smith, An Inquiry into the Nature and Causes of the Wealth of Nations (1776)
p. 107
Enlightened Monarchy: Frederick II, Political Testament (17'52)
p. 110
The Cataclysm of Revolution, 1789-1799
p. 112
Denning the Nation: Abbé Sievès, What Is the Third Estate? (1789)
p. 112
The People under the Old Regime: Political Cartoon (1815)
p. 117
Establishing Rights: National Assembly, The Declaration of the Rights of Man and of the Citizen (1789)
p. 118
A Call for Women's Inclusion: Olympe de Gouges, Declaration of the Rights of Woman (1791)
p. 120
Defending Terror: Maximilien Robespierre, Report on the Principles of Political Morality (1794)
p. 124
Liberty for All?: Decree of General Liberty (August 29,1793) and Bramante Lazzary, General Call to Local Insurgents (August 30,1793)
p. 128
Napoleon and the Revolutionary Legacy, 1800-1830
p. 134
Napoleon in Egypt: The Chronicle of Abd al-Rahman al-Jabartî (1798)
p. 134
The Conservative Order: Prince Klemens von Metternich, Results of the Congress at Laybach (1821)
p. 137
Challenge to Autocracy: Peter Kakhovsky, The Decembrist Insurrection in Russia (1825)
p. 140
The Romantic Imagination: William Wordsworth, Preface to Lyrical Ballads (1800)
p. 144
Musical Romanticism: Reviews of Beethoven's Works (1799, 1812)
p. 148
Industrialization and Social Ferment, 1830-1850,
p. 151
Establishing New Work Habits: Factory Rules in Berlin (1844)
p. 151
New Rules for the Middle Class: Sarah Stickney Ellis, Characteristics of the Women of England (1839)
p. 154
The Division of Labor: Testimony Gathered by Ashley's Mines Commission (1842) and Punch Magazine, "Capital and Labour" (1843)
p. 157
What Is the Proletariat?: Friedrich Engels, Draft of a Communist Confession of Faith (1847)
p. 161
Demanding Political Freedom: Address by the Hungarian Parliament (March 14, 1848) and Demands of the Hungarian People (March 15, 1848)
p. 166
Imperialism and Opium: Commissioner Lin, Letter to Queen Victoria (1839)
p. 168
Politics and Culture of the Nation-State, 1850-1870
p. 171
Ending Serfdom in Russia: Peter Kropótkin, Memoirs of a Revolutionist (1861)
p. 171
Fighting for Italian Nationalism: Camillo di Cavour, Letter to King Victor Emmanuel (July 24,1858)
p. 174
Realpolitik and Otto von Bismarck: Rudolf von Ihering, Two Letters (1866)
p. 176
Social Evolution: Herbert Spencer, Progress: Its Law and Cause (1857)
p. 178
The Science of Man: Charles Darwin, The Descent of Man (1871)
p. 182
Empire, Industry, and Everyday Life, 1870-1890
p. 186
Defending Conquest: Jules Ferry, Speech before the French National Assembly (1883)
p. 186
Resisting Imperialism: Ndansi Kumalo, His Story (1890s)
p. 190
Global Competition: Ernest Edwin Williams, Made in Germany (1896)
p. 193
The Advance of Unionism: Margaret Bondfield, A Life's Work (1948)
p. 198
Artistic Expression: Edgar Degas, Notebooks (1863-1884)
p. 200
Modernity and the Road to War, 1890-1914
p. 205
The Idealized Family: Eugenics Education Society of London, Eugenics for Citizens: Aim of Eugenics (c. 1907)
p. 205
Tapping the Human Psyche: Sigmund Freud, The Interpretation of Dreams (1900)
p. 207
The Dreyfus Affair: Emile Zola, "J'accuse!" (January 13,1898)
p. 210
Militant Suffrage: Emmeline Pankhurst, Speech from the Dock (1908)
p. 215
Imperialism and Anti-Imperialism: Rudyard Kipling, The White Man's Burden and Editorial from the San Francisco Call (1899)
p. 218
Exalting War: Heinrich von Treitschke, Place of Warfare in the State (1897-1898) and Henri Massis and Alfred de Tarde, The Young People of Today (1912)
p. 221
World War I and Its Aftermath, 1914-1929
p. 226
The Horrors of War: Fritz Franke and Siegfried Sassoon, Two Soldiers' Views (1914-1918)
p. 226
Mobilizing for Total War: L. Doriat, Women on the Home Front (1917)
p. 229
Revolutionary Marxism Defended: Vladimir Ilyich Lenin, The State and Revolution (1917)
p. 231
Establishing Fascism in Italy: Benito Mussolini, The Doctrine of Fascism (1932)
p. 235
A New Form of Anti-Semitism: Adolf Hitler, Mein Kampf (1925)
p. 240
The Great Depression and World War II, 1929-1945
p. 243
Socialist Nationalism: Joseph Goebbels, Nazi Propaganda Pamphlet (1930)
p. 243
The Spanish Civil War: Eyewitness Accounts of the Bombing of Guernica (1937)
p. 246
Seeking a Diplomatic Solution: Neville Chamberlain, Speech on the Munich Crisis (1938)
p. 249
The Final Solution: Sam Bankhalter and Hinda Kibort, Memories of the Holocaust (1938-1945)
p. 252
Atomic Catastrophe: Michihiko Hachiya, Hiroshima Diary (August 7,1945)
p. 258
The Cold War and the Remaking of Europe, 1945-1960s
p. 263
Stalin and the Western Threat: The Formation of the Communist Information Bureau (Cominform) (1947)
p. 263
Truman and the Soviet Threat: National Security Council, Paper Number 68 (1950)
p. 267
Throwing Off Colonialism: Ho Chi Minh, Declaration of Independence of the Republic of Vietnam (1945)
p. 270
The Condition of Modern Women: Simone de Beauvoir, The Second Sex (1949)
p. 273
Cold War Anxieties: "How You Can Survive Fallout": Life Magazine Cover and Letter from President John F. Kennedy (1961)
p. 275
Postindustrial Society and the End of the Cold War Order, 1960s-1989
p. 278
Prague Spring: Josef Smrkovský, What Lies Ahead (February 9,1968)
p. 278
A Revolutionary Time: Student Voices of Protest (1968)
p. 282
Children Fleeing from a Napalm Attack in South Vietnam: Nick Ut, Photograph (June 8,1972)
p. 284
The Rising Power of OPEC: U.S. Embassy, Saudi Arabia, Saudi Ban on Oil Shipments to the United States (October 23,1973)
p. 286
Facing Terrorism: Jacques Chirac, New French Antiterrorist Laws (September 14,1986)
p. 288
Debating Change in the Soviet Union: Glasnost and the Soviet Press (1988)
p. 291
A New Globalism, 1989 to the Present
p. 297
Ethnic Cleansing: The Diary of Zlata Filipovic (October 6, 1991-June 29, 1992)
p. 297
The Challenges of EU Expansion: Paresh Nath, EU Membership Prospect Cartoon (February 23, 2009)
p. 305
Addressing Climate Change in the Eurozone: The European Commissions Energy Roadmap 2050 (2011)
p. 306
An End to Apartheid: The African National Congress, Introductory Statement to the Truth and Reconciliation Commission (August 19, 1996)
p. 310
China in the Global Age: Chinese Olympic Committee, Announcements on Preparations for the 2008 Summer Olympic Games (2004-2007)
p. 314
The Post-9/11 Era: Amartya Sen, A World Not Neatly Divided (November 23, 2001)
p. 318
Table of Contents provided by Ingram. All Rights Reserved.