Note: Supplemental materials are not guaranteed with Rental or Used book purchases.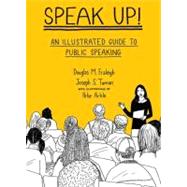 Speak Up : An Illustrated Guide to Public Speaking
ISBN13:
9780312445805
by
Fraleigh
;
Tuman
;
Arkle
Questions About This Book?
What version or edition is this?
This is the edition with a publication date of 7/30/2008.
What is included with this book?
The Used copy of this book is not guaranteed to include any supplemental materials. Typically, only the book itself is included.
Related Products
Summary
Speak Upis a new, brief, and fully illustrated public speaking text that is traditionally organized, affordable, and definitely fun. It combines thorough coverage of classical and contemporary communication theory, practical nuts-and-bolts guidance, and 600+ custom-drawn illustrations that bring speech basicsto life. And if that's not enough,Speak Upis priced at about 40% less than traditional introductory texts. Instructors and student reviewers have been raving about it, and your students will love it!
Author Biography
Douglas M. Fraleigh is a Professor of Communication at California State University at Fresno. During his twenty-plus year teaching career, he as taught more than one thousand students in public speaking and related courses. He has also coached intercollegiate speech and debate at University of California at Berkeley, California State University at Sacramento, Cornell University, and California State University at Fresno, working with hundreds of student competitors and serving in regional and national collegiate forensics organizations. Along with his research focus on freedom of speech and the limits of legal expression, Dr. Fraleigh has served as associate editor for the Freedom of Expression Annual, Argumentation and Advocacy, and Contemporary Argumentation and Debate. Joseph S. Tuman is Professor of Speech and Communication Studies at San Francisco State University, where he has been honored with the Jacobus tenBroek Society Award for Excellence in Teaching. Dr. Tuman regularly appears on television as a political commentator and is the author of Communicating Terror: The Rhetorical Dimensions of Terrorism. In addition. Professor Tuman has taught at the University of California at Berkeley, The New School, and the Sorbonne. He has published widely in the field of communication studies and has operated a private consulting practice for individuals, businesses, and government entities seeking assistance with speech writing, communication strategies, and presentation skills. Peter Arkle is a professional illustrator who grew up in Scotland and received a B.A. in Illustration from St. Martin's School of Art (1991) and an M.A. from the Royal College of Art (1993). Along with his work for corporate clients, Peter is a regular contributor to the New York Times, New York Magazine, Print, and Business Week and has created work for many other publications including GQ, The New Yorker, and The Guardian (UK). He lectures several times a year at high schools and universities across the U.S. and notes that he's learned a great deal from Speak Up about preparing and delivering his own presentations. He has lived in New York's East Village since 1995 and became a U.S. citizen on January 18th, 2008. To see more of Peter's work, please visit www.peterarkle.com.
Table of Contents
PREFACE
PART ONE: THE BASICS OF PUBLIC SPEAKING
1. Introducing Public Speaking What Is Public Speaking? Why Study Public Speaking? Public Speaking: A Great Tradition Public Speaking: A Dynamic Discipline Summary
2. Developing Your First Speech
Why Prepare? The Classical Approach to Speech Preparation Preparing and Delivering Your First Speech Overcoming Speech Anxiety Summary
3. Speech Ethics
Legal Speech, Ethical Speech Communicating Truthfully Acknowledging the Work of Others Using Sound Reasoning Being an Ethical Listener Summary
4. Listening Skills
Why Listen? The Listening Process The Culprits behind Poor Listening Becoming a Better Listener Maximizing Your Audience's Listening Listening and the Speech Critique Summary
PART TWO: PREPARATION FUNDAMENTALS 5. Audience Analysis Understanding Situational Characteristics Incorporating Demographics Seeking Common Ground Identifying Prior Exposure Identifying Audience Disposition Gathering Information about Your Audience Situational Audience Analysis Summary
6. Selecting Your Topic
Developing a Set of Potential Topics Selecting the Best Topic Refining Your Topic Drafting Your Specific Purpose Statement Drafting Your Thesis Statement Summary
7. Researching Your Speech
Why Research? Creating a Research Plan Evaluating a Source's Credibility Conducting Library Research Using the Internet Interview Research Presenting Evidence in Your Speeches Summary
8. Using Supporting Materials for Your Speech
Why Use Supporting Materials? Types of Supporting Materials Guidelines for Using Supporting Materials Summary
PART THREE: ORGANIZING AND OUTLINING 9. Organizing Your Speech
Selecting Your Main Points Organizing Your Supporting Materials Arranging Your Main Points Using Organizing Words and Sentences Summary
10. Introductions and Conclusions
Introducing Your Speech Concluding Your Speech Summary
11. Outlining Your Speech
Creating Your Working Outline A Sample Detailed Outline Creating Your Speaking Outline A Sample Speaking Outline Summary
PART FOUR: LANGUAGE AND DELIVERY 12. Language and Style
The Importance of Language and Word Choice Differences between Oral and Written Language Denotative and Connotative Meaning Presenting Your Message Clearly Expressing Your Ideas Effectively Choosing Respectful and Unbiased Language Summary
13. Delivering Your Speech
Selecting the Right Mode of Delivery Using Verbal Delivery Skills Using Nonverbal Delivery Skills Summary
14. Using Audiovisual Aids
Why Use Audiovisual Aids? Types of Audiovisual Aids Audience Analysis and Audiovisual Aids Guidelines for Preparing Audiovisual Aids Using Audiovisual Aids during Your Speech Summary
PART FIVE: TYPES OF PUBLIC SPEAKING
15. Informative Speaking
Techniques for Informing Types of Informative Speeches Developing Your Informative Speech Clarifying and Simplifying Your Message SAMPLE SPEECH: Rachel Parrish, "Spider Silk: A Miracle Material Derived from…Goats?" SAMPLE SPEECH: Elvia Anguiano, "Precision Guided Tumor Killers" Summary
16. Persuasive Speaking
The Nature of a Persuasive Speech Framing Your Argument Based On Audience Disposition Incorporating Persuasive Strategies Ethical Persuasion Organizing Your Persuasive Speech Summary
17. Methods of Persuasion
Ethos: Your Credibility As A Speaker Logos: The Facts and Reasoning behind Your Message Pathos: Evoking Your Listeners' Emotions SAMPLE SPEECH: Anna Martinez, "Extra Credit You Can Live Without" SAMPLE SPEECH: Sue Suter, "Women with Disabilities: How to Become a Boat Rocker in Life" Summary
18. Special Occasion Speaking
Types of Special Occasion Speeches General Guidelines for Special Occasions Strategies for Each Type Of Special Occasion Speech SAMPLE SPEECH: Her Majesty Queen Noor, "2002 Mount Holyoke College Commencement Address" SAMPLE SPEECH: Governor Jennifer Granholm, "Remarks at the Funeral of Civil Rights Leader Rosa Parks" SAMPLE SPEECH: William Faulkner, "Speech to Accept the 1949 Nobel Prize for Literature" Summary
19. Group Communication
Effective Group Leadership Effective Group Membership Group Decision-Making and the Reflective Thinking Process Delivering Group Presentations Summary
APPENDIX: SAMPLE SPEECHES
SAMPLE INFORMATIVE SPEECH: Josh Betancur, "Invisibility: Science Fiction No More!" SAMPLE PERSUASIVE SPEECH: David Kruckenberg, "Child Slavery and the Production of Chocolate" SAMPLE PERSUASIVE SPEECH: Senator Barack Obama, "Keynote Speech at the 2004 Democratic Party National Convention" SAMPLE SPECIAL OCCASION SPEECH: General Douglas MacArthur, "1962 Sylvanus Thayer Award Acceptance Speech" SAMPLE SPECIAL OCCASION SPEECH: Arturo V. Ramirez, "Speech at the TAHP Reception on Cesar Chavez Day" SAMPLE SPECIAL OCCASION SPEECH: Conan O'Brien, "2000 Harvard University Commencement Address"
GLOSSARY