Note: Supplemental materials are not guaranteed with Rental or Used book purchases.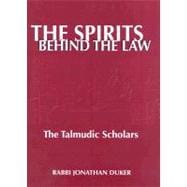 The Spirits Behind the Law: The Talmudic Scholars
ISBN13:
9789657108970
by
Duker, Jonathan
Summary
The scholars of the Talmud and Midrash had an immeasurable impact on Judaism. Throughout centuries of Jewish history, students of Jewish law have tried to understand the meaning and application of their words. It is important to know who these scholars were who made, and continue to make, such a significant impact on Jewish life. This work portrays fifteen of these scholars based on the stories of their lives that appear in the Talmudic and midrashic traditions. By weaving the original accounts together with insightful analysis, the writer provides a human portrait of these great masters while remaining faithful to the poetry of the original narratives.
Table of Contents
Preface
p. 9
Rabbi Akiva
p. 13
Bar Kappara
p. 24
Rabbi Elazar Ben Rabbi Shimon
p. 29
Rabbi Eliezer Ben Hyrcanus
p. 38
Elisha Ben Avuyah
p. 49
Rabban Gamliel of Yavneh
p. 55
Rabbi Hanina Ben Dosa and His Wife
p. 66
Hillel the Elder
p. 74
Rabbi Meir
p. 79
Rav Papa
p. 86
Rava and Abaye
p. 92
Resh Lakish
p. 97
Shmuel
p. 103
Rav Zeira
p. 110
History in the Aggadic Narratives
p. 115
Glossary of Hebrew Terms
p. 121
Table of Contents provided by Blackwell. All Rights Reserved.