Note: Supplemental materials are not guaranteed with Rental or Used book purchases.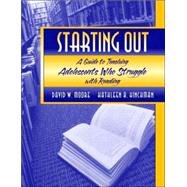 Summary
Starting Out presents feasible classroom practices for teaching middle and high school students who struggle as readers and writers. Respected authors, David Moore and Kathleen Hinchman, provide sound advice on how to address the fundamentals of teaching adolescents. This affordable long-awaited book is a practical down-to-earth guide written in easy-to-read prose.Ideal for today's busy teachers, it emphasizes the important first steps to take during the first few days and weeks of a class. Just in time in an era of teacher shortages, this book is a welcome addition and a must-have for people entering the profession with abbreviated preparation and, for the first time, encountering adolescents who struggle with literacy.For beginning secondary school educators concerned about designing a literacy plan for those who frequently struggle with academics.
Table of Contents
Every chapter concludes with "Conclusion" and "References."
1. Perspectives.
An Instructional Setting for All Learners.
Metaphors for Adolescent Literacy and Instruction.
Background on Adolescents Who Struggle as Readers.
2. Before School Starts.
Classroom Culture.
Classroom Structure.
3. Framing and Launching Units of Instruction.
Framing Units.
Launching Units.
4. Weaving Literacy Through Units of Instruction.
Selecting Literacy Strands.
Isolating and Integrating Unit Strands.
Examples of Literacy Strands.
5. Moving Toward Differentiation.
Initiating Group Instruction.
Accommodating Individuals.
6. Interventions in Special Classes.
Dimensions of Responsive Interventions.
Interventions Utilizing the Four Resources Model.
7. Connections Beyond the Classroom.
Home-School.
Cross-Age.
Community-School.
Cultural Ties.
Professional Development.
School Structures.
8. Classroom Assessments.
Classroom Support Assessments.
Grading.
9. Program Leadership.
Beginning a School-Wide Reading Program.
Structures for School-Wide Literacy Improvement.
10. Program Profiles.
School-Wide.
Interventions.