Note: Supplemental materials are not guaranteed with Rental or Used book purchases.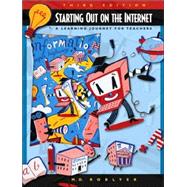 Starting out on the Internet A Learning Journey for Teachers
ISBN13:
9780131704572
by
Roblyer, M. D.
Summary
For courses in Internet for Educators. The third edition of Starting Out on the Internet: A Learning Journey for Teachers provides instructors and students with the basics to become a knowledgeable Internet user and to skillfully use the Internet as a teaching and learning resource. Step-by-step procedures move readers through the basics of navigation, such as understanding URLs to using search engines, to classroom-specific concerns such as evaluating website quality and integrating the Internet into teaching. It also includes more advanced education-related uses of the Internet, such as downloading and using images, downloading programs and plug-ins, and creating a website. Whether learning individually on a personal computer or in a lab course, this handy and easy guide familiarizes readers with all the Internet has to offer.
Table of Contents
| | |
| --- | --- |
| | Understanding URLs: How to Use Internet Addresses |

1
(6)
1
(1)
1
(2)
2
(1)
3
(1)
3
(1)
3
(2)
4
(1)
4
(1)
5
(1)

| | |
| --- | --- |
| | Exercises: Understanding URLs |

5
(2)

| | |
| --- | --- |
| | Navigating the Net: How to Move Around in Web Pages |

7
(4)
7
(1)
7
(3)

| | |
| --- | --- |
| | Navigating with Links: Text and Images |

7
(1)

| | |
| --- | --- |
| | Navigating with Forward and Back Buttons |

8
(1)
9
(1)
9
(1)
9
(1)

| | |
| --- | --- |
| | Exercises: Navigating the Net |

10
(1)

| | |
| --- | --- |
| | Starting Up Search Engines: How to Locate Information on the Internet |

11
(6)
11
(1)
11
(1)

| | |
| --- | --- |
| | Two Ways to Use a Search Engine |

12
(2)
12
(2)
14
(1)
14
(1)

| | |
| --- | --- |
| | Keyword Search Strategies |

14
(1)

| | |
| --- | --- |
| | Exercises: Starting Up Search Engines |

15
(2)

| | |
| --- | --- |
| | Using Bookmarks or Favorites: How to Mark Web Pages for Later Use |

17
(6)
17
(1)

| | |
| --- | --- |
| | Creating Bookmarks or Favorites |

17
(1)
18
(1)

| | |
| --- | --- |
| | Deleting Bookmarks or Favorites |

18
(1)

| | |
| --- | --- |
| | Organizing Bookmarks or Favorites |

19
(1)
19
(1)

| | |
| --- | --- |
| | Exercises: Using Bookmarks or Favorites |

20
(3)

| | |
| --- | --- |
| | Evaluating Internet Information: How to Assess Website Quality |

23
(8)
23
(1)

| | |
| --- | --- |
| | Why You Should Be Careful |

23
(1)

| | |
| --- | --- |
| | Criteria for Evaluating Web Page Content |

24
(1)
24
(1)

| | |
| --- | --- |
| | Criteria for Evaluating Web Page Design |

24
(3)

| | |
| --- | --- |
| | More Information on Evaluating Web Pages |

27
(2)

| | |
| --- | --- |
| | Exercises: Evaluating Internet Information |

29
(2)

| | |
| --- | --- |
| | Avoiding Internet Pitfalls: How to Recognize and Prevent Problems |

31
(6)
31
(1)
31
(4)

| | |
| --- | --- |
| | Problem 1: Accessing Sites with Inappropriate Materials |

31
(1)
32
(1)
32
(1)

| | |
| --- | --- |
| | Problem 2: Safety Issues for Students |

32
(2)
34
(1)

| | |
| --- | --- |
| | Problem 3: Fraud on the Internet |

34
(1)

| | |
| --- | --- |
| | Problem 4: Computer Viruses |

34
(1)

| | |
| --- | --- |
| | Problem 5: Copyright Issues for Educators |

35
(1)

| | |
| --- | --- |
| | Exercises: Avoiding Internet Pitfalls |

35
(2)

| | |
| --- | --- |
| | Downloading and Using Images: How to Obtain and Use Internet Graphics |

37
(6)
37
(1)
37
(1)
37
(2)
37
(2)

| | |
| --- | --- |
| | What to Do With Downloaded Images |

39
(1)

| | |
| --- | --- |
| | Copyright Restrictions and Fair Use of Images and Other Media |

40
(1)

| | |
| --- | --- |
| | Exercises: Downloading and Using Images |

41
(2)

| | |
| --- | --- |
| | Downloading Plug-ins and Other Programs: How to Obtain Needed Web Resources |

43
(6)
43
(1)
43
(1)
43
(2)

| | |
| --- | --- |
| | Downloading Plug-ins and Other Programs |

45
(1)

| | |
| --- | --- |
| | Exercises: Downloading Plug-ins and Programs |

46
(3)

| | |
| --- | --- |
| | Internet Troubleshooting: How to Recognize and Address Common Errors |

49
(4)
49
(1)
49
(2)

| | |
| --- | --- |
| | Problem 1: No Browser Connection |

49
(1)

| | |
| --- | --- |
| | Problem 2: No Site Connection |

49
(1)

| | |
| --- | --- |
| | Problem 3: Internet Features Are Down |

50
(1)

| | |
| --- | --- |
| | Exercises: Internet Troubleshooting |

51
(2)

| | |
| --- | --- |
| | Integrating the Internet into Teaching: Strategies, Examples, and Create-Your-Own Lesson Exercises |

53
(10)
53
(1)

| | |
| --- | --- |
| | Powerful Teaching and Learning Strategies |

53
(5)

| | |
| --- | --- |
| | Activity 1: Electronic Pen pals (E-pals or Keypals) |

53
(1)
53
(1)

| | |
| --- | --- |
| | Activity 2: Electronic Mentoring |

54
(1)
54
(1)

| | |
| --- | --- |
| | Activity 3: Electronic (Virtual) Field Trips |

54
(1)
55
(1)

| | |
| --- | --- |
| | Activity 4: Electronic Publishing |

55
(1)
55
(1)

| | |
| --- | --- |
| | Activity 5: Group Product Development |

56
(1)
56
(1)

| | |
| --- | --- |
| | Activity 6: Problem-based Learning |

56
(1)
57
(1)

| | |
| --- | --- |
| | Activity 7: Social Action Projects |

57
(1)
58
(1)

| | |
| --- | --- |
| | Creating Your Own Technology Integration Strategies |

58
(3)
60
(1)

| | |
| --- | --- |
| | Exercises: Integrating the Internet into Teaching |

61
(2)

| | |
| --- | --- |
| | Creating Your Own Website: The Basics |

63
(6)
63
(1)

| | |
| --- | --- |
| | Why You May Want Your Own Site |

63
(1)

| | |
| --- | --- |
| | What You Need to Develop Your Own Website |

64
(1)

| | |
| --- | --- |
| | A Few Caveats When Creating Web Page Information |

65
(1)

| | |
| --- | --- |
| | Recommended Eight-Step Development Sequence |

65
(2)

| | |
| --- | --- |
| | Exercises: Creating Your Own Website---The Basics |

67
(2)

| | |
| --- | --- |
| | Creating Your Own Website: Using Yahoo!® Geocities |

69
(18)
69
(1)
69
(1)

| | |
| --- | --- |
| | Benefits and Limitations of Site Hosting Services |

69
(1)

| | |
| --- | --- |
| | Preparing to Develop a Web Page |

70
(13)

| | |
| --- | --- |
| | Using Yahoo!® PageWizards |

70
(1)
70
(7)

| | |
| --- | --- |
| | Using Yahoo!® PageBuilder |

77
(1)
77
(6)

| | |
| --- | --- |
| | Exercises: Creating Your Own Website---Using Yahoo!® Geocities |

83
(4)

| | |
| --- | --- |
| | Creating Your Own Website: Using Netscape Composer® |

87
(12)
87
(1)
87
(8)
87
(1)

| | |
| --- | --- |
| | Step 1: Starting the First Page |

87
(2)
89
(1)

| | |
| --- | --- |
| | Step 3: Inserting and Formatting Text |

89
(1)

| | |
| --- | --- |
| | Step 4: Inserting Graphics |

90
(1)
91
(1)

| | |
| --- | --- |
| | Step 6: Creating Additional Pages |

91
(2)

| | |
| --- | --- |
| | Step 7: Inserting Links between Pages |

93
(1)

| | |
| --- | --- |
| | Step 8: Inserting Links within a Page |

94
(1)

| | |
| --- | --- |
| | Step 9: Previewing Pages in a Browser |

94
(1)

| | |
| --- | --- |
| | Step 10: Uploading to a Server |

94
(1)
95
(1)

| | |
| --- | --- |
| | An Alternate Strategy: Modifying Existing Pages |

95
(2)
96
(1)

| | |
| --- | --- |
| | Exercises: Creating Your Own Website---Using Netscape Composer® |

97
(2)
Appendix: Answers to Exercise Questions
99
(4)
Index
103