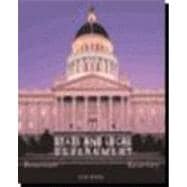 Questions About This Book?
Why should I rent this book?
Renting is easy, fast, and cheap! Renting from eCampus.com can save you hundreds of dollars compared to the cost of new or used books each semester. At the end of the semester, simply ship the book back to us with a free UPS shipping label! No need to worry about selling it back.
How do rental returns work?
Returning books is as easy as possible. As your rental due date approaches, we will email you several courtesy reminders. When you are ready to return, you can print a free UPS shipping label from our website at any time. Then, just return the book to your UPS driver or any staffed UPS location. You can even use the same box we shipped it in!
What version or edition is this?
This is the 6th edition with a publication date of 12/23/2004.
What is included with this book?
The Used copy of this book is not guaranteed to include any supplemental materials. Typically, only the book itself is included.
The Rental copy of this book is not guaranteed to include any supplemental materials. You may receive a brand new copy, but typically, only the book itself.
Related Products
Summary
The Sixth Edition of this best-selling text continues to provide the comprehensive and current coverage of institutions, political behavior, and policy-making at the state and local level. The strong policy orientation of the text, as well as its unifying theme of the increased capacity and responsibility of state and local governments have established this text as the standard for this course. Web resources in every chapter foster student interest in state and local politics and policy. An enhanced text-specific web site provides additional resources for instructors and students. Chapter 18, Environmental Policy, covers a broad range of issues to address the tension between economic and environmental interests. Overall revisions address the latest challenges facing the states as they try to overcome budget shortfalls and incorporate federal mandates. Breaking New Ground and Debating Politics boxes facilitate critical thinking and class discussion by presenting policy innovations and controversial issues. Updated coverage of e-government and the Internet explores the impact of technology on government and citizen participation.
Table of Contents
PREFACE
xi
Part One: The Context for State and Local Politics and Government

| | |
| --- | --- |
| | 1 New Directions for State and Local Government |

1
(23)

| | |
| --- | --- |
| | Studying State and Local Government in the Twenty-First Century |

2
(3)

| | |
| --- | --- |
| | The Capacity of States and Localities |

5
(10)

| | |
| --- | --- |
| | The People: Designers and Consumers of Government |

15
(6)

| | |
| --- | --- |
| | Linking Capacity to Results |

21
(1)
22

| | |
| --- | --- |
| | Breaking New Ground: Creating an Image |

13
(11)

| | |
| --- | --- |
| | 2 Federalism and the States |

24
(31)

| | |
| --- | --- |
| | The Concept of Federalism |

25
(3)

| | |
| --- | --- |
| | The History of U.S. Federalism |

28
(10)
38
(3)

| | |
| --- | --- |
| | Intergovernmental Relations |

41
(5)
46
(4)
50
(3)
53

| | |
| --- | --- |
| | Debating Politics: Decriminalizing Medical Marijuana |

52
(3)
55
(25)

| | |
| --- | --- |
| | The Evolution of State Constitutions |

57
(4)

| | |
| --- | --- |
| | Weaknesses of Constitutions |

61
(4)
65
(6)

| | |
| --- | --- |
| | Methods for Constitutional Change |

71
(6)

| | |
| --- | --- |
| | State Responsiveness and Constitutional Reform |

77
(1)
78

| | |
| --- | --- |
| | Debating Politics: The Unicameral Legislature |

69
(11)

| | |
| --- | --- |
| | 4 Citizen Participation and Elections |

80
(31)
81
(7)
88
(5)
93
(8)

| | |
| --- | --- |
| | Citizen Access to Government |

101
(5)

| | |
| --- | --- |
| | Volunteerism as Participation |

106
(2)

| | |
| --- | --- |
| | The Effects of Citizen Participation |

108
(1)
109

| | |
| --- | --- |
| | Debating Politics: Voting: It's Not Just for Old People |

86
(19)

| | |
| --- | --- |
| | Breaking New Ground: E-Z Access to Government...and the Ballot Box |

105
(6)

| | |
| --- | --- |
| | 5 Political Parties, Interest Groups, and Campaigns |

111
(30)
111
(10)
121
(9)
130
(9)
139

| | |
| --- | --- |
| | Debating Politics: Third Parties: Also-Rans or Real Contenders? |

119
(18)

| | |
| --- | --- |
| | Breaking New Ground: Rethinking Campaign Finance |

137
(4)
Part Two: The Institutions of State Government
141
(31)

| | |
| --- | --- |
| | The Essence of Legislatures |

142
(2)
144
(11)
155
(2)
157
(3)

| | |
| --- | --- |
| | Legislative Reform and Capacity |

160
(5)

| | |
| --- | --- |
| | Relationship with the Executive Branch |

165
(5)

| | |
| --- | --- |
| | Legislatures and Capacity |

170
(1)
170

| | |
| --- | --- |
| | Debating Politics: Redistricting Politics in Texas: The Democrats Head for the Border |

150
(3)

| | |
| --- | --- |
| | Breaking New Ground: Women Legislative Leaders |

153
(19)
172
(35)
173
(5)

| | |
| --- | --- |
| | Being Governor: Duties and Responsibilities |

178
(8)

| | |
| --- | --- |
| | Formal Powers of the Governor |

186
(11)
197
(4)
201
(1)

| | |
| --- | --- |
| | Other Executive Branch Officials |

202
(3)

| | |
| --- | --- |
| | The Capability of U.S. Governors |

205
(1)
206

| | |
| --- | --- |
| | Breaking New Ground: A Vision Shared |

185
(2)

| | |
| --- | --- |
| | Debating Politics: What Should the Governor Do? |

187
(20)

| | |
| --- | --- |
| | 8 Public Administration: Budgeting and Service Delivery |

207
(36)

| | |
| --- | --- |
| | Public Employees in State and Local Government: |

| | |
| --- | --- |
| | Who They Are, What They Do |

209
(3)

| | |
| --- | --- |
| | Budgeting in State and Local Government |

212
(8)

| | |
| --- | --- |
| | Human Resource Management Policy in State and Local Government: From Patronage to Merit |

220
(10)

| | |
| --- | --- |
| | The Politics of Bureaucracy |

230
(3)
233
(5)

| | |
| --- | --- |
| | The Quality of Public Administration |

238
(2)
240

| | |
| --- | --- |
| | Debating Politics: Damned If You Do |

211
(15)

| | |
| --- | --- |
| | Debating Politics: Is This Sexual Harassment? |

226
(11)

| | |
| --- | --- |
| | Breaking New Ground: Re-engineering Government with Geographic Information Systems |

237
(6)
243

| | |
| --- | --- |
| | The Structure of State Court Systems |

245
(4)
249
(9)
258
(6)
264
(2)

| | |
| --- | --- |
| | Administrative and Organizational Improvements in State Courts |

266
(4)
270

| | |
| --- | --- |
| | Breaking New Ground: Cyberjuror |

260
(8)

| | |
| --- | --- |
| | Debating Politics: Tort Reform |

268
(4)
Part Three: Local Governments...and the States

| | |
| --- | --- |
| | 10 The Structure of Local Government |

272
(31)

| | |
| --- | --- |
| | Orientations to Communities |

273
(3)
276
(4)
280
(12)
292
(2)
294
(2)
296
(2)

| | |
| --- | --- |
| | Communities and Governance |

298
(2)
300

| | |
| --- | --- |
| | Debating Politics: Running Miami Like a Business |

286
(2)

| | |
| --- | --- |
| | Breaking New Ground: Wal-Mart Versus Inglewood: Score 1 for the City |

288
(15)

| | |
| --- | --- |
| | 11 Local Leadership and Governance |

303
(25)
304
(6)
310
(8)
318
(7)
325
(1)
326

| | |
| --- | --- |
| | Debating Politics: Who's Got the Power? |

309
(7)

| | |
| --- | --- |
| | Breaking New Ground: Strong Mayor + Strong Manager = Strong City? |

316
(12)
328
(27)

| | |
| --- | --- |
| | The Distribution of Authority |

330
(5)

| | |
| --- | --- |
| | State-Local Organizations |

335
(2)

| | |
| --- | --- |
| | Metropolitics: A New Challenge for State Government |

337
(10)
347
(4)

| | |
| --- | --- |
| | States and Their Rural Communities |

351
(1)

| | |
| --- | --- |
| | The Interaction of State and Local Governments |

352
(1)
353

| | |
| --- | --- |
| | Debating Politics: Massachusetts Says "Adios" to Its Counties |

329
(16)

| | |
| --- | --- |
| | Breaking New Ground: Killington, Vermont, Explores Its Options...in New Hampshire |

345
(10)

| | |
| --- | --- |
| | 13 State and Local Finance |

355
(36)

| | |
| --- | --- |
| | The Principles of Finance |

357
(3)
360
(14)

| | |
| --- | --- |
| | The Political Economy of Taxation |

374
(6)
380
(4)

| | |
| --- | --- |
| | State and Local Financial Relations |

384
(4)

| | |
| --- | --- |
| | State and Local Finance in the 2000's |

388
(1)
389
(2)
Part Four: Public Policy in States and Localities
391
(25)

| | |
| --- | --- |
| | Regional Differences in Economic Prosperity |

392
(2)

| | |
| --- | --- |
| | Approaches to Economic Development |

394
(2)

| | |
| --- | --- |
| | The Politics of Economic Development |

396
(4)
400
(8)

| | |
| --- | --- |
| | Persistent Questions in Economic Development |

408
(3)

| | |
| --- | --- |
| | The Implications of Economic Development Policy |

411
(3)
414

| | |
| --- | --- |
| | Breaking New Ground: The Creative Class and Cool Cities |

393
(6)

| | |
| --- | --- |
| | Debating Politics: Offshore Outsourcing: Globalization Grabs Some U.S. Jobs |

399
(17)
416
(35)
418
(6)

| | |
| --- | --- |
| | Intergovernmental Roles in Education |

424
(8)

| | |
| --- | --- |
| | Actors in Education Policy |

432
(6)

| | |
| --- | --- |
| | Educational Innovation in the States |

438
(10)

| | |
| --- | --- |
| | The Continuing Challenge of Public Education |

448
(1)
449

| | |
| --- | --- |
| | Breaking New Ground: SAGE Students |

435
(5)

| | |
| --- | --- |
| | Debating Politics: Standardized Testing |

440
(11)
451
(30)
453
(4)

| | |
| --- | --- |
| | Intergovernmental Roles in Criminal Justice |

457
(1)

| | |
| --- | --- |
| | The Ongoing Challenge of Crime Fighting |

458
(1)

| | |
| --- | --- |
| | Actors in Criminal Justice Policy |

459
(3)

| | |
| --- | --- |
| | How Policy Participants Interact: Two Policy Areas |

462
(5)
467
(5)

| | |
| --- | --- |
| | Policy Alternatives for States and Localities |

472
(6)

| | |
| --- | --- |
| | The Continuing Challenge in Crime and Corrections |

478
(1)
479

| | |
| --- | --- |
| | Debating Politics: Concealed Weapons Permits...Or, Will There Be Shootouts Over the Last Mustard Packet at Burger King? |

456
(25)

| | |
| --- | --- |
| | 17 Social Welfare and Health Care Policy |

481
(25)
482
(2)

| | |
| --- | --- |
| | Social Welfare and Ideology |

484
(2)

| | |
| --- | --- |
| | Current Social Welfare Policy |

486
(1)

| | |
| --- | --- |
| | Types of Social Welfare Programs |

487
(4)

| | |
| --- | --- |
| | State Innovations in Social Welfare |

491
(3)

| | |
| --- | --- |
| | Turning Welfare Checks into Paychecks |

494
(4)
498
(7)
505

| | |
| --- | --- |
| | Breaking New Ground: From Welfare Checks to Paychecks |

496
(6)

| | |
| --- | --- |
| | Debating Politics: Prescription Drugs and the Uninsured |

502
(4)
506

| | |
| --- | --- |
| | The Political Economy of Environmental Protection |

507
(4)

| | |
| --- | --- |
| | Intergovernmental Relationships in Environmental Policy |

511
(9)
520
(6)

| | |
| --- | --- |
| | Two Challenges for Policymakers |

526
(2)
528

| | |
| --- | --- |
| | Debating Politics: Environmental Self-Audits: Industry Takes on a New Role |

511
(5)

| | |
| --- | --- |
| | Breaking New Ground: Driving Green: Environmentally Friendly Alternative Fuels |

516
REFERENCES
R-1
INDEX
I-1