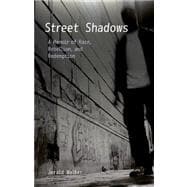 Street Shadows : A Memoir of Race, Rebellion, and Redemption
by
Walker, Jerald
Summary
Street Shadowsrecounts Jerald Walker's renunciation of the "thug life" he had embraced as a teenager on the South Side of Chicago in favor of the education and middle-class life his parents had always dreamed of for their children. By turns ironic, humorous, angry, and poignant, Walker's narrative dramatically captures his pursuit and embodiment of the "American dream": the effort to rise above obstacles such as racism and poverty through hard work and determination. Walker explores questions of race and identity through the lens of personal choice-including decisions he made as a high school dropout, a drug and alcohol abuser, a returning student, a young academic, a visitor to Africa in search of his roots, and a husband and father, as well as the diverse choices made by his blind parents, his six siblings, and his wife and her family. He highlights the importance of education, the values of self-help and self-reliance, and his rejection of the victim mentality that many feel pervades black communities. Winner of the 2011 PEN New England/L. L. Winship Award for Nonfiction, Street Shadowsis an eloquent account of how the past shadows but need not determine the present. It is also a stirring portrait of two Americas-one hopeless, the other inspirational-embodied within the same man.
Author Biography
Jerald Walker is an associate professor of creative writing at Emerson College. His work has appeared in numerous magazines and anthologies, including multiple times in Best American Essays.
Table of Contents
Author's Note
p. vii
Prologue: Gods
p. 3
A Place Like This
p. 7
Schooled
p. 18
Seduced
p. 21
The Lake of Fire
p. 30
Strange Fruit
p. 33
Disobedience
p. 43
Orientation
p. 46
Real
p. 55
Chameleons
p. 58
Sissies
p. 68
Sacraments of Reconciliation
p. 71
Baddest Nigger in Town
p. 80
Bobby Jenkins
p. 83
The Souls of White Folk
p. 90
Workshopped
p. 93
Bad Outcomes
p. 99
We Are Americans
p. 102
Floated
p. 114
Simplicity
p. 117
The Second Act
p. 121
Scattered Inconveniences
p. 123
My Sister's Roommate
p. 128
Communion
p. 131
Trash
p. 139
Technicalities
p. 142
Break-In
p. 147
The Interview
p. 150
Break-Out
p. 157
Bait
p. 161
Great Expectations
p. 165
Captain Walker
p. 167
Poop
p. 177
A Place of Redemption
p. 181
Gang Life
p. 190
Visible Man
p. 193
Naked
p. 197
Game
p. 201
The Professor
p. 206
Dragon Slayers
p. 208
Bullets
p. 211
The Mechanics of Being
p. 213
When Love Speaks
p. 222
Two Boys
p. 225
Principles of Math
p. 229
Outlaws
p. 231
Epilogue: Clowns
p. 237
Acknowledgments
p. 239
Table of Contents provided by Ingram. All Rights Reserved.