Note: Supplemental materials are not guaranteed with Rental or Used book purchases.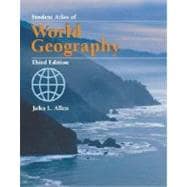 Student Atlas of World Geography
ISBN13:
9780072828238
by
Allen, John L.
Related Products
Summary
The Student Atlas of World Geography combines full-color maps and data sets to introduce students to the importance of the connections between geography and other areas of study. The thematic atlas gives students a clear picture of the recent agricultural, industrial, demographic, environmental, economic, and political changes in every world region.
Table of Contents
Part I Global Physical PatternsMap 1. World CountriesMap 2. World Physical Map 3a. Average Annual PrecipitationMap 3b. Seasonal Average Precipitation¿November Through AprilMap 3c. Seasonal Average Precipitation¿May Through OctoberMap 3d. Variation in Annual PrecipitationMap 4a. Temperature Regions and Ocean CurrentsMap 4b. Average July TemperatureMap 4c. Average January TemperatureMap 5a. Atmospheric Pressure and Predominant Surface Winds¿JanuaryMap 5b. Atmospheric Pressure and Predominant Surface Winds¿JulyMap 6. World Climate RegionsMap 7. Vegetation TypesMap 8. World Soil OrdersMap 9. World Ecological RegionsMap 10. Plate TectonicsMap 11. World TopographyMap 12a. World Resources: Mineral FuelsMap 12b. World Resources: Critical MetalsMap 13. World Natural HazardsPart II The Human Environment: Global PatternsMap 14. World Population DensityMap 15. World Economic ActivityMap 16. World UrbanizationMap 17. World Transportation PatternsMap 18. World ReligionsMap 19. World LanguagesMap 20. World External Migrations in Modern TimesPart III Global Demographic PatternsMap 21. Population Growth RatesMap 22. Total Fertility RatesMap 23. Infant Mortality RatesMap 24. Child Mortality RatesMap 25. Average Life Expectancy at BirthMap 26. Population by Age GroupMap 27. World Daily Per Capita Food SupplyMap 28. Illiteracy RateMap 29. Female/Male Inequality in Education and EmploymentMap 30. Global Scourges: Major Infectious DiseasesMap 31. The Quality of Life: Human Development IndexPart IV Global Economic PatternsMap 32. Rich and Poor Countries: Gross National IncomeMap 33. Gross National Income Per CapitaMap 34. Economic Growth: GDP Change Per CapitaMap 35. Total Labor ForceMap 36. Employment by SectorMap 37. Agricultural Production Per CapitaMap 38. Exports of Primary ProductsMap 39. Dependence on TradeMap 40. Global Flow of Investment CapitalMap 41. Central Government Expenditures Per CapitaMap 42. Purchasing Power ParityMap 43. Energy ProductionMap 44. Energy Consumption Per CapitaPart V Global Patterns of Environmental DisturbanceMap 45. Global Air Pollution: Sources and Wind CurrentsMap 46. The Acid Deposition Problems: Air, Water, SoilMap 47. Major Polluters and Common PollutantsMap 48. Global Carbon Dioxide EmissionsMap 49. Potential Global Temperature ChangeMap 50. World Water Resources: Availability of Renewable Water Per CapitaMap 51. World Water Resources: Annual Withdrawal Per CapitaMap 52. Pollution of the OceansMap 53. Food Supply from the World's Marine and Freshwater SystemsMap 54. Changes in Cropland Per Capita, 1987–1997Map 55. Annual Change in Forest Cover, 1990–1995Map 56. The Loss of Biodiversity: Globally Threatened Animal SpeciesMap 57. The Loss of Biodiversity: Globally Threatened Plant SpeciesMap 58. Global Hotspots of BiodiversityMap 59. The Risks of DesertificationMap 60. Global Soil DegradationMap 61. Degree of Human DisturbancePart VI Global Political PatternsMap 62. Political SystemsMap 63. Sovereign States: Duration of IndependenceMap 64. Post–Cold War International AlliancesMap 65. International Conflicts in the Post–World War II WorldMap 66. International Terrorist Incidents, 2000Map 67. The Political Geography of a Global Religion: The Islamic WorldMap 68. Global Distribution of Minority GroupsMap 69. World Refugee PopulationPart VII World RegionsMap 70. North America: PoliticalMap 71. North America: PhysicalMap 72. North America: ThematicMap 72a. Environment and EconomyMap 72b. Population DensityMap 72c. Population Distribution: ClusteringMap 73. CanadaMap 74. United StatesMap 75. Middle AmericaMap 76. CaribbeanMap 77. South America: PoliticalMap 78. South America: PhysicalMap 79. South America: ThematicMap 79a. Environment and EconomyMap 79b. Population DensityMap 79c. Environmental ProblemsMap 80. Northern South AmericaMap 81. Southern South AmericaMap 82. Europe: PoliticalMap 83. Europe: PhysicalMap 84. Europe: ThematicMap 84a. Environment and EconomyMap 84b. Population DensityMap 84c. Political Change in the 1990sMap 85. Western EuropeMap 86. Eastern EuropeMap 87. Northern EuropeMap 88. Africa: PoliticalMap 89. Africa: PhysicalMap 90. Africa: ThematicMap 90a. Environment and EconomyMap 90b. Population DensityMap 90c. Colonial PatternsMap 91. Northern AfricaMap 92. Southern AfricaMap 93. Asia: PoliticalMap 94. Asia: PhysicalMap 95. Asia: ThematicMap 95a. Environment and EconomyMap 95b. Population DensityMap 95c. Asia: Industrialization and ResourcesMap 96. Northern AsiaMap 97. Southwestern AsiaMap 98. Southern AsiaMap 99. East AsiaMap 100. Southeast AsiaMap 101. Australasia: PoliticalMap 102. Australasia: PhysicalMap 103. Australasia: ThematicMap 103a. Environment and EconomyMap 103b. Population DensityMap 103c. Climatic PatternsMap 104. The Pacific RimMap 105. The Atlantic OceanMap 106. The Indian OceanMap 107. The ArcticMap 108. AntarcticaPart VIII TablesTable A. World Countries: Area, Population, Population Density, 2000Table B. World Countries: Form of Government, Capital City, Major LanguagesTable C. World Countries: Basic Economic Indicators, 1999Table D. World Countries: Population Growth, 1950–2025Table E. World Countries: Basic Demographic Data, 1975–2000Table F. World Countries: Mortality, Health, and Nutrition, 1980–1999Table G. World Countries: Education and Literacy, 1990–1999Table H. World Countries: Agricultural Operations, 1996–2000Table I. World Countries: Land Use and Deforestation, 1980–2000Table J. World Countries: Energy Production and Consumption, 1980–1998Table K. World Countries: Energy Efficiency and Emissions, 1980–1998Table L. World Countries: Power and TransportationTable M. World Countries: Communications, Information, and Science and TechnologyTable N. World Countries: Water ResourcesTable O. World Countries: Globally Threatened Plant and Animal SpeciesPart IX Geographic IndexPart IX Geographic Index