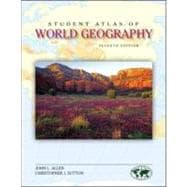 Questions About This Book?
What version or edition is this?
This is the 7th edition with a publication date of 3/18/2011.
What is included with this book?
The New copy of this book will include any supplemental materials advertised. Please check the title of the book to determine if it should include any CDs, lab manuals, study guides, etc.
The Used copy of this book is not guaranteed to include any supplemental materials. Typically, only the book itself is included.
Summary
TheStudent Atlasseries combines full-color maps and data sets to introduce students to the importance of the connections between geography and other areas of study such as world politics, environmental issues, and economic development. These thematic atlases will give students a clear picture of the recent agricultural, industrial, demographic, environmental, economic, and political changes in every world region.
Table of Contents
Table of Contents
A Note to the Student iii
Introduction: How to Read an Atlas xii
Unit I Global Physical Patterns 1
Map 1 World Political Boundaries 2
Map 2 World Physical Features 4
Map 3a Average Annual Precipitation 6
Map 3b Seasonal Average Precipitation, November through April 7
Map 3c Seasonal Average Precipitation, May through October 7
Map 3d Variation in Average Annual Precipitation 8
Map 4a Temperature Regions and Ocean Currents 9
Map 4b Average January Temperature 10
Map 4c Average July Temperature 10
Map 5a Atmospheric Pressure and Predominant Surface Winds, January 11
Map 5b Atmospheric Pressure and Predominant Surface Winds, July 12
Map 6 Climate Regions 13
Map 7 Vegetation Types 14
Map 8 Soil Orders 15
Map 9 Ecological Regions 16
Map 10 Plate Tectonics 18
Map 11 Topography 19
Map 12a Resources: Mineral Fuels 20
Map 12b Resources: Critical Metals 21
Map 13 Natural Hazards 22
Unit II Global Human Patterns 23
Map 14 Past Population Distributions and Densities 24
Map 15 Population Density 26
Map 16 Land Use, a.d. 1500 27
Map 17 Economic Activities 28
Map 18 Urbanization 29
Map 19 Transportation Patterns 30
Map 20 Religions 31
Map 21 Religious Adherence 32
Map 22 Languages 33
Map 23 Linguistic Diversity 34
Map 24 Dying Languages: A Loss of Cultural Wealth 35
Map 25 External Migrations in Modern Times 36
Unit III Global Demographic Patterns 37
Map 26 Population Growth Rates 38
Map 27 International Migrant Populations, 2009 39
Map 28 Migration Rates 40
Map 29 Europe's Population Bust: A Fizzle in the Population Bomb 41
Map 30a Total Fertility Rates, 1975 42
Map 30b Total Fertility Rates, 2010 43
Map 31 Infant Mortality Rate 44
Map 32 Child Mortality Rate 45
Map 33 Population by Age Group 46
Map 34 Average Life Expectancy at Birth 47
Map 35 World Daily Per Capita Food Supply (Kilocalories) 48
Map 36 The Earth's Hungry Millions 49
Map 37 Child Malnutrition 50
Map 38 Proportion of Daily Food Intake from Animal Products 51
Map 39 The Global Security Threat of Infectious Diseases  52
Map 40 Global Scourges: Major Infectious Diseases  54
Map 41 Adult Incidence of HIV/AIDS, 2007 55
Map 42 Illiteracy Rates  56
Map 43 Primary School Enrollment 57
Map 44 Female/Male Inequality in Education and Employment 58
Map 45 The Index of Human Development 59
Map 46 Demographic Stress: The Youth Bulge 60
Map 47 Demographic Stress: Rapid Urban Growth 61
Map 48 Demographic Stress: Competition for Cropland 62
Map 49 Demographic Stress: Competition for Fresh Water 63
Map 50 Demographic Stress: Death in the Prime of Life 64
Map 51 Demographic Stress: Interactions of Demographic Stress Factors 65
Unit IV Global Economic Patterns 67
Map 52 Gross National Income 68
Map 53 Gross National Income Per Capita 69
Map 54 Purchasing Power Parity Per Capita 70
Map 55 Private Per Capita Consumption 71
Map 56 Inequality of Income and Consumption 72
Map 57 Total Labor Force 73
Map 58 Employment by Economic Activity 74
Map 59 Economic Output Per Sector 75
Map 60 Agricultural Production Per Capita 76
Map 61 Exports of Primary Products 77
Map 62 Remittances 78
Map 63 Membership in the World Trade Organization 79
Map 64 Regional Trade Organizations 80
Map 65 Dependence on Trade 81
Map 66 Trade with Neighboring Countries 82
Map 67 The Indebtedness of States 83
Map 68 Global Flows of Investment Capital 84
Map 69 Aiding Economic Development 85
Map 70 The Cost of Consumption  86
Map 71 Energy Production Per Capita 87
Map 72 Energy Consumption Per Capita 88
Map 73 Energy Dependency 89
Map 74 Flows of Oil 90
Map 75 A Wired World: Internet Users 91
Map 76 Personal Computer Use 92
Map 77 Traditional Links: The Telephone 93
Unit V Global Patterns of Environmental Disturbance 95
Map 78 Global Air Pollution: Sources and Wind Currents 97
Map 79 The Acid Deposition Problem: Air, Water, Soil 98
Map 80 Major Polluters and Common Pollutants 99
Map 81 Global Carbon Dioxide Emissions 100
Map 82 The Earth Warms, 1976–2006 101
Map 83 Global Precipitation Changes, 1976–2006 102
Map 84 Potential Global Temperature Change 103
Map 85 Water Resources: Availability of Renewable Water Per Capita 104
Map 86 Water Resources: Annual Withdrawal Per Capita 105
Map 87 Water Stress: Shortage, Abundance, and Population Density 106
Map 88 Water Stress: The Ogallala Aquifer 107
Map 89 A New Environmental Stress? Consumption of Bottled Water 108
Map 90 Pollution of the Oceans 109
Map 91 Food Supply from Marine and Freshwater Systems 110
Map 92 Cropland Per Capita: Changes, 1996–2007 111
Map 93 Food Staples Under Stress: The Fight Against Genetic Simplicity 112
Map 94 World Pastureland, 2005 113
Map 95 Fertilizer Use, 2007 114
Map 96 Annual Deforestation Rates, 2000–2005 115
Map 97 World Timber Production, 2005 116
Map 98 The Loss of Biodiversity: Globally Threatened Animal Species, 2007 117
Map 99 Disappearing Giants: The Reduction in "Conservative" Species 118
Map 100 The Loss of Biodiversity: Globally Threatened Plant Species, 2007 120
Map 101 The Areas of Greatest Loss and Hotspots of Biodiversity 121
Map 102 Nationally Protected Areas: Parks and Preserves 122
Map 103 The Risks of Desertification 123
Map 104 Global Soil Degradation 124
Map 105 The Degree of Human Disturbance 125
Map 106 The Green and Not So Green World 126
Unit VI Global Political Patterns 127
Map 107 Political Systems 129
Map 108 The Emergence of the State 130
Map 109 Organized States and Chiefdoms, a.d. 1500 131
Map 110 European Colonialism, 1500–2000 132
Map 111 Sovereign States: Duration of Independence 133
Map 112 Post–Cold War International Alliances 134
Map 113 Political Realms: Regional Changes, 1945–2003 135
Map 114 International Conflicts in the Post–World War II World 136
Map 115 The Geopolitical World in the Twenty-First Century 138
Map 116 The United Nations 139
Map 117 Is It a Country? 140
Map 118 United Nations Regions and Sub-Regions 141
Map 119 Democracy on the Rise 142
Map 120 Nations with Nuclear Weapons 143
Map 121 Military Expenditures as a Percentage of Gross National Product 144
Map 122 Distribution of Minority Populations 145
Map 123 Marginalized Minorities: Declining Indigenous Populations 146
Map 124 The Political Geography of a Global Religion: The Islamic World 147
Map 125 World Refugees: Country of Origin, 2009 148
Map 126 World Refugees: Host Country, 2009 149
Map 127 Internally Displaced Persons, 2009 150
Map 128 Abuse of Public Trust 151
Map 129 Political and Civil Liberties, 2008 152
Map 130 Human Rights Abuse 153
Map 131 Women's Rights 154
Map 132a Flashpoints, 2011—Mexico 155
Map 132b Flashpoints, 2011—Sudan and the Darfur Region 156
Map 132c Flashpoints, 2011—Somalia 156
Map 132d Flashpoints, 2011—Dem. Rep. Congo 157
Map 132e Flashpoints, 2011—Zimbabwe 157
Map 132f Flashpoints, 2011—Georgia 158
Map 132g Flashpoints, 2011—Kyrgyzstan 158
Map 132h Flashpoints, 2011—Israel and Its Neighbors 159
Map 132i Flashpoints, 2011—Iraq 159
Map 132j Flashpoints, 2011—Kurdistan 160
Map 132k Flashpoints, 2011—Iran 160
Map 132l Flashpoints, 2011—Afghanistan 161
Map 132m Flashpoints, 2011—Pakistan 161
Map 132n Flashpoints, 2011—Jammu and Kashmir 162
Map 132o Flashpoints, 2011—Sri Lanka 162
Map 132p Flashpoints, 2011—Korean Peninsula 163
Map 132q Flashpoints, 2011—Thailand 163
Unit VII World Regions 165
Map 133 North America: Political Divisions 167
Map 134 North America: Physical Features 168
Map 135a North America: Environment and Economy 169
Map 135b North America: Population Density 170
Map 135c North America: Population Distribution 170
Map 136 Canada 171
Map 137 United States 172
Map 138 Middle America 173
Map 139 The Caribbean 174
Map 140 South America: Political Divisions 175
Map 141 South America: Physical Features 176
Map 142a South America: Environment and Economy 177
Map 142b South America: Population Density 178
Map 142c South America: Environmental Problems 178
Map 143 Northern South America 179
Map 144 Southern South America 180
Map 145 Europe: Political Divisions 181
Map 146 Europe: Physical Features 182
Map 147a Europe: Environment and Economy 183
Map 147b Europe: Population Density 184
Map 147c European Political Boundaries, 1914–1948 185
Map 147d Europe: Political Changes, 1989–2009 187
Map 148 Western Europe 188
Map 149 Eastern Europe 189
Map 150 Northern Europe 190
Map 151 Africa: Political Divisions 191
Map 152 Africa: Physical Features 192
Map 153a Africa: Environment and Economy 193
Map 153b Africa: Population Density 193
Map 153c Africa: Colonialism to Independence 194
Map 153d African Cropland and Dryland Degradation 195
Map 154 Northern Africa 196
Map 155 Southern Africa 197
Map 156 Asia: Political Divisions 198
Map 157 Asia: Physical Features 199
Map 158a Asia: Environment and Economy 200
Map 158b Asia: Population Density 201
Map 158c Asia: Industrialization: Manufacturing and Resources 201
Map 159 Northern Asia 202
Map 160 Southwestern Asia 203
Map 161 South Asia 204
Map 162 East Asia 205
Map 163 Southeast Asia 206
Map 164 Australasia and Western Oceania: Political Divisions 207
Map 165 Oceania: Political Divisions 208
Map 166 Australasia and Western Oceania: Physical Features 209
Map 167a Australasia: Environment and Economy 210
Map 167b Australasia: Population Density 211
Map 167c Australasia: Climatic Patterns 211
Map 168 The Arctic 212
Map 169 Antarctica 212
Unit VIII Country and Dependency Profiles 213
Unit IX Geographic Index 243
Sources 263