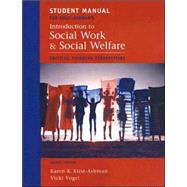 Student Manual for Kirst-Ashman's Introduction to Social Work and Social Welfare: Critical Thinking Perspectives, 2nd
by
Kirst-Ashman, Karen K.
Related Products
Student Manual for Kirst-Ashman's Introduction to Social Work & Social Welfare: Critical Thinking Perspectives, 3rd
Summary
The student manual includes classroom exercises and assignments designed to coincide directly with the text content and can be used to help students integrate reading material. Also contains detailed outlines of each chapter.
Table of Contents
Introduction to Social Work and Social Welfare
p. 1
Social Work Values and Ethics
p. 13
Empowerment and Human Diversity
p. 23
The Process of Generalist Practice
p. 41
Practice Settings
p. 51
The History of Social Welfare
p. 63
Policy, Policy Analysis, and Policy Advocacy-Foundations for Service Provision
p. 89
Policies and Programs to Combat Poverty
p. 97
Social Work and Services for Children and Families
p. 111
Social Work and the Elderly
p. 129
Social Work and People with Disabilities
p. 141
Social Work and Health Care
p. 153
Social Work and Mental Health
p. 165
Social Work and Services with Youth and in the Schools
p. 179
Social Work and the Criminal Justice System
p. 189
Table of Contents provided by Ingram. All Rights Reserved.