Note: Supplemental materials are not guaranteed with Rental or Used book purchases.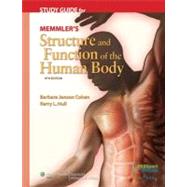 Summary
Designed to accompany Memmler's Structure and Function of the Human Body, Ninth Edition, this Study Guide provides students with additional self-study aids to help reinforce the material in the text. These self-study aids include chapter overviews, writing exercises, color atlas and labeling exercises, concept maps, practical applications, matching exercises and other question formats such as multiple choice, completion, true-false, and short essays.
Table of Contents
The Body as a Whole
Organization of the Human Body
Chemistry, Matter, and Life
Cells and Their Functions
Tissues, Glands, and Membranes
The Integumentary System
Movement and Support
The Skeleton: Bones and Joints
The Muscular System
Coordination and Control
The Nervous System: The Spinal Cord and Spinal Nerves
The Nervous System: The Brain and Cranial Nerves
The Sensory System
The Endocrine System: Glands and Hormones
Circulation and Body Defense
The Blood
The Heart
Blood Vessels and Blood Circulation
The Lymphatic System and Body Defenses
Energy: Supply and Use
Respiration
Digestion
Metabolism, Nutrition, and Body Temperature
The Urinary System and Body Fluids
Perpetuation of Life
The Male and Female Reproductive Systems
Development and HeredityIndex
Table of Contents provided by Publisher. All Rights Reserved.