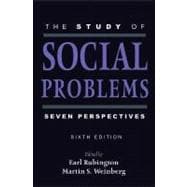 Questions About This Book?
What version or edition is this?
This is the 6th edition with a publication date of 8/1/2002.
What is included with this book?
The Used copy of this book is not guaranteed to include any supplemental materials. Typically, only the book itself is included.
Related Products
Summary
This critically acclaimed volume delineates seven sociological perspectives used to examine social problems--social pathology, social disorganization, value conflict, deviant behavior, labeling, the critical perspective, and social constructionism. Unlike most introductory texts, which areorganized topically around issues such as drug abuse, racial violence, and juvenile delinquency, this anthology focuses on the major theoretical perspectives used to examine social problems. Each section begins with an overview of the main contributors to the perspective, its history, and an outlineof its major characteristics, and closes with a critique of the perspective and questions for discussion. For this edition, the editors have significantly updated the text, the readings, and the annotated references. New selections cover such topics as the decline of a Black community, white-collarcrime, the devaluation of women, the universalization of social problems, how to successfully construct a social problem, and child sexual abuse. Long a standard in its field, The Study of Social Problems, 6/e, is an indispensable volume for building a strong theoretical foundation in courses onsocial problems.
Table of Contents
Preface
xi
I. THE PROBLEM

| | |
| --- | --- |
| | Social Problems and Sociology |

3
(12)
II. THE PERSPECTIVES
15
(32)
20
(1)

| | |
| --- | --- |
| | The Criminal as a Born Criminal Type |

21
(3)
24
(8)

| | |
| --- | --- |
| | A Universal Criterion of Pathology |

32
(4)

| | |
| --- | --- |
| | The Pursuit of Loneliness |

36
(5)

| | |
| --- | --- |
| | The Moral Premises of Social Pathology |

41
(6)

| | |
| --- | --- |
| | Questions for Discussion, Selected References |

45
(2)
47
(38)

| | |
| --- | --- |
| | Social Change and Social Disorganization |

53
(3)

| | |
| --- | --- |
| | The Ecology of Urban Disorganization |

56
(7)
63
(2)

| | |
| --- | --- |
| | The Decline of a Black Community |

65
(16)
81
(4)

| | |
| --- | --- |
| | Questions for Discussion, Selected References |

83
(2)
85
(34)
89
(6)

| | |
| --- | --- |
| | The Stages of a Social Problem |

95
(8)

| | |
| --- | --- |
| | Values, Politics, and Social Problems |

103
(2)
105
(5)

| | |
| --- | --- |
| | A Critique of the Value Conflict Perspective |

110
(9)

| | |
| --- | --- |
| | Questions for Discussion, Selected References |

116
(3)
119
(53)

| | |
| --- | --- |
| | Robert Merton: Anomie and Social Structure |

126
(9)
135
(6)

| | |
| --- | --- |
| | A Theory of White Collar Crime |

141
(13)
154
(5)

| | |
| --- | --- |
| | An Evaluation of the Theory of Differential Association |

159
(13)

| | |
| --- | --- |
| | Questions for Discussion, Selected References |

168
(4)
172
(49)
178
(5)

| | |
| --- | --- |
| | Primary and Secondary Deviation |

183
(3)
186
(9)

| | |
| --- | --- |
| | The Saints and the Aoughnecks |

195
(13)
208
(13)

| | |
| --- | --- |
| | Questions for Discussion, Selected References |

217
(4)
221
(58)

| | |
| --- | --- |
| | Crime and the Development of Capitalism |

227
(7)

| | |
| --- | --- |
| | Toward a Political Economy of Crime |

234
(1)

| | |
| --- | --- |
| | Repression and Criminal Justice in Capitalist America |

234
(18)

| | |
| --- | --- |
| | The Universalization of Social Problems |

252
(18)

| | |
| --- | --- |
| | Evaluating the Critical Perspective |

270
(9)

| | |
| --- | --- |
| | Questions for Discussion, Selected References |

275
(4)
279
(78)

| | |
| --- | --- |
| | The Definition of Social Problems |

285
(6)

| | |
| --- | --- |
| | How to Successfully Construct a Social Problem |

291
(13)

| | |
| --- | --- |
| | Victimization and the Victim Industry |

304
(13)

| | |
| --- | --- |
| | Culture and the Case of Child Sexual Abuse |

317
(19)

| | |
| --- | --- |
| | Constructionism in Context |

336
(21)

| | |
| --- | --- |
| | Questions for Discussion, Selected References |

351
(6)
III. The Prospects

| | |
| --- | --- |
| | A Sociological Review of the Perspectives |

357